Insights & Inspiration
Simple Sewing: Stylish iPhone 7 Case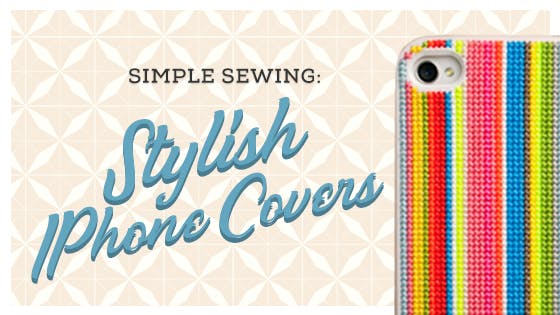 If you're still contemplating what gifts to give this Christmas without breaking the bank. You will love this simple, easy-to-do, and very affordable sewing project. A stylish iPhone 7 case is the perfect gift idea for technology aficionados of all ages. Plus, making it yourself will allow you to personalize it for your loved one, making it a standout gift.
HERE'S HOW TO MAKE A STYLISH IPHONE 7 CASE IN 6 EASY STEPS
Choose the fabric you prefer and cut it according to the measurements of your iPhone. The iPhone 7 measures 5.44 x 2.64 inches, while the iPhone 7 Plus measures 6.23 x 3.07 inches. Include a seam allowance of 1/4 inch along the sides and ½ inch at the bottom. You'll need a lining fabric for the interior, a Velcro square, and a single-sided fusible, lightweight interfacing ruler. Choose threads that complement or blend well with your fabric design.
Once you are done cutting the pattern for the fabric and inside lining. Sew the Velcro square along the bottom edge of one of the pieces (centered), leaving the ¼ in seam allowance free.
Place both pieces together right sides facing out, and sew along the bottom and sides, leaving the ¼ inch allowance, and leaving the top open. Trim the allowance to a 1/8 inch, and make sure to clip the corners so it will lay flat when turned inside out. Iron the edges for a clean finish.
Line each of the lining fabric pieces up with the top edge of one side of the case, and sew the top of the lining to the top edge of the case on each side. Then pull the two halves of lining fabric up sew them together along the long sides, keeping both ends open.
Turn it upside down with the lining fabric stuffed in its right place. Then, sew a double facing ruler fabric on the back, inside wall of the case and add the other half of the Velcro on the side opposite the first piece (so they will fasten the case when you pinch both sides of the top together. Make sure they fit well when closed.
Add designs like a flower, ribbon or any material on the added style.
And voila! Your iPhone 7 cover is good to go. For an added personal touch, you can design your customized tag label and put it in the case for that extra flair!