It's easy to fall into familiar habits while sewing, with similar projects and fabric's you know, but the best way to upgrade your sewing skills is by getting out of that comfort zone and trying something new.
We have put together a collection of intermediate sewing projects to help you break out of your routine with a range of projects that focus on all different aspects of sewing – from boosting your speed and confidence to learning new skills.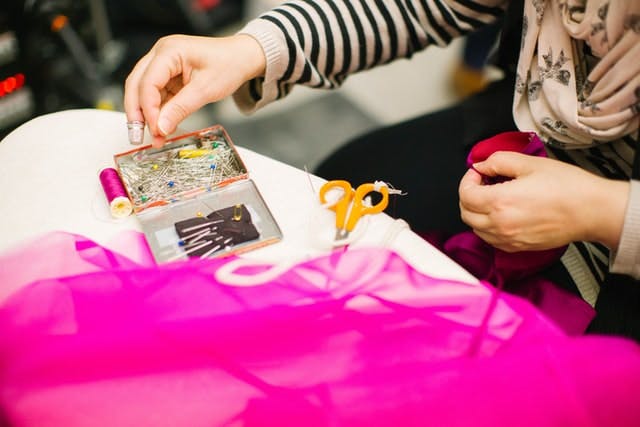 Projects to boost your confidence:
Intermediate-level sews are not all about complicated patterns and techniques. Getting a beautiful finish on any project is the first step to showing yourself that you are at that level. Below are a few projects which may not involve overly complicated techniques but instead rely on layering basics and getting a super neat finish that you will be proud of.
Pocket Tote Bag - A basic tote might have been an item on your beginner's sewing list, but this one involves a little more attention to detail. Some suggestions for additions to your tote are – a lining, internal pockets, external patch pockets, and a zip closure on the bag.
Diaper Bag - A sturdy, pocket tote bag will make a great diaper bag too. If you are making a tote to use as a diaper bag, try using a water-resistant lining and adding sectioned compartments into the main bag to help with organization and to protect your bag's contents from leaks and spills.
Leather Wallet - The ability to sew with a range of textiles is a key step in becoming a well-rounded sewist. Small projects like a card wallet or coin purse are great as they only use a small amount of leather, so if anything goes amiss, not too much has gone to waste. And don't let their size fool you! Sewing small items mean a much smaller margin of error and can be very fiddly. It encourages you to be accurate when cutting and precise with every stitch.
Apron - An apron can be as simple or complicated as you make it. You could use one to try some new techniques such as welted pockets, adding reinforcements, or a bias binding the raw edges, or make a simple one with neat patch pockets and curved hems – that can be hard enough!
Dressing Gown - With similar techniques to an apron, a dressing gown is a great intermediate-level sewing project. No doubt many beginner sewists can also whip one up, so focus on luxurious finishes you would find on designer dressing gowns such as bound seams, facings, and deep hems. And of course, your dressing gown should also include pockets, so go for something that challenges you a bit.
Slippers - Most sewists I know never really venture into footwear (it is a whole different ball game), but a pair of slippers might be just what is needed to bridge the gap. Slippers are made with soft fabrics like toweling and don't need to stand up to rough pavement streets, so everything can easily be sewn on an ordinary sewing machine. This slipper pattern by Crafty Nest has inspired me to give it a try. Then maybe a pair of homemade sandals are not such a distant dream after all...
Bean Bag Chairs - Bean bag chairs are perfect for those who want to dip their toes into a larger-scale project. There are many DIY patterns online, but I recommend choosing one with both an outer and an inner bag. This way you can add a zip to the outer cover (without the chance of beans spilling everywhere), so it can be easily washed in case of spills and rogue sticky hands.
Stuffed Soft Toys - Soft toys are a low-stakes project, so you can experiment with shape and proportions without fear of the end result being unusable. You might even end up with some very cute (or scary) happy accidents.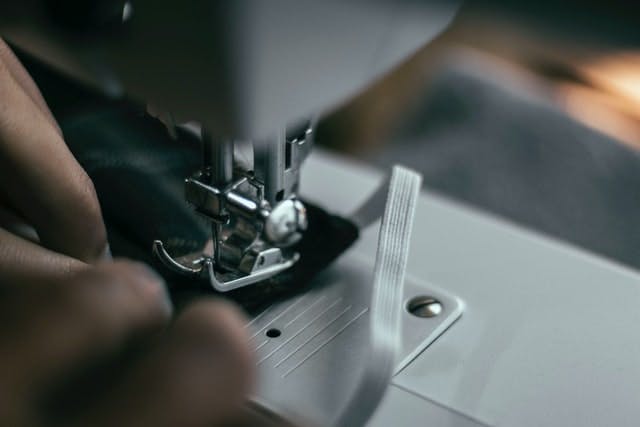 Projects to practice getting the right fit:
Part of being a good sewist is understanding the fit of a garment and how to get the right fit with something you are making. Even if you use premade patterns, having a simple understanding of pattern making will really help you to troubleshoot fit issues with your makes. The result will be garments that beat any off-the-rack clothes you can buy.
Dresses - Sewing a dress is a great place to start when learning the fit of a garment. You can see how armholes and sleeves fit around a body, where to add an opening such as buttons or a zip, and how the hem falls (spoiler - often not straight!). Even if you are drawn to boxy styles, (I know I am!) for the sake of practice, try something a bit more tailored. It allows you to judge and tweak the fit, even if it is just on a mannequin.
Soft Cup Bralettes - A bralette needs to fit right, so why not throw yourself in the deep end and try making one. With no underwire, they really aren't as bad as they sound. There are lots of patterns for bralettes online now. This DIY Bralette Pattern By Madalynne is one I have had my eye on for a while.
Overalls - If you have nailed the dress, or it isn't really your item of choice, try a pair of these. Overalls, dungarees, playsuits, onesies, whatever you want to call them, are a garment with the pants and top all in one, and one that you will want to get fitting well. Some patterns are straightforward enough for confident beginners (such as this playsuit by Peppermint Magazine). But others, like the Jenny Overalls by Closet Core Patterns, have more traditional finishings better suited to an intermediate-level sewist.
Pajamas - Making a pair of pajamas might seem easy. It's just pajamas after all. But learn from my mistake – they are a project and a half! A classic pajama set involves a shirt (think buttons, collar, cuffs, piping, breast pocket) and trousers (elastic waistband, drawstring, pockets, possibly a cuffed hem, and piping). All these different elements put them squarely into the intermediate-level box, even if you don't get to leave your house in them.
Swimsuits - Sewing a swimsuit (one-piece, bikini, brief trunks) usually takes a good amount of skill for a few different reasons. For one, understanding negative ease is an important part of getting the fit right, so that they stay put while swimming. You will also want to feel comfortable working with elastics as swimsuits use thin, specialty elastics to keep the openings snug.
Trousers - Making a pair of pants should be on every intermediate-level sewist's list. If you want to take your pair of pants to the next level, first make a sample pair out of a cheaper fabric to test for fit. You can tweak parts of the pattern, such as the rise, waistband, or length, to fit perfectly before cutting out the real fabric. My favorite pattern is the Lander Pant by True Bias as it is so flattering, and the final result is super professional.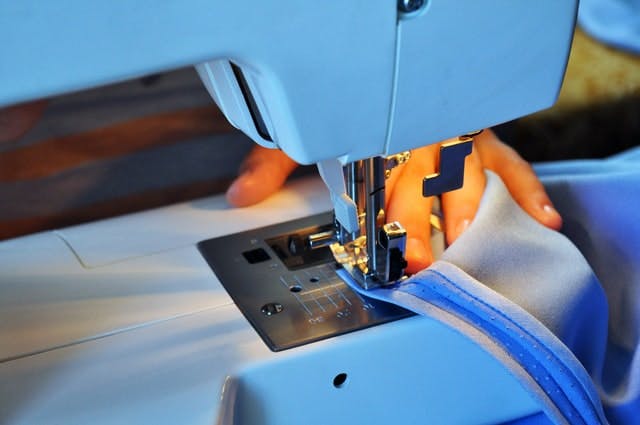 Sewing projects to learn new techniques from:
Jumping into a project where you will learn new skills and techniques now and again is a sure-fire way to push you out of your comfort zone. The reward is high though. Every project gets you a step closer to being able to tackle anything, just remember to add your custom labels to each and every one!
Shirts - Sewing a collar is a real lesson in how to follow pattern instructions. The actual sewing part is not overly complicated, but it involves following many steps in a specific order. From fusing certain pieces to understitching, being able to add a collar to your makes is a satisfying endeavor.
Receiving Blanket with Bias Edges - Bias binding is a truly beautiful finish used often in haute couture pieces that will elevate the inside of your garments. It can be tricky to master, and if it isn't cut perfectly on the bias, it can twist and rope, making it very frustrating. A soft receiving blanket is a perfect gift for new parents and is a great project to add beautifully contrasting, well-sewn bias edges.
Sphere Cushions - A fun project for any advanced beginners or intermediate sewists. Sphere cushions, or these Fabric Beach Balls by All Free Sewing add an interesting dynamic to any sofa, playroom, or space and can be made out of so many different fabrics. A plain linen sphere will suit a minimal living space, or a brightly colored print might be better suited to capture a kid's attention in their room.
Quilts - Sewing a quilt, no matter how simple, involves a lot of planning and commitment, making it a project suited to intermediate-level sewers. And adding a custom quilt label to your quilt will give you a professional finish, perfect for gifts and selling at local markets!
Silk Pillow Slips - A pillowcase is a project even the most beginner sewist will be able to sew but add a luxurious spin to yours by upgrading your homemade pillowcases to silk ones. Natural, undyed silk is soft on even the most sensitive facial skin and is purported to be better for skin conditions such as acne and rosacea, and apparently even wrinkles. And if that isn't scientifically accurate, at least it feels nice to rest your head on. This DIY silk pillow slip tutorial is an easy one to follow and even includes french seams, making it just a little bit extra special!
Curtains - You are not a sewist if you haven't looked at your bare windows swearing you will make a set of curtains for them but just haven't. Yet. It's not that the curtains will be hard. It's just a big job right?! Well, now is the time. Find your favorite style, and finally give yourself the privacy to watch reruns of Sex and the City on your projector in peace.
Show us know your favorite go-to sewing projects for intermediate sewists on our facebook, twitter, or instagram!