This time of year is ultra-exciting for all fabricholics, with soft, snuggly brushed cotton, heavyweight linens, and wool checks out in full force. Take advantage of these seasonal fabrics for your Thanksgiving decorating by creating a beautifully curated table setting to get you in the mood.
Whether your Thanksgiving is big or small, or perhaps via Zoom, tablescapes are a simple way to jazz up your Thanksgiving dining space and can be completely inexpensive with a small bit of planning. Your local fabric store will have plenty of options, and with a small amount of creativity and vision you will have a welcoming table to enjoy your meal at, whether surrounded by loved ones physically, or digitally. We have put together a few key steps on helping you find the best fabrics for your table setting.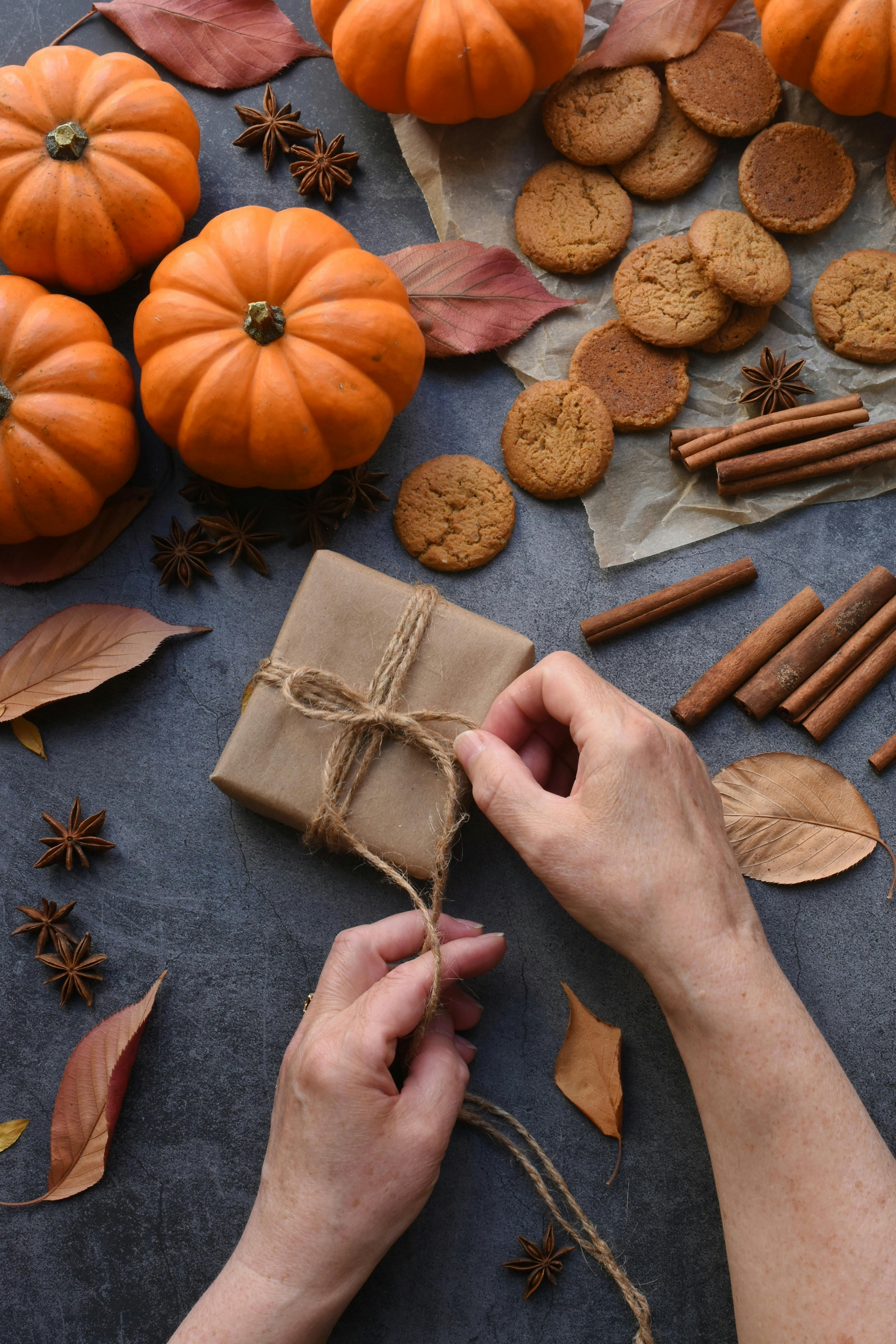 Color Palate
Start by selecting a color palate. Make yourself a small mood board (or Pinterest board) using fabric swatches, paint chart colors, or images you like. Use this time to assess your dining room, plates, and cutlery, and work with colors that compliment these. Don't stress if you don't have a perfectly matching set, as you can use this to your advantage and make it a feature!
Thanksgiving is the ideal time for warming autumn colors, so take inspiration from nature around you by using burnt reds, oranges, warm cinnamon browns, and dark pine greens. Find a neutral off-white, beige, or grey that goes well with your colors to freshen everything up and keep it modern. And if this all feels a little too traditional, then there is no reason you can't go off-script with cool tones for a more modern approach. Don't be intimidated by prints and checks either, as they are a great way to tie everything together and can add a unique twist.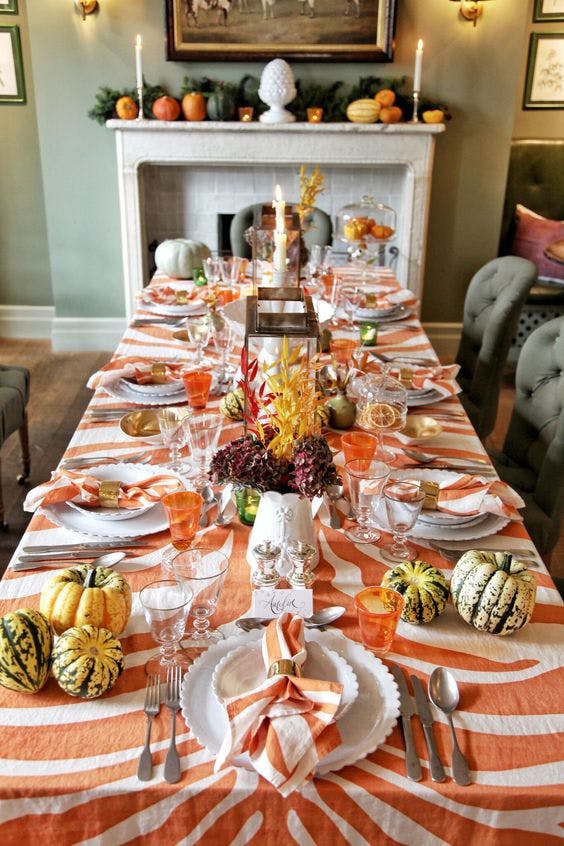 Image via Pinterest
Tablecloth and Placemats
If you have a nice tabletop, show it off! Rather than covering the whole thing with a cloth, you might want to just make placemats for each setting. Heavyweight linen (7-8oz) works well for table settings as it has a slightly rustic texture to it, so you won't have to worry about ironing everything perfectly flat. It also frays nicely, so you could keep the edges raw and lean into that rustic feel. One yard should get you between 6-9 placemats (12"x18"), depending on the width of the fabric. Keep any leftover fabric on hand when putting your table setting together, as it may well come in handy.
If you do want to cover your whole table with a cloth, first measure your table as you will need to find a fabric that is at least 25 inches wider (and longer) than your table so you can end up with enough of an overhang. If this is not possible, you still may be able to add a sneaky seam down the middle of your chosen fabric, which you can later cover with a table runner. Alternatively, you could find a neutral tablecloth you can use as a base for your homemade place settings.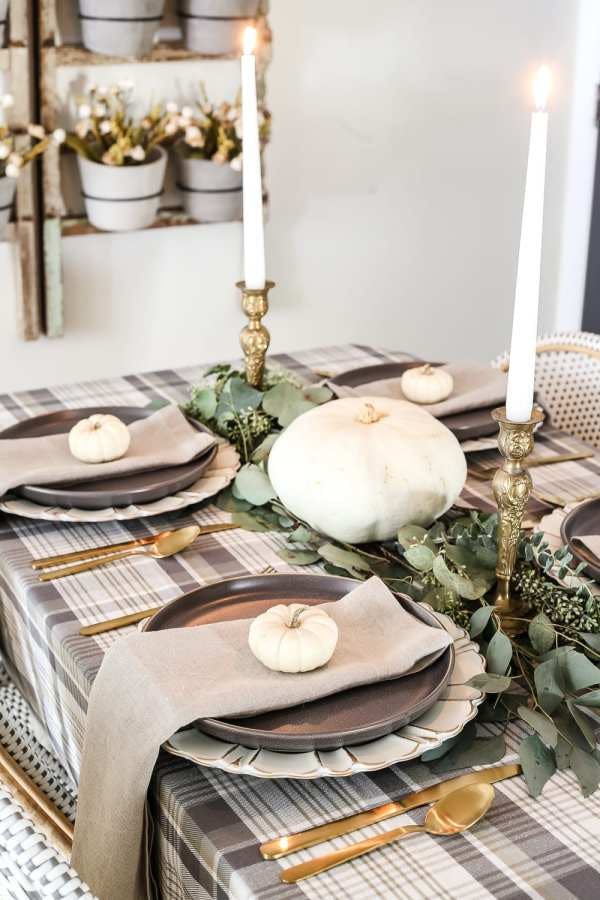 Image via Pinterest
Fabric Napkins
Again, go for a mid-to-heavyweight fabric (5oz +) for a more luxurious napkin. Linen or cotton work best as napkin fabrics and are super easy to care for. Choose a gingham, check, or print that contrasts well with your chosen placemat fabrics for a homey touch or one which you can mix-n-match with. Whichever fabric you choose, you will want to pre-wash this first to increase absorbency and remove any residue that might be on it.
20"x20" is an ideal cut size for a large napkin, but a bit smaller works just as well too, especially if space is a bit tight. Once cut, you can do a tidy double fold around the edges, sew to secure, and press. Finish them with a fancy napkin fold, or roll and tie around the middle using a ribbon or extra piece of leftover fabric for that finishing touch. You will be able to reuse these again and again.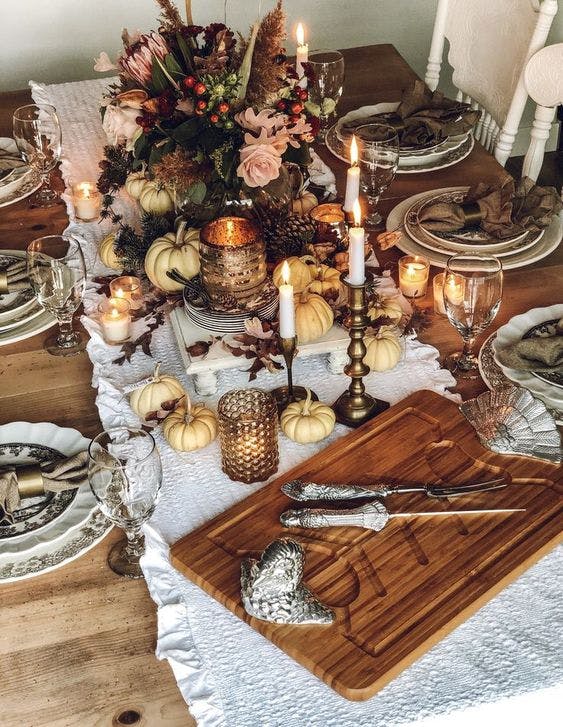 Image via Pinterest
Centerpieces & Decorations
A table runner is the perfect finishing touch to draw everything together. Whether you go bold with a bright color, autumnal plaid (side note, make sure to check out our blog post on flannel to learn more about our fav autumnal fabric), or soft natural linen, this runner will also protect your table from dripping candle wax and hot serving dishes.
Choose a length and width to suit your table, whether that is one that sits on the top or one that drapes over the sides, and add an inch for seam allowance when cutting. You can finish it with a simple double fold then hand sew or machine stitch to secure. Finish your table with a couple of candles to set the mood and some fresh foliage to add a special touch, just make sure you can see the person sitting across from you!
All of these quick crafts make very thoughtful personal presents too. If you are unsure about colors for the receiver of the gift, try selecting some lovely neutrals in natural fibers. They will work in most situations and I'm sure they will be pleasantly received! We always recommend adding a custom label or a hang tag to your homemade presents as it adds an ultra-professional finishing touch.