History of the Dirndl: The 18th Century, Oktoberfest, and Beyond
The Dirndl may be synonymous with Oktoberfest and its celebrations now, but it has not always been this way. The Dirndl and its masculine counterpart, the Lederhosen (Leather pants), are widely understood to have originated within the Alpine parts of lower Germany (mostly Bavaria), Austria, Switzerland, and Italy. Originally worn by peasants and maids in the 18th century, the Dirndl was later adopted by wealthy upper-class women who had them remade using expensive fabrics and thus became highly fashionable garments worn to celebrations, weddings, and festivals. 

The popularity of the Dirndl took a tumble after the second world war where it was commonly used within Nazi party propaganda as a symbol for the ideal German woman. This later led to its rejection by many Germans and much of the rest of the world, who did not want to be associated with the atrocities of the Third Reich. However, since the 1970's it has steadily been making a comeback by many Bavarians, often as a way to reappropriate and remove the stigma surrounding this culturally significant dress. Since the 1990's its popularity grew even more, and is now not uncommon to see both young and older women wearing it in the streets of Munich (Bavaria's largest city), at nightclubs, and of course, Oktoberfest.

Anatomy Of A Dirndl
The History of the Dirndl is very complex and multilayered, much like the dress itself and while sewing techniques have evolved, it is still celebrated and often worn the way it was in the 18th and 19th centuries. While the outfit is traditionally made up of 4 separate pieces - the skirt, the bodice, the blouse, and an apron, today it is also common for the bodice and skirt to be sewn together as one dress, without altering its overall appearance too greatly. The amount of both skill and work that goes into sewing a Dirndl means that the more elaborate ones, and ones made using traditional methods, can cost anywhere from hundreds to thousands of dollars for the entire outfit, and when seen in person, you will understand why! Below is a brief breakdown of each separate part, so you can get a sneak peek into what really goes into this beloved outfit.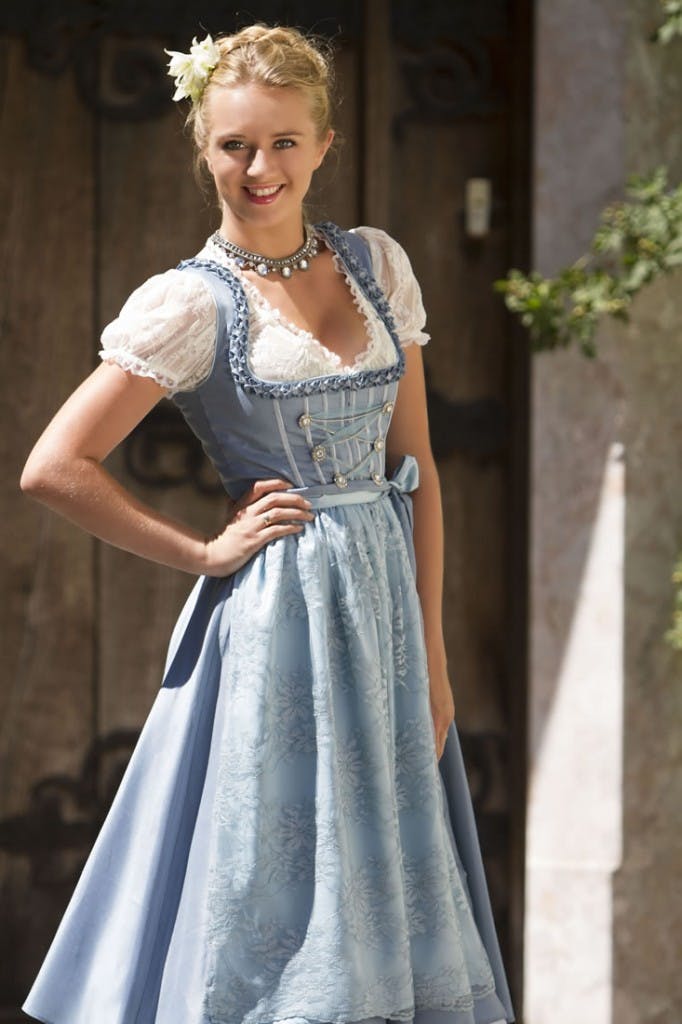 Photo via Pinterest
Dirndl Skirts
The skirt was traditionally an ankle-length skirt, made full by pleats or cut as a circle skirt and using many yards of fabric for this part alone. Variations to the hemline have happened as each resurgence of the Dirndl leaves its mark on the dress, but most commonly now the dress is mid-length, sitting just below the knee. There is of course also the mini Dirndl that has been popular for some time at Oktoberfest, however, this length is very un-traditional and worn most notably by tourists and young people. Hidden under the apron within the skirt is often also a single pocket, positioned perfectly to stash your modern technologies (ie. your phone) out of view.
Dirndl Bodice
The bodice of the Dirndl is traditionally separate from the skirt and follows popular Victorian silhouettes. The fitted and low cut bodice normally features a square or scooped neckline, often with boning and closed using either lacing or hook and eyes, or commonly now, invisible zippers. Details on the bodice can vary, but often involve some sort of piping, embroidery, and a Froschgoscherl trim (those beautiful origami-like, fabric rosettes) around the neckline and drawing attention to the décolletage. If you are feeling inspired by this, check out these embroidery machines, the possibilities are endless!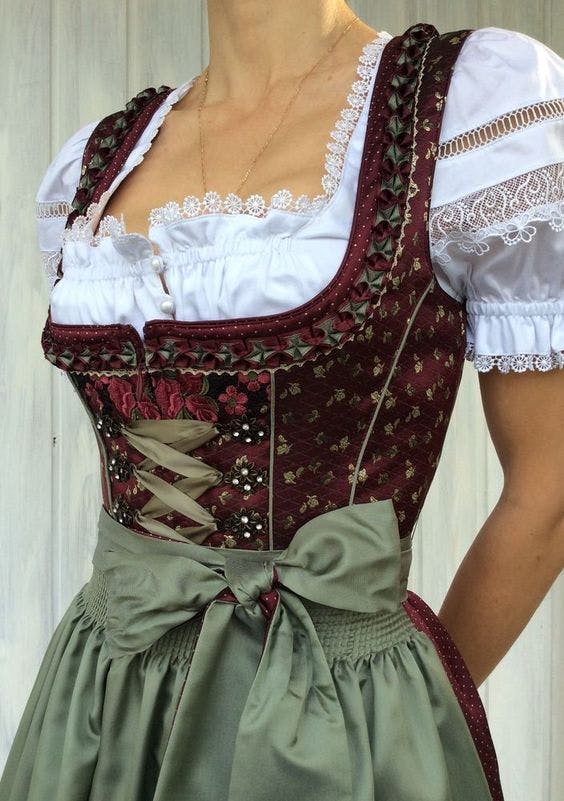 Photo via Pinterest
Dirndl Blouse
The blouse is not your usual blouse either. It is designed specifically to be worn under the Dirndl and is cropped to sit just under the bust, so as not to create unnecessary bulk under the tight-fitting bodice of the dress. Historically these blouses are plain white, or less commonly, black cotton often with puff sleeves and a plunging sweetheart or square neckline. As the blouse is mostly covered, the details go into the parts that are visible, namely the neckline and sleeves, that are often gathered and embroidered. 
Dirndl Apron
The Apron is the final touch to the Dirndl and is not to be forgotten. Once worn primarily for function, however less so now, the apron features a smocked or cartridge pleated front that ends a few inches shorter than the skirt with a big sash tied in a bow either at the front or back. Legend has it, where you tie your bow reflects your marital status, and although this is not believed to be historically accurate, it is perhaps still worth knowing if you plan to wear one to any upcoming celebrations. According to Oktoberfest lore, a bow tied to your front left signifies you are single and interested in dating, or if tied to the right you are either married, in a relationship, or simply not interested!
If you are interested in making one of these flattering, classic alpine folk dresses either for an Oktoberfest celebration or just to test your sewing skills, there are plenty of resources out there to help you along the way. Burda Style is generally touted as having the best selection of both traditional and modern patterns, so might be worth starting your journey there. Once you have decided on a style, make sure to get creative with the fabric and color choices! Dirndls are made in a wide range of colors and prints, and commonly use fabrics such as mid-weight cottons, sateen, linen, silks such as taffeta and dupioni, or even wool for a perfect winter Dirndl. You can also mix-and-match fabrics within the same Dirndl, just make sure to add one of our Custom Care Labels, or size labels to keep track of all the separate elements for washing. Have fun with it and Viel Glück!