Travel pillows are an essential item for any long-haul flight, and as someone from New Zealand – where almost every flight is a long-haul one – I consider myself a wee bit of an expert on the topic.
Get organized for your next flight with a DIY neck pillow. It is an ideal project for beginners, and as long as you have the supplies can easily be sewn up in under an hour. If you want to make one that will last, make sure to add a zip, buttons, or domes to your neck pillow cover along the outer seam to make it easier to wash after your flight.
What makes a good travel pillow?
A good neck pillow involves a strict balancing act between firmness to support your neck, a soft surface to rest your weary head, and portability so it isn't a nuisance when traveling from one place to another. When these three things align, hold onto that pillow for dear life. 
Or better yet, make yourself a spare. And don't forget to share the love! A homemade neck pillow makes a great gift for family, friends, and even new mothers (they work well as a prop when feeding babies).
The shape of the neck pillow is an important one. Personally, I prefer the horseshoe (U) shape to the long pillows as i like the structured support. But both shapes can be made at home with simillar supplies.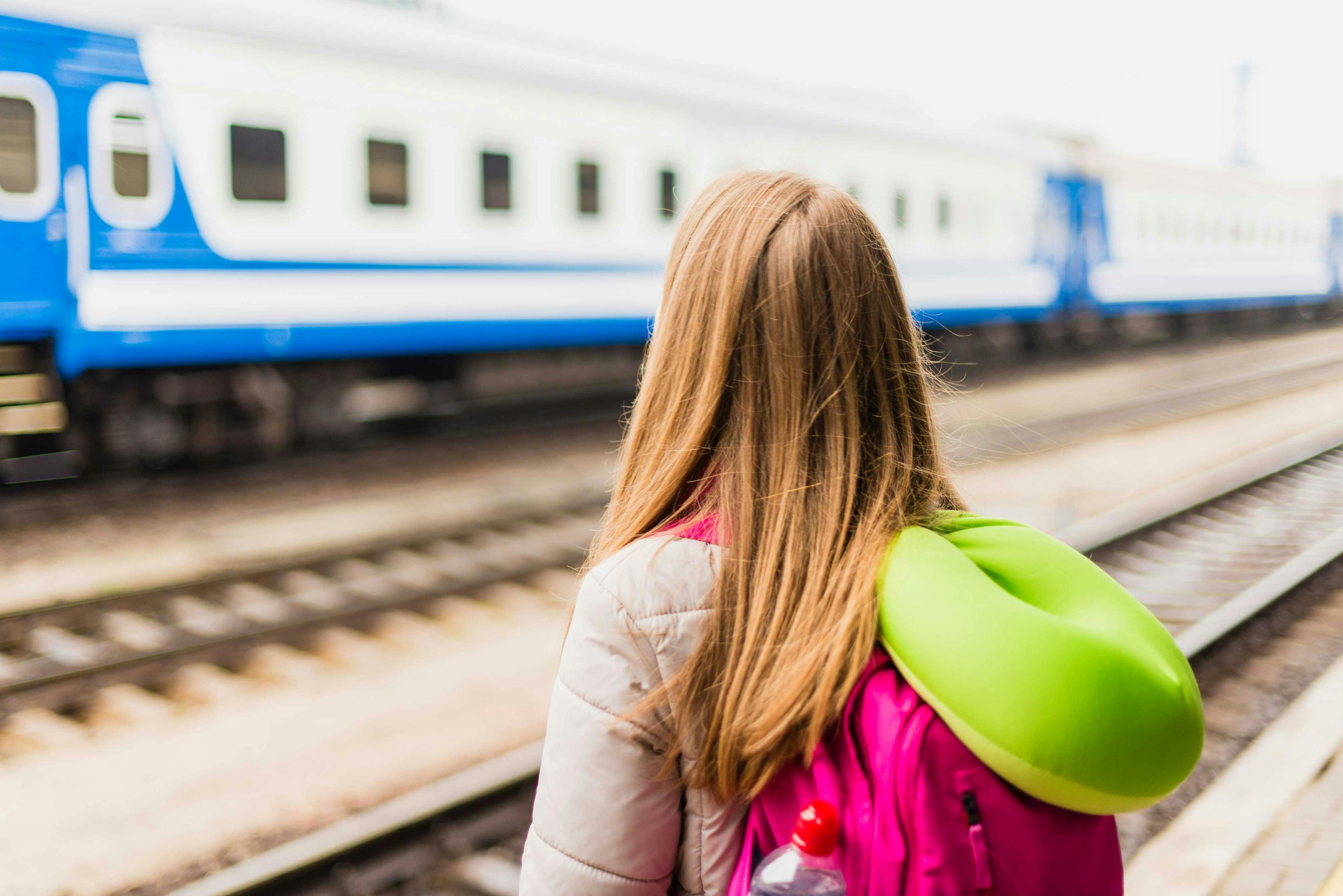 What are the best fillings for a DIY neck pillow?
Whatever you decide, make sure it is light. You don't want a cumbersome pillow to weigh you down on your adventures! 
Memory Foam - some craft stores offer rolls or pre-cut memory foam. It might be a little more expensive than regular pillow stuffing, but it makes the best firm travel pillows.
Polyester Pillow Stuffing - Polyester pillow filler is easy to work with for beginners and anyone wanting a light option.
Micro Polystyrene Beads - these very small beads are common in store-bought neck pillows as they are lightweight but still offer good support.
Buckwheat Hulls - this is an option for eco-conscious sewists. Buckwheat hulls are light but still offer plenty of support.
Cotton Pillow Filler - Usually a bit heavier than poly filler, but it is a good option for anyone looking for a natural alternative.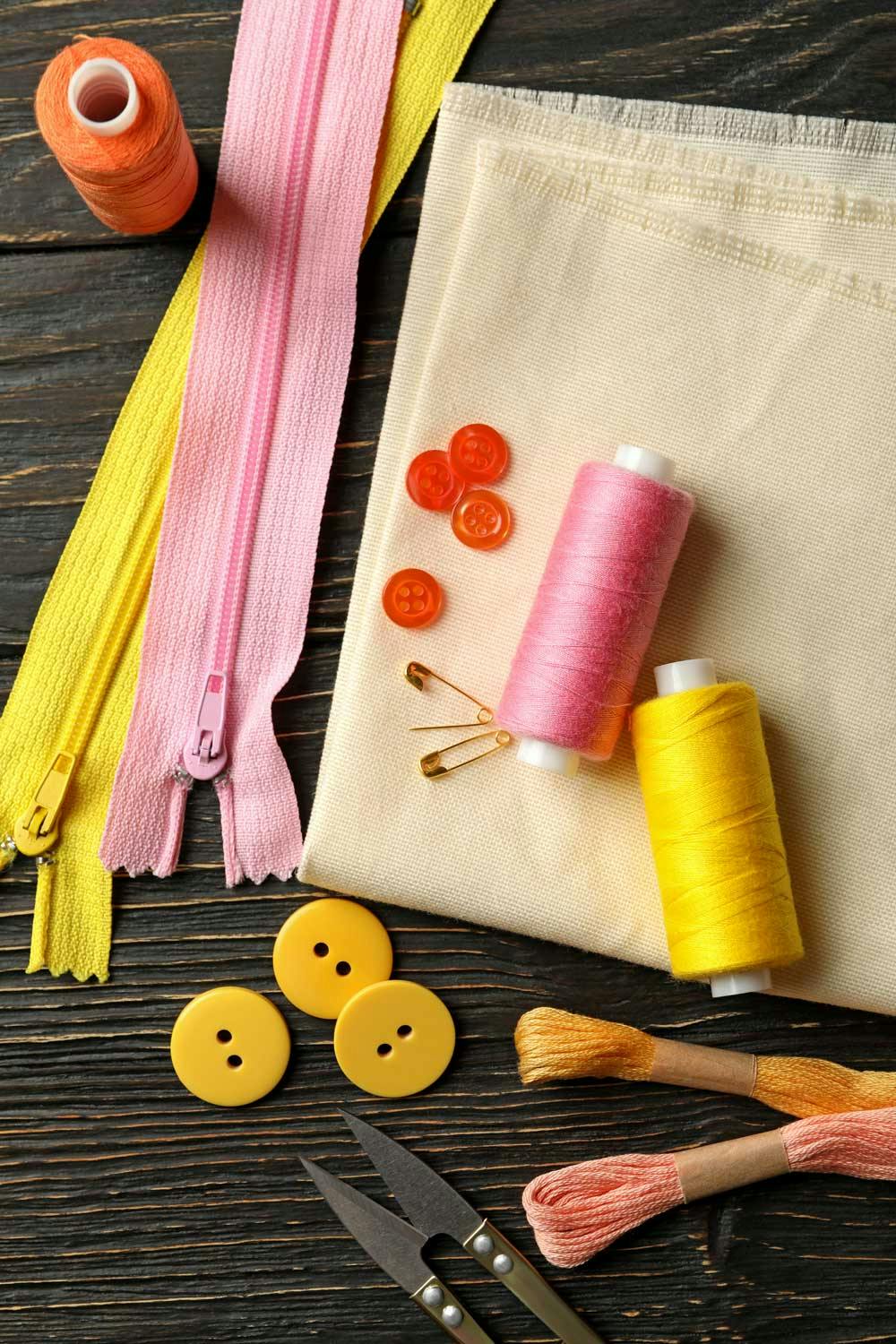 What are the best fabrics for a DIY travel pillow?
Choosing the outer layer of your neck pillow comes with a lot of pressure. You don't want 8-hours-into-an-overnight-flight you to regret your past decisions.
Soft Cotton Jersey - This offers a soft and stretchy surface to rest against that is natural and breathable.
Brushed Microfiber - Lots of travel pillows are made using this soft fabric. It is a polarizing fabric that is either loved or hated, so proceed with caution if it is for a gift.
Spandex - A stretchy spandex (think swimsuit) fabric can make a great cover for a travel pillow filled with small polystyrene balls. Like a miniature bean bag for your neck!
Cotton Quilting - a woven cotton material like quilting or poplin is a great option for a standard neck pillow with stuffing. It is another natural and breathable fabric option.
Toweling or Fleece - Both fleece and toweling make a nice soft surface for your head and face to rest against, and as a bonus toweling is absorbent, so good for those droolers out there!
What supplies will you need for a DIY travel pillow?
Outer Fabric - ½ yard / 0.5 m 
Lining - ½ yard / 0.5 m 
Filler of your choice
Thread
Scissors
Sewing machine
Clothing label - make sure to add this to the outer edge so that it doesn't rub against your neck when you have the pillow on
Optional: 1x zip and 1x snap
U Shaped Neck Pillow Pattern
Create your U shape or horseshoe shaped travel pillow pattern in a few easy steps!
If you have an old neck pillow you love you could trace around this to make a perfect clone.
Free draw one on a piece of paper. To make it symmetrical you can draw half of the horseshoe shape on a folded piece of paper and cut out before unfolding. For an adult size follow these measurements:
- Approximately 15 inches / 38cm high from the bottom of the horseshoe to the top.
- Approximately 20 inches / 50cm wide when both sides of the horseshoe are laying flat
- Once you have the outer curved shape, draw the inner shape, making sure it is 7-8 inches / 17-20cm thick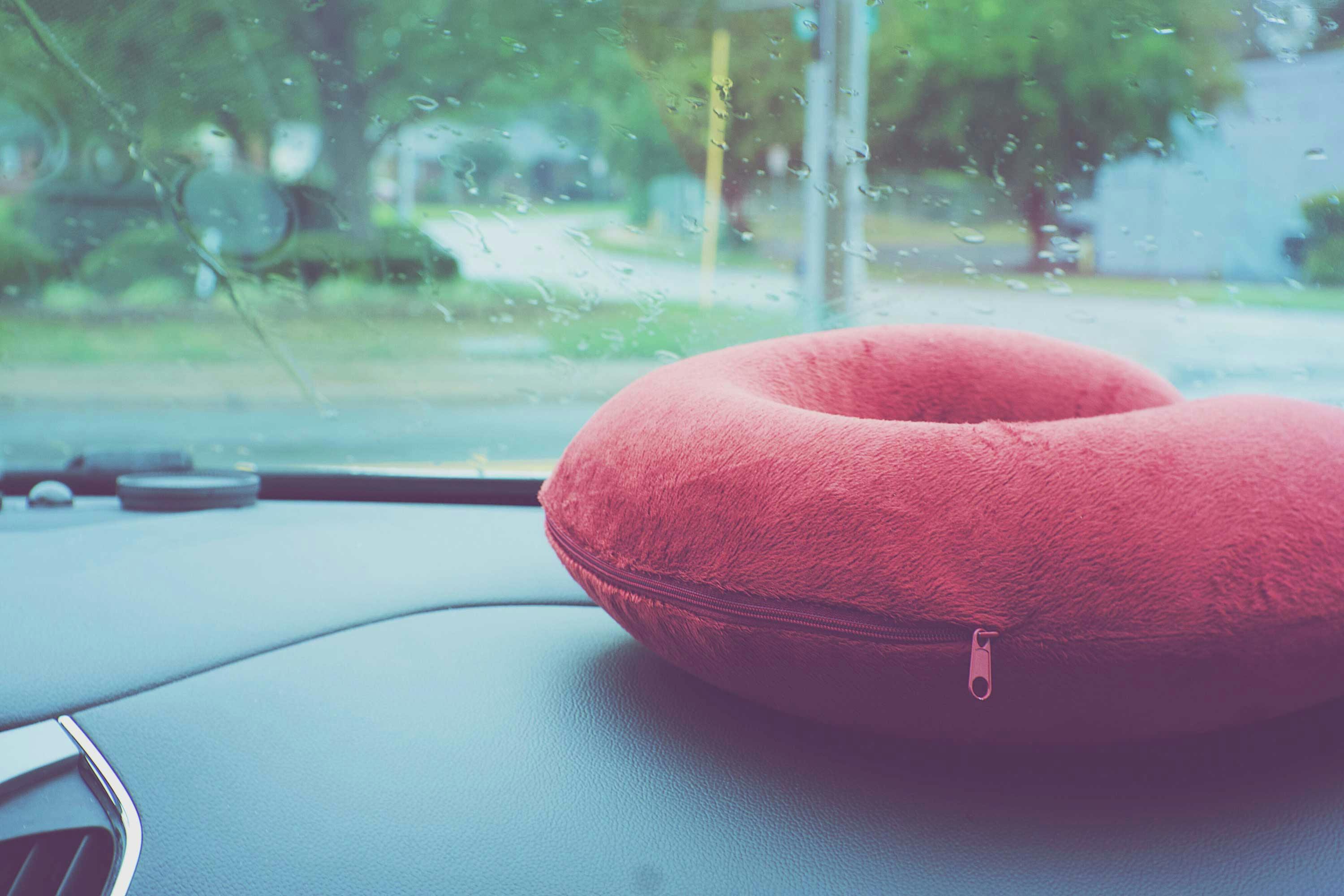 Steps To Sew Your Own Travel Neck Pillow
Step 1: Make the pattern on a piece of paper or newsprint as per the measurements above, or find a shape you like online. Make sure to add seam allowance to your pieces - 3/8" or 1cm around the entire piece.
Step 2: Cut 1 pair (2x pieces -front and back) pieces in your outer fabric, and 1 pair (2x pieces -front and back) in your lining fabric.
Step 3: Sew the lining around the outer edges at 3/8" (1cm) with the right sides facing together. Leave a small gap for you to add your chosen stuffing, then turn the right sides out.
Step 4: Add filler to the inside of your sewn lining through the small hole. Once stuffed, sew this together by hand or machine, so the filling is fully enclosed.
Step 5: Optional loop or ties for attaching your neck pillow to your bag:
- Cut 2 straps that are 2 1/2 x 5 inches using the main fabric (or you could use pre-made ribbon).
- Fold the pieces of fabric in half lengthwise with the right side of the fabric in the middle and sew using 3/8" (1cm) seam allowance along the long raw edge and one short edge.
- Trim the seam allowance back, and turn them the right side out to press.
Step 6: Now onto the main cover. If you are adding a zip, first attach the zip to the outer curve of the pillow cover before sewing the rest together.
Step 7: Once the zip is attached you can pin around the outer edges of your fabric, making sure the right side of the fabric is facing the middle
Step 8: Sandwich both small straps on the inside of your two pillow pieces with the raw ends of the straps meeting the raw edge of the main fabric - so it will be sewn with the seam allowance. When positioning these two straps make sure they won't get in the way of your neck when using the pillow.
Step 9: Sew around the outer seams, starting at one end of the zip and ending at the other end. Clip the seam allowance so it allows the curved edges to lay flat. Turn the right way round and press.
Step 10: Add a dome or snap to each side of your straps for easy travel, and voilà!