Creating a business or fashion brand startup can be an unnerving experience. With all the uncertainty, there are parts that are bound to make your head spin! We recently had the opportunity to chat with a branding expert and fashion designer who knows exactly what it's like to take that exhilarating leap into entrepreneurship. Armed with a degree in branding and design and experience working with an established local designer, she teamed up with her now business partner to create a clothing brand. 
So, if you're eager to hear some invaluable advice and insights on how to start a clothing company from someone who's been through it all in the last year and a half – while still working her day job, you're in for a treat! Join us as we dive into it and uncover the secrets behind her journey in creating a clothing line. 
PS, at the time of our chat, our interviewee was still under contract with her current employer, so asked us to leave her name out for now.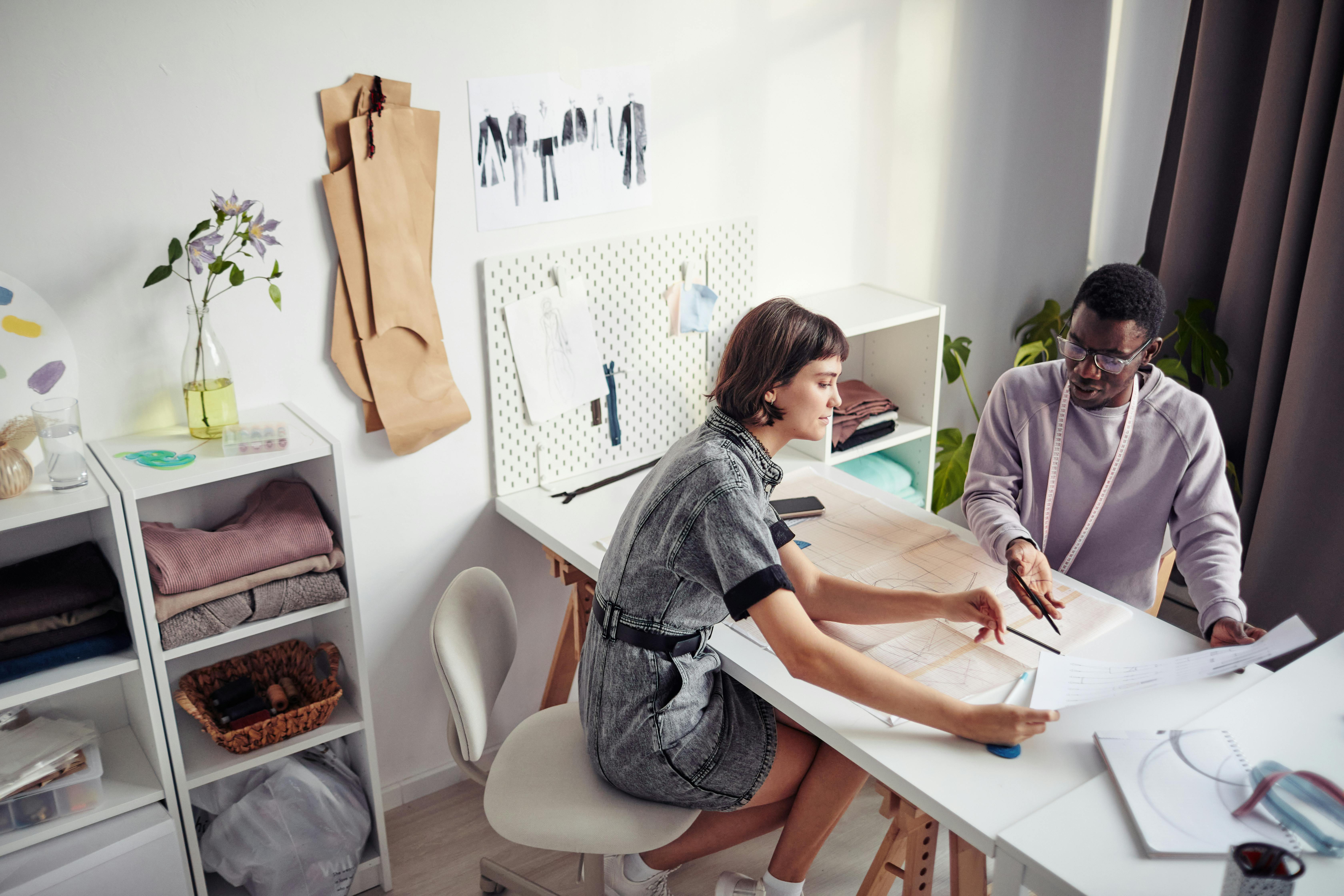 DLS - What is your background, and what were you doing before starting your own clothing line?
Designer - I studied branding and design for the fashion industry at university. It incorporated design and also brand strategy and how brands express themselves outwardly.
DLS - What made you want to start your own clothing line?
Designer - My business partner had this idea for the brand and he was looking for a designer and somebody creative to bring it all into the right form. So we just started talking about all the ideas. Normally a collection starts from a concept, like a country or culture. However, we are doing it a bit differently and our concept actually started with three intentions. So everything was done very mindfully. So for example, there is a silent collection, a high-energy collection, and a collection for a connection with other people.
DLS - Tell us about your process of starting your business.
Designer - So we just started to brainstorm the ideas and concepts and build mood boards for them. I then started sketching as we knew we wanted all the illustrations to be hand drawn. During this process, we also discussed how it was very important that if we launched a company, it needed to be done in the most sustainable way possible. We're only working with people and businesses in the supply chain that take really good care of people in the factories, and use the most sustainable products we can source, like water-based inks.
DLS - What has been the hardest part for you so far?
Designer - There has been a lot of experimentation which takes a lot of time. It was difficult finding suppliers who would produce something to our exact standards and quality. We really wanted to do something quite different and a lot of suppliers just said no. It meant there was a lot of us motivating each other and reminding ourselves of our vision after many failed attempts with factories.
DLS - So on the flip side, what has been your favorite part of creating a clothing brand?
Designer - There have been so many! But the part that stands out the most has been in the beginning, when we started brainstorming. At this stage, everything is a blank canvas with no limitations. I don't like to think about limitations regarding budgets etc. at the beginning, so it feels like it's an endless world of possibilities. Then we get a little bit further into the process, and you can start to eliminate ideas and figure out limits. But I like that everything is super open in the beginning.
DLS - Anything that was easier than you had expected?
Designer - Yes! After going through all the struggles of sampling, creating our first campaign was really fun as we got to see it all starting to come together. We worked with other people on the campaign so it was nice to get that new influence and input. We came up with the story for the whole video and did the photos ourselves in a super nice location and I felt like the mood on that day was super high. It was just really flowing and cool and everybody really felt the story. At that moment I felt like all the hard work at the beginning was starting to pay off.
DLS - Do you have any advice for people who are thinking about starting a brand?
Designer - The start is often the hardest. You might have this idea in your head but it's really just about taking the first step or it will never go anywhere. So just start somewhere! There will always be hiccups and problems to solve along the way, but that is part of it. And once you start, don't be scared to talk to people about it. We found it very helpful to share our vision and ideas with other people and listen to people's feedback and responses. It gives you a little bit of fuel and different perspectives.
DLS - As your background is in branding, do you have any tips for creating solid visuals?
Designer - Everything needs to be cohesive. So the garments, the designs and illustrations, the website, photos, and videos, but also the non-visual parts all need to invoke this same feeling. Creating a strong philosophy for the brand at the beginning helped us with this. Nothing should be overlooked and every step the customer takes should reflect the brand's philosophy. From what is shown on Instagram and where customers find the website, to how they receive the garments at home.
DLS - Lastly, can you tell us about your brand's custom labels and how you went about designing them?
Designer - As with the other parts of our brand, we really focused on the small details. We went quite traditional with our brand labels as we wanted our prints to really stand out and everything else to blend into the garment. They are large and are an off-white/beige color to match the color of the raw material, and quite minimal with only the brand logo showing. They look so chic in the garments, so we are happy. You can say so much with color, so I suggest that people research colors and think about the colors they are already using. So while our labels are simple, our hang tags contain more information. It is where we included more about our brand philosophy and the intentions of the sweaters. We also went with a recycled card as they look high-end and fit in nicely with our brand's story. I think it's really important after working for so long on a collection or item, to finish it off the right way. Good labels, a good photoshoot, and a great online presence.
If you're ready to embark on your own adventure, take that first step, seek feedback from others, and create a cohesive brand experience that reflects your philosophy. And don't forget, even the smallest details, like custom labels, can make a significant impact on your brand's identity.