What are the best practices for designing a Hang Tag?
Our Hang Tags are 3.55"/ 9cm wide by 1.58"/ 4cm high. Use contrasting colors and remember to account for the cord hole when uploading a design.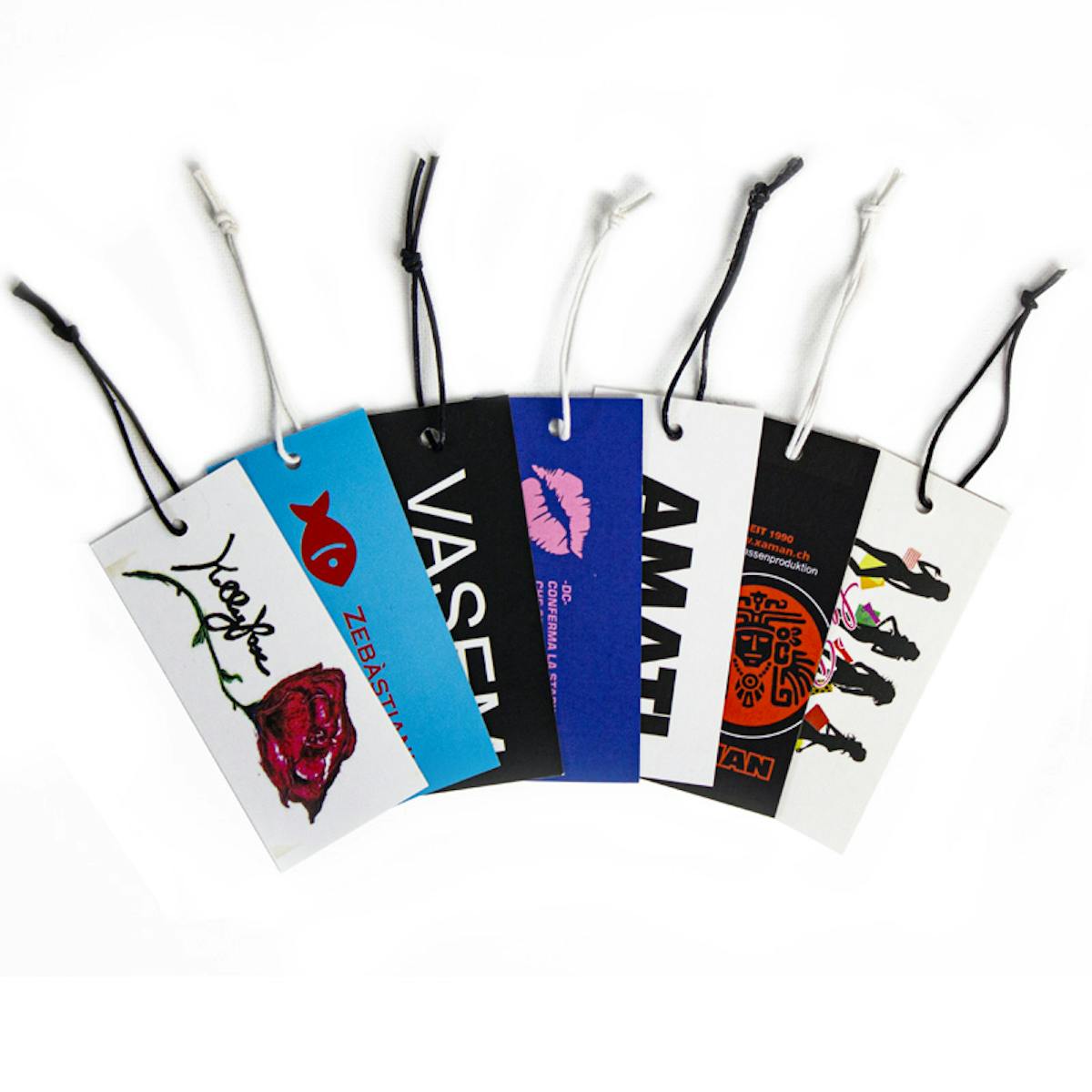 Why Hang Tags?
Hang Tags are a great way to make your products look professional and stand out on the rack. In order to get the best Hang Tags possible you will want to follow this simple guide for designing and ordering your design Hang Tags.
Ordering Methods
We offer two ways to create your Hang Tags. You can Design Your Hang Tags Online or Upload Your Hang Tag Design.
Hang Tag Specifications
Our standard Hang Tags are 3.5"/ 9cm wide by 1.5"/ 4cm high when viewed in the landscape orientation.
Hang Tags are digitally printed in full color on 280 gsm bristol board at 300 dpi.
Hang Tags include a punch hole for a string to be attached that you can order from us or add yourself once you get them.
When you order your Hang Tags with cords from us we will attach them for you saving you hours of tedious labor.
Designing Your Hang Tags Online
Our Hang Tag Designer makes it fast and easy for you to create a visually enticing design that showcases your brand directly on the items that you sell.
When designing your Hang Tag make sure you keep the following things in mind:
You will want to make sure you use a light on dark or dark on light contrasting color scheme when creating your design. This will ensure that your text and symbols stand out and are easy to read.
We offer optional Hang Tag cords in either black or white cord colors. If you choose to add a cord, think about which color would compliment the colors you are using to create your design.
Our Hang Tag Designer already takes the punch hole position into account so you do not need to worry about accidentally placing text where the punch hole will go.
Uploading A Hang Tag Design

Our Hang Tag Upload tool allows you to create a custom design in the creative application of your choice and then upload an image of this design to be printed on your Hang Tag. We also offer a set of downloadable templates for common creative applications that you can use to make sure you get the best result.
When creating a Hang Tag design in a creative application you should keep the following in mind:
You can submit single-sided or double-sided designs in the upload tool. You will need two image files (one for front and one for back) when uploading a double-sided design.
You can start your design using one of the downloadable templates below to make sure you are creating your design in the correct size while also accounting for the placement of the punch hole.
We accept .jpg, .png, .pdf and .psd file formats when uploading a design.
Hang Tags can be designed in both landscape and portrait orientations. You will just need to upload the design rotated 90 degrees counter-clockwise.
Be sure to check below and make sure you have accounted for where the hole will be punched if you are uploading your own design.
If you are setting up your own template, use the following specifications
Imperial File Specifications - 3.55" wide by 1.58" tall at 300dpi.
Metric File Specifications - 9cm wide by 4cm tall at 300dpi.
The punch hole is vertically centered when viewed in landscape orientation with the hole being approximately 1/8th inch or 3mm from the top edge. See the diagram above or use the downloadable templates below for an exact placement guide.
Hang Tag Design Templates
The Hang Tag download templates are files that are pre-setup with the correct image size and specifications needed to create a great Hang Tag design. If you are the one creating the design just download them and open them in your program of choice. If you are working with a designer simply share the link to this page and let them know they can find the guide and templates here.
Template Download Link