One of the biggest investments a sewer or quilter can make for their home maker space is an embroidery sewing machine. Just like when you buy a new car, a new computer, a new home, or any other large purchase, the first step is research, research, research.
As embroidering enthusiasts ourselves, we had to put together a list of our favorite embroidery sewing machines and share with our label lovers. Embroidery is a great way to add those little touches to your work to make them even more personalized and even more you. It's the same reason why custom woven labels and custom hang tags are always a great addition to any project.
And we at Dutch Label Shop want to be your embroidery sewing machine concierges, walking you through the different types of embroidery sewing machines giving you our recommendations. And believe us, this is no last stitch effort.
First things first, we want to walk you through the three major types of sewing embroidery machines, to help you figure out which is the best for you.
All-In-One Clothing Embroidery Machines
An all-in-one machine combines sewing with embroidery. If you're only looking to do occasional embroidery, this can be a good way of introducing an embroidery sewing machine into your home without taking up too much space, since it can be your go-to sewing machine as well. However, the additional functionality outside of a dedicated machine can take away some of the precision that makes embroidery sewing machines so great. As they say, a jack of all trades is a master of none. Beyond price, a bonus that the combined all-in-one machine has over single needle machines (see below) is the ability to have multiple needles with multiple colors of thread spools. An all-in-one combined embroidery and sewing machine is an attractive option if you're working in a limited space, only want one machine, or are only doing occasional embroidery.
Single-Needle Embroidery Machine
It is what it says. It has a single needle. The single-needle variety is one of the most common types of embroidery sewing machines you'll find in homes. It is more reasonably priced than the higher tier multi-needle machines and offers a better quality embroidery experience than the all-in-one machines. Most single-needle machines come with pre-programmed settings and designs, which can be advantageous when doing basic embroidery designs. Because of the single needle, if you're looking to stitch a design that uses more than one color, it can take longer since you'll have to stop the machine to swap out thread colors as you go along. A single-needle machine also has a single point for the hoop attachment. Overall, this is a great addition for those looking to add an embroidery machine to their sewing space for personal projects.
Multi-Needle Embroidery Machine
This is also what it says. It uses multiple needles. The multi-needle variety is what we'd call a semi-pro machine, with a lot of bells and whistles, and is great for those selling their own creations. Faster than the single-needle machines, a multi-needle machine also has the ability to work with multiple different spools of thread, making multi-color embroidery patterns easy and quick. The multi-needle machine is also highly customizable, with features and patterns varying from machine to machine. Multi-needle machines can hold at least two hoop attachment points, too, which gives more flexibility and versatility as far as embroidering options are concerned. The added functionality, needles, and hoop attachment options also make this machine the most expensive of the three options, but a great investment for those who are doing a great deal of embroidery.
Now that you're familiar with the different types of embroidery sewing machines, we've curated a list of our recommendations by type to help you find the perfect embroidery sewing machine for your needs. We've provided MSRP prices, but as we all know prices may vary if you shop around and find the right sale or markdown.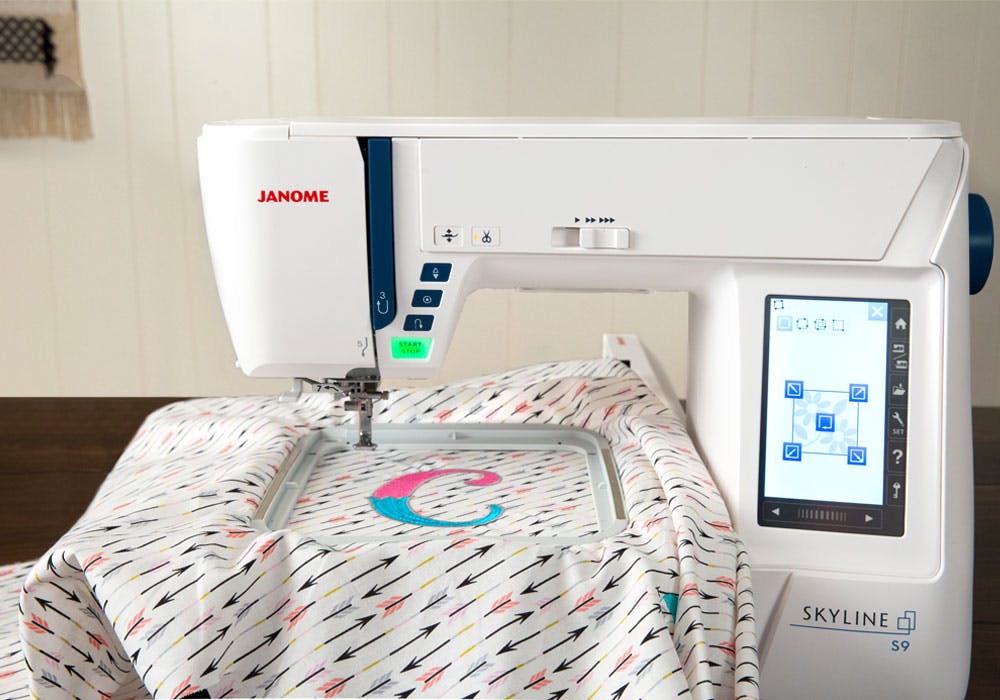 Janome Skyline S9
Sewing Machine That Does Embroidery
(aka the all-in-one embroidery/sewing machine)
Singer XL-420 Futura
The Singer XL-420 Futura is a great entry-level all-in-one machine that is a bargain compared to some other all-in-one machines on the market. The Futura has garnered some criticism for being a little fussier than its more robust competitors and having a sharper learning curve, but if you follow the directions and the tutorials, this can be a great introduction to embroidery machines. The Futura comes equipped with 200 embroidery designs and 300 built-in sewing stitches and offers an endless hoop feature that allows for a continuous embroidery border.
MSRP: $1,000 USD
Janome Skyline S9
Janome prides itself on creating some of the easiest and most user-friendly and versatile machines on the market, and the S9 is no exception. The Janome Skyline S9 is equipped with 250 embroidery designs, 300 stitches, and a touch-screen LCD display. What we really like about the S9, too, is it's wifi capabilities, which makes sending designs from computers or tablets straight to the S9 in a breeze. The cost puts this in the middle tier as far as all-in-one machines are concerned, but it's a great investment for the novice sewer or quilter looking to upgrade their machine and take their crafting to the next level.
MSRP: $2,000 USD
Baby Lock Solaris
This is the granddaddy (or grandmommy) of the all-in-one embroidery sewing machines and is thought by many to be one of the best. Considering the price-tag attached, it should be as good as it is (think the price of an affordable car). If sticker-shock is not a deterrent for you, the Baby Lock Solaris is a true technological wonder. The Baby Lock Solaris comes with a proprietary IQ Visionary Technology, which utilizes built-in cameras, and lasers for precise embroidery placement, sewing placement, and ease of design with its 10" touchscreen monitor. The Solaris also features 861 built-in decorative stitches and 740 built-in embroidery designs. Have you ever bemoaned the lighting in your maker space? Not to worry, the Babylock Solaris comes with a stadium lighting function. There isn't much functionality we could wish for that the Solaris doesn't already have and more.
MSRP: UPON REQUEST FROM SELECT RETAILERS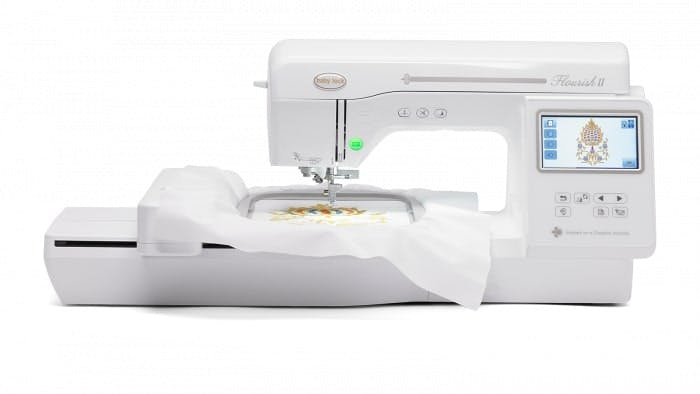 Baby Lock Flourish II
Embroidery Sewing Machines with a Single Needle
(aka for the soon-to-be embroidery enthusiast with a little extra room to spare)
Brother PE800
This single-needle little wonder is a great budget-friendly(er) embroidery machine for the sewer or quilter looking to add a new machine to their space. The Brother PE800 has 138 built-in embroidery designs, 10 frame designs, and 11 built-in fonts. The PE800 features a built-in color LCD display that allows for previewing and editing designs prior to committing to stitching. The LCD monitor hosts a number of tutorials to familiarize you with your Brother PE800 as well. The PE800 has a USB port to allow for importing designs to the machine for easy embroidery.
MSRP: $729 USD
Janome Memory Craft 400E
The Janome Memory Craft 400E is great for producing projects quickly and precisely. With a whopping 860 stitches per minute, embroidery is a breeze...well as fast as a quick breeze. The Memory Craft 400E comes equipped with 160 built-in designs, 6 monogramming fonts, and a USB for easy design import. This is a great little machine that comes with the necessary tools to take your embroidery to the next level while falling somewhere in the middle as far as price goes for single-needle machines. The Memory Craft 400 is a good pick for anyone looking to grow out their crafting space and a crafting side hustle.
MSRP $2,399 USD
Baby Lock Flourish II
Baby Lock is another one of those brands that come up again and again when looking for a quality machine, especially with embroidery, and for good reason. The Baby Lock Flourish II is a great, simplified single needle embroidery machine that eliminates some of the complications that come with machines that are too feature heavy. The Flourish II has one of the easiest threading and bobbin winding processes we've encountered, which is a big seller for us. Quiet and compact (well, relatively), it's a great add-on in any sewing space that's already sharing real estate with a sewing machine and/or serger. The Flourish II has 181 built-in designs, 13 fonts, and boasts a touch-screen monitor that allows on-screen editing. The Flourish II is also equipped with a USB drive for ease of uploading designs.
MSRP: $3,499 USD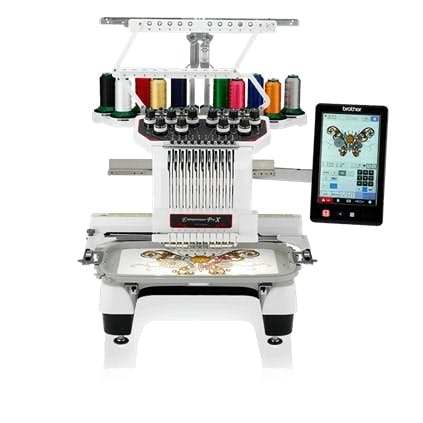 Brother PR1050X
Embroidery Sewing Machines With Multiple Needles
(aka the embroidery lover who is selling their creations)
Brother PR1050X
The PR1050X is Brother's premier multi-needle embroidery sewing machine, marketed towards home users and small business owners. The PR1050X has 10-needles and an astounding 699 built-in embroidery designs, 8 monogramming font styles, 140 frame pattern combinations, and 37 lettering fonts. Along with its huge assortment of designs and patterns, the PR1050x boasts a 10" LCD display that allows for onscreen editing, and wireless capabilities when paired with its proprietary BES 4 Dream Edition software. The PR1050X utilizes InnovEye Technology, allowing for high-speed background scanning, to make envisioning your embroidery design even simpler.
MSRP: $9,000 USD
Bernina E 16
Bernina's first foray into a dedicated embroidery machine is a true powerhouse. The Bernina E 16 has 16-needles, allowing for an even greater array of colors than most of its comparable competitors in this segment of the embroidery sewing machine space. The E16 is also one of the fastest machines we've ever used, if not the fastest, going along at 1,600 stitches per minute. The actual size of the machine is nothing to scoff at either and really requires dedicated space for this large embroidery machine with its huge workspace and oversized bobbins. The E16 is very easy to thread, with automatic thread trim, thread change, and laser alignment. While the E16 is computer compatible like other embroidery sewing machines, it omits things like LCD screens you find on its competitors because it's focused on one task: embroidering like no one's business. The E160 is a true investment for anyone already comfortable with using an embroidery sewing machine and looking to take their sewing based work and business to the next level, producing precise.
MSRP: $15,999 USD
Baby Lock Valiant
The Valiant is, well, a valiant effort from the pros at Baby Lock. The Baby Lock Valiant has 10 needles allowing for multi-color embroidery. Paired with a rate of 1,000 stitches per minute, the Valiant offers quality embroidery in nearly no time at all. The Valiant has 120 built-in embroidery designs and four different hoop sizes offering a variety of embroidery choices. The Valiant hosts an HD LCD touchscreen monitor, which not only allows for on-screen editing but also accesses the Baby Lock NeedlecCam, giving you a needle's eye view of the fabric and placement as you're embroidering.
MSRP: $18,999 USD
Now you've seen our picks for favorite embroidery machines. Have you used any of these? Do you agree or disagree? Is there a favorite embroidery sewing machine that we didn't list that you want to rave about? Let us know in comments, reach out to us on Instagram, Facebook, or Twitter, or use #dutchlabelshop to get in on the conversation.