Tips & Tricks
Organizing your Sewing Supplies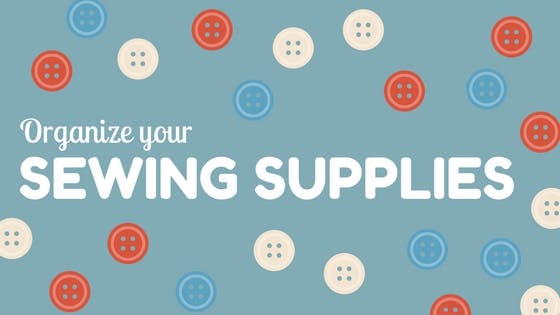 Has the weather got you stuck inside, or you found a few minutes of spare time? Here is how to use this free time to get yourself and your supplies all organized for the next project!
For those of us in the northeast, "snowzilla" found many of us stuck indoors this weekend. But if life gives you a blizzard, make snowcones! This enforced indoor time is the perfect opportunity to revisit some of our New Years crafting resolutions. This weekend's initiative: organizing your sewing supplies.
Here is the best part. You don't even have to leave your house to have everything you need to get organized. It's amazing how the most common household items can be used to turn your sewing space into a tidy, creative, and productive haven.
So even if you're not hanging out with snowstorm "Jonas," join us for this crafty weekend IN and let's get organized!
Here are some of our favorite creative ideas:
Plastic page protectors in a three ring binder: This is my absolute favorite way to organize my labels! Because the woven labels are flat and flexible, I can arrange them in separate page protectors, making it so easy to flip through and choose them when I am completing a garment. This is also a great way to organize and display fabric swatches from your collection so you don't have to dig through piles and boxes to see what you have when starting a new project. The best part is that when I'm not using it, I can just stick it up on a bookshelf.
Tackle box: Did that fishing hobby fall along the wayside for anyone in your household? Take that tackle box out of the basement and repurpose it to organize all your sewing odds and ends. The size and shape makes it easy to tuck into a closet or slide under a table for easy storage.
Makeup travel kit: In raiding our storage unit, I found my old Caboodle makeup organizer from the early 90s. After dumping out the electric blue mascara and mini butterfly clips, I was in business! The different size compartments made it easy to create a convenient traveling sewing kit for the supplies I need when I travel for fittings or bring a project on the road. My second, smaller Caboodle (yes, I had two) became a stay at home container to organize my fabric painting and dying supplies.
Baking canisters: Roomy, elegant, and designed to fit on your counter. Fill these with spools of thread, pincushions, ribbons, or anything else your heart desires!
Desk organizers: The multi-size compartments currently holding your dried out highlighters and chewed up pens can become an attractive and space-conscious organizer for all your most commonly used supplies.
Silverware organizers: For pens and pencils, rulers, embroidery thread, scissors…you name it!
Pegboard and hooks: You may have some of this in your garage or already part of the structure of your house somewhere! Put some small hooks on the pegboard to hang anything from scissors to spools of yarn to measuring tapes. This keeps your supplies easy to access and is a great way to conserve space!
Mason jars: Collect all those random mason jars and fill them with spools of thread, zippers, pencils, scissors, cutters, or thimbles. The fact that you probably don't have a matching set of jars is an advantage to organize your supplies by size! They will also give your sewing space a fun and funky feel.
Straw dispensers: Coil up your ribbons and stack them in the tall, narrow straw dispenser for an attractive display of your ribbon collection that will not allow them to become a big, tangled pile.
Spice rack: Use the spice jars to store buttons, bobbins, pins and needles, hooks, and any other tiny items! The spice rack will keep the jars together, organized, and attractively displayed.
Stacking Tupperware: This is a great way to organize your cabinets, closets, and shelves if space is an issue. Organize your supplies in various Tupperware containers, label, and stack.
What are some of YOUR favorite ways to organize your sewing supplies? Comment on this post and let us know!