Introduction
We at Dutch Label Shop are committed to helping to stop the spread of the Corona virus in any way we can. We will continue to update this page with links and information about how sewists and crafters like yourselves are helping to stop the spread of the virus in the hopes that it motivates and educates others on how to do the same.
Face Masks Are For Everyone
In certain regions of the world, mostly in Asia, wearing face masks in public has been common good for decades. To protect against dust and air pollution, but also to help prevent the spread of infectious diseases like SARS, Swine Flu and the Common Flu. The recent spread of the Novel Corona Virus, SARS-COV-2, popularly better known as The Corona Virus, has caused various local governments, national governments, health organizations and employers all over the world to issue statements recommending or requiring Face Masks in public or at work. And many people all over the world have are now wearing such masks, sometimes on their own initiative, and sometimes because of such recommendation or requirement.
This has lead to Face Mask shortages all over the world. Dutch Label Shop wants to help address this shortage, and thus to help stop the spread. In the United States, the CDC has issued a statement of recommendation for everyone to wear non-medical face coverings in public.
"In early April, America's Centers for Disease Control and Prevention reversed months of official insistence that healthy people did not need to wear masks, and recommended everyone wear non-medical face coverings in public. A national shortage of masks means it is almost impossible to buy them, and this has sparked an interest in sewing across the country as people try to make their own instead."
Via The Guardian
The Right Mask For The Right Situation
Virtually every human in the world right now has situations where they need to wear a face mask. We want to be clear about which situations require which types of masks as well as which kinds are appropriate to make at home, etc.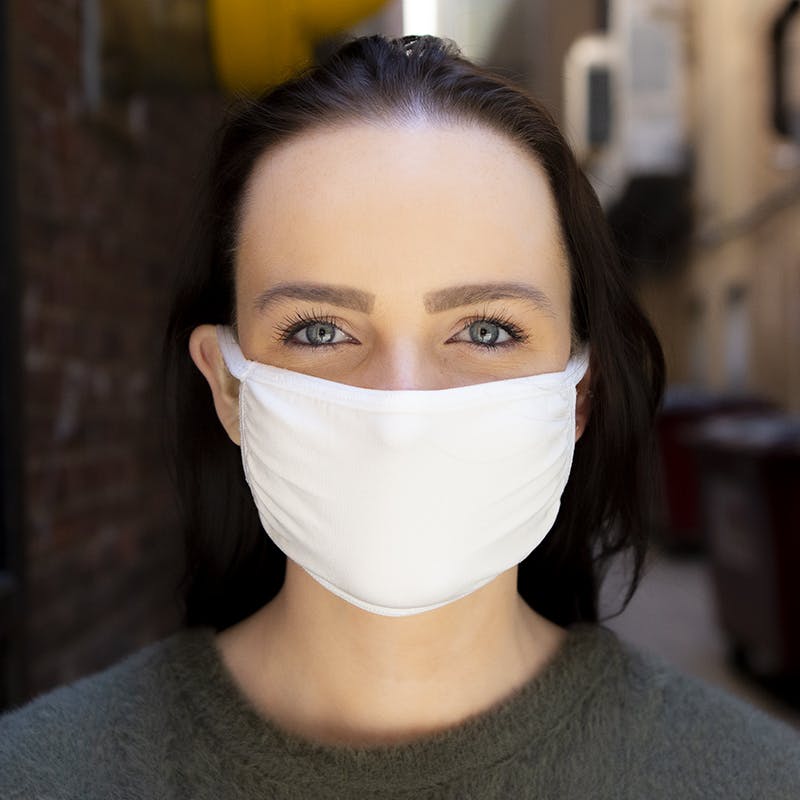 Cloth Face Masks
Cloth masks are just that - Face Masks made from fabric that cover the mouth and nose and usually are secured with straps that go around the ears.
These Face Masks are for the general public to wear that help to block the wearer from spreading the virus by blocking and absorbing droplets from expiratory activities such as talking, laughing, singing, coughing and sneezing.
It is critical for everyone to wear Face Masks in public for a few reasons.
1. Due to the long incubation period and prevalence of asymptomatic carriers, covering your mouth and nose protects others in the event you carry the virus but don't know it. It's just a no-brainer way to ensure the safety of others when you go shopping, travel with public transportation, work in a workplace with other colleagues, or are just in the general proximity of others.
2. Normalizing Face Mask wearing by having others see you wearing one makes others more likely to wear one themselves. Every time someone sees someone else wearing a mask its a reminder that such Face Masks need to be worn in public, and that we are all in this together and that there are things we can do to actively to stop the spread. So even if you think, or are sure, that you don't need to wear one: put a Face Mask on anyway for this very reason.
CLOTH FACE MASKS CAN BE PURCHASED, OR MADE AT HOME
Surgical & N95 Masks
Many people confuse "Surgical Masks" and "N95 Masks." These are actually different kinds of masks with different specifications and usage guidelines. The CDC explains the distinction as:
"Surgical masks are not designed for use as particulate respirators and do not provide as much respiratory protection as an N95 respirator. Surgical masks provide barrier protection against droplets including large respiratory particles. Most surgical masks do not effectively filter small particles from the air and do not prevent leakage around the edge of the mask when the user inhales.
The NIOSH Science Blog: N95 Respirators and Surgical Masks, posted 10/15/2009, provides an explanation of the science behind and the similarities/differences between NIOSH-approved particulate respirators and surgical masks."
A detailed breakdown video of all types of masks and personal respirators can be seen in this US Department of Labour video.
More information on the differences between these masks is available on the Department of Labor website.
STRICT STANDARDS APPLY TO THE PRODUCTION OF SURGICAL & N95 MASKS. THESE MASKS CANNOT BE MADE AT HOME. CURRENT SHORTAGES DICTATE THAT THE PUBLIC SHOULD REFRAIN FROM PURCHASING AND WEARING THESE TYPES OF MASKS, AS THESE MASKS ARE NEEDED BY HEALTH CARE WORKS, FIRST RESPONDERS, AND OTHER SPECIFIC PROFESSIONALS
Face Shields
Face shields are generally secured around the head and provide a clear plastic barrier from the top of your forehead to below your chin. The are generally used in conjunction with a mask to increase protection from both transmitting the virus to others or becoming infected yourself.
FACE SHIELDS CAN BE MADE AT HOME BUT SPECIAL SKILLS AND CARE ARE REQUIRED
DIY Cloth Face Masks
Sewing Patterns & Tutorials
Here are some great resources for making your own masks:
Fabric & Sewing Supplies
If you are looking for fabric and supplies, here are some online stores that are still shipping orders:
Buy Cloth Face Masks
Various webshops have popped up recently offering to sell Cloth Face Masks. Be aware of long lead times, and sometimes questionable quality. Prices can vary significantly as well. Besides sharing resources for DIY Cloth Face Masks, Dutch Label Shop offers: