Along with sweet treats, carved pumpkins, apple bobbing, and ghoulish costumes, the telling of spooky stories is always a favourite of Halloween. But have you ever heard or told any scary sewing tales? All sewers have one, and perhaps more than one! For a bit of fun and in the spirit of Halloween, I asked my sewing friends on Instagram and Facebook to give me a scare and share their best Scary Sewing Stories! Well, they certainly did! So, let me present you with some of the favourite spooky, strange, and scary stories telling of harrowing Halloween haberdashery horror!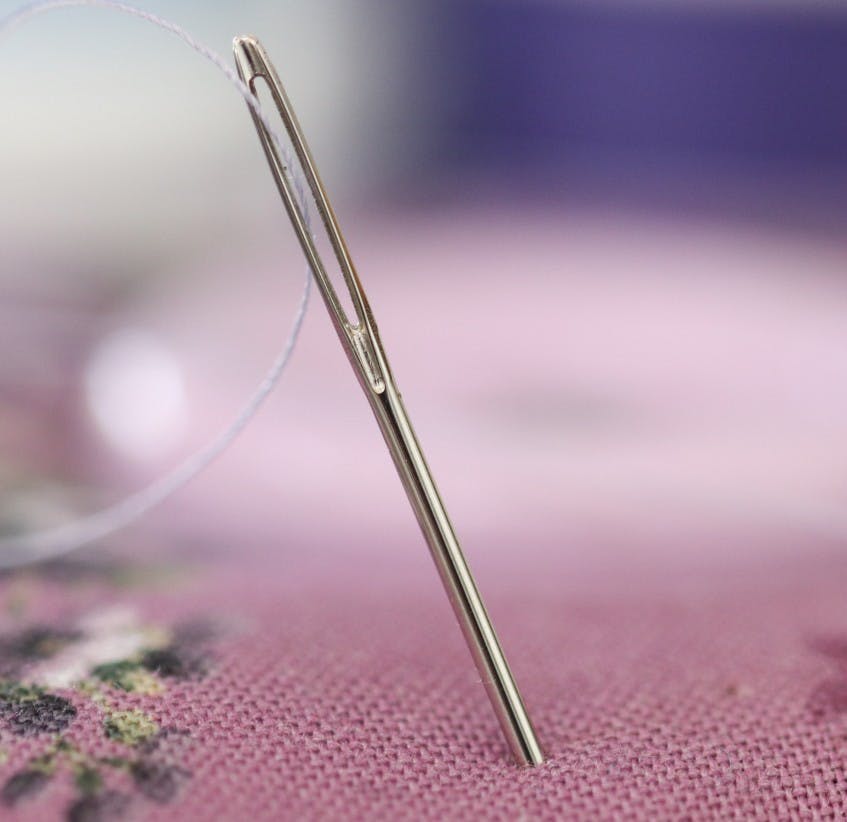 I'll begin with my own…
When I was 17 (or, maybe it was 18), I was working on my formal/prom dress. Weeks of work were spent hand-beading a design onto the fanciest frock I'd ever made at the time.
Having taken over the kitchen, I was comfortably set-up at the dining table doing my hand sewing.
Inevitably, and unsurprisingly, I dropped my sewing needle somewhere and lost it.
I checked my lap, examined my garment… I couldn't find it anywhere.  Well, it must be on the floor then.
Putting my work down, I hurriedly stood up from my chair to look for this lost needle, which I found immediately.  It just so happened it was balancing vertically directly under my left foot.  
My heel, which had unfortunately stomped down rather fast, had swallowed over half of it.
But… to my even greater horror, it was the thread side up.  Argh!
With the thread inside and still dangling out the bottom, my dad came to the rescue. Luckily, he was able to use pliers and pull it out without any real damage done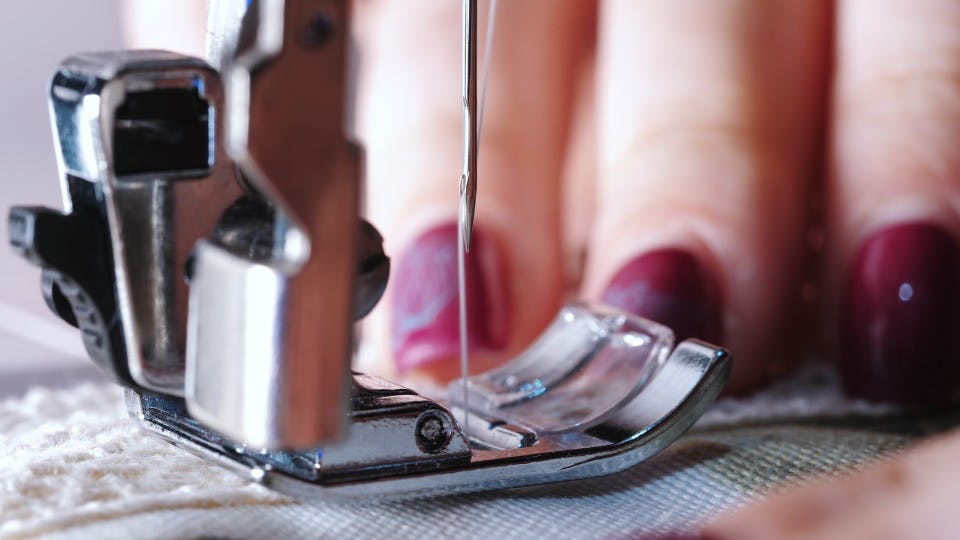 Next is a spine-tingling saga of sewing scares from university
At a particularly busy time in my second year of University, studying fashion & design, we had a deadline looming, so in typical fashion, a large bunch of us were staying late in the studios to get it finished. 
The mixture of stress, lack of sleep, and caffeine jitters was something we were probably not yet used to running on, and all it took for my friend sitting next to me was one small slip and she had sewn right through her poor finger. She barely made a sound as we all rushed around her, unsure what exactly to do. The machine needle was going right through her finger and had not come back up, so an ambulance was called and once the paramedics arrived they had to cut the machine around her so as not to disturb the injury further. She was taken, machine and all, to the local hospital. 
She returned just a few days later with her hand wrapped up and an extension on that particular assignment, however, I'm sure she still has nightmares about it to this day; I know I do!
- Nicole Barrance (Dutch Label Shop)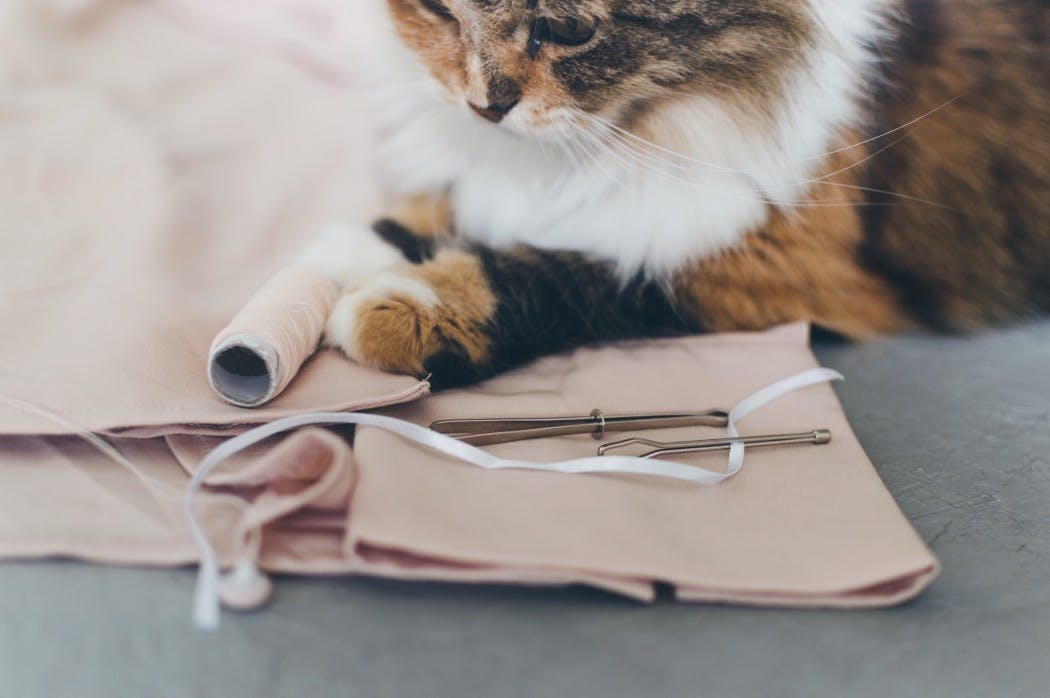 Brace Yourself For A Cautionary Tale (or Tail...) That Is Sure To Haunt
My cat swallowed one of my hand sewing needles, thread and all. We didn't know at the time.
It was only after a few months of him being vaguely unwell on and off that he was x-rayed by the vet and they saw the needle in his belly. He had to have a small bowel resection to remove it. It had been there long enough it was rusty!
That was 9 years ago and he is still going strong!
- @vintage_aimee (Instagram)
Our Next College Chronicle Is Sew Scary You'll Shriek
Whilst at fashion college, I was trying to show a friend how to do something on an industrial sewing machine but instead, I sewed right through her finger. Needless to say, she screamed very loudly and several tutors came running! It was not a pretty sight!!
- Cate Coles (Facebook)
We End Our Horrors With A Shocking Twist Ending
Not me but my great-grandmother swallowed a needle and according to the story it came out the back of her knee a month later!
- @cherrytreewitch (Instagram)
Who would've thought sewing could be so theatrical!  I hope these fantastic frightful favourites entertained you as much as they did me!  Thank you to everyone who shared a story – I had a lot of fun reading them all. Happy sewing!
P.S. from the Dutch Label Shop team: To read more sewing horror stories, check out the original posts on Instagram and Facebook. And be sure to check out Evelyn's amazing videos on Youtube.
And here's some more about Evelyn from Evelyn herself: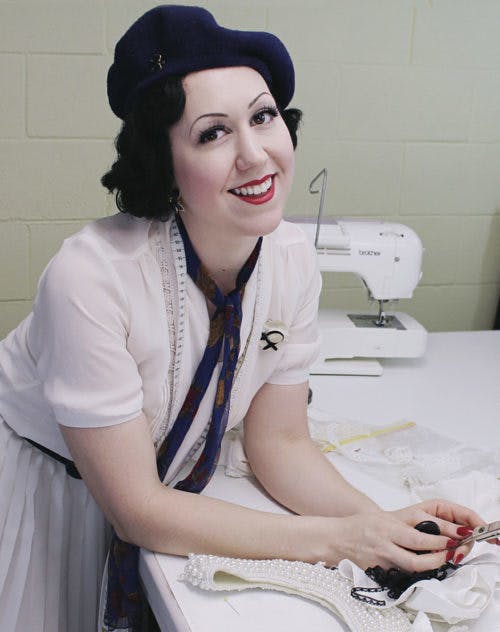 About Evelyn
Hi, I'm Evelyn! I'm a lifelong dressmaker with a love of everything SEWING VINTAGE & FASHION, and my obsession is helping others on their sewing journey!
Over the last few years, I have been inspiring and teaching budding new sewers, just like you, the ins and outs of sewing and refashioning your own clothes through my online school, Vintage Sewing School, and through my YouTube channel, which has now accumulated over 5 million views!
I have a focus on refashioning, mending, and being sustainable in my sewing. I love to emulate not only the fashion of the past but also the sewing ethos too! 
I love sharing what I have learned over my career and the thought processes I go through to help others become the sewer they want to be!