It's Never The Wrong Time To Start Quilting
Quilting is great. Some of our favorite labelers are quilters. Just look at our featured maker from August 2020, Tori Brown, who taught herself with Youtube tutorials and the help of the quilting community on Instagram.
Everyone needs to start somewhere, whether you're looking to add another craft to your arsenal, you want to create a beautiful addition for your home, or you're returning to quilting after taking a break, which is why you're here. 
For experienced quilters, consider sharing this post with a friend to subtly (or not-so-subtly) rope (or thread) them into being a part of your quilting circle.
And not to make any blanket statements, but we think we've patched together some pretty nifty quilting patterns for beginners to help move the needle on a new quilting habit.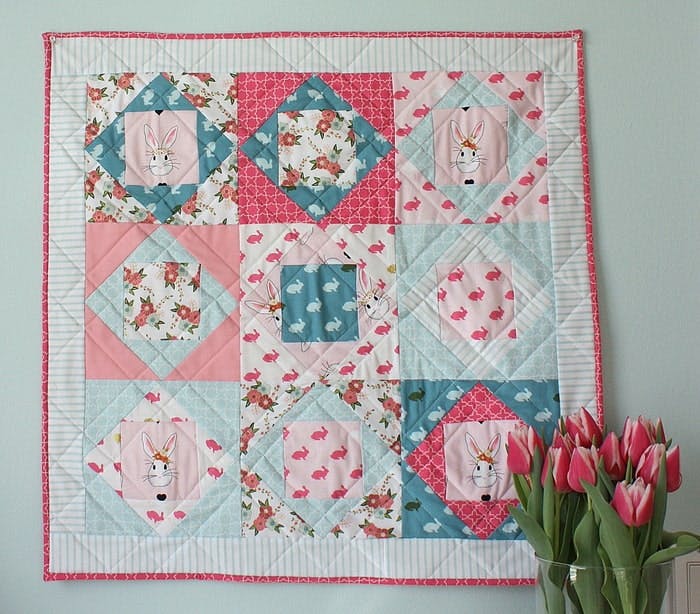 Block Quilt
When you think of quilts, you probably think of a block quilt. It's a classic for a reason, and probably the place most beginner quilters want to start. The pattern is a great jumping-off point for learning the basics of quilting, particularly cutting and stitching. The block quilt will be the foundation you will build upon as you expand your quilting craft.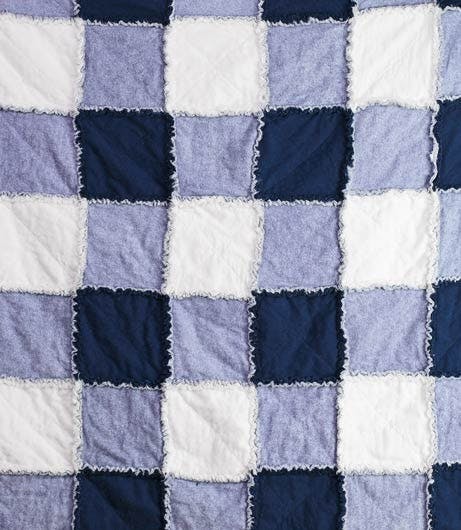 Image Courtesy of The Craft Patch Blog
Rag Quilts
If you want to make a simple quilt that looks harder than it is, try a rag quilt. They are a simple patchwork quilt design, (so can be made with scraps or fat quarters) with exposed seams that will fray over time. Don't get disheartened with this quilt if it doesn't look how you expect it to when you first make it up. To get the texture and fraying started, give it a couple of washes in the washing machine. It is definitely a quilt that will get better with age.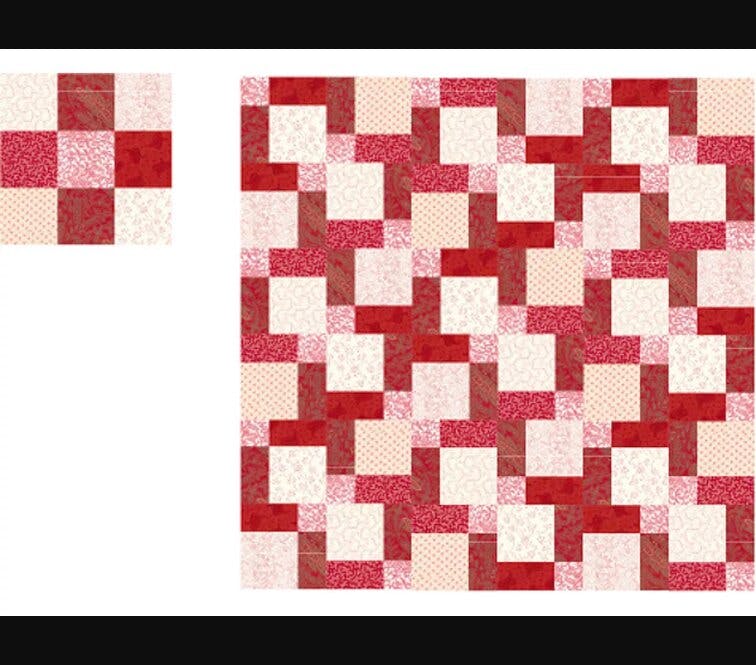 Disappearing 9-Patch Quilt
If you're looking to create something that looks complicated, but is deceptively simple, look no further. The Disappearing 9-Patch quilt is one of the great tricks of quilting. This pattern is approachable for beginners, but fun for more advanced quilters too, creating a completed project for many in a matter of hours. The disappearing 9-patch quilt is similar to the traditional block quilt. The trick here is stitching the blocks together, then cutting them into separate pieces. Simple and detailed at the same time, and a great starter project for beginners or a fun side project for the more experienced quilter.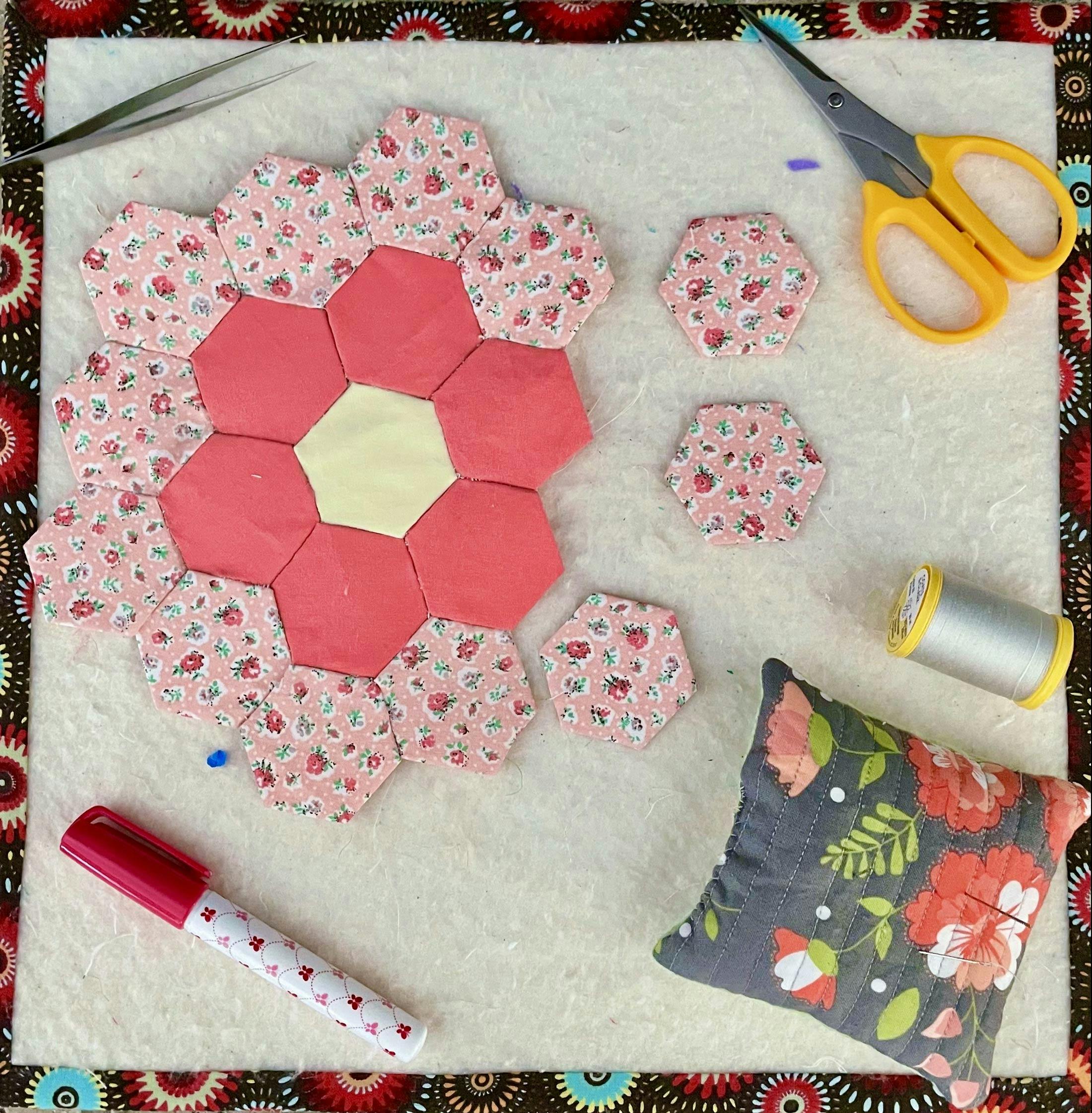 Miniature Quilts
Making a miniature version of a quilt is a great way to dip your toe into a new pattern without getting bogged down by its size. And if you have young children in your life, they make great little comforters for them or as a blanket for their toys, so won't go to waste. Alternatively, if you make a pattern you love, display it on the wall as a textural wall hanging for everyone to admire.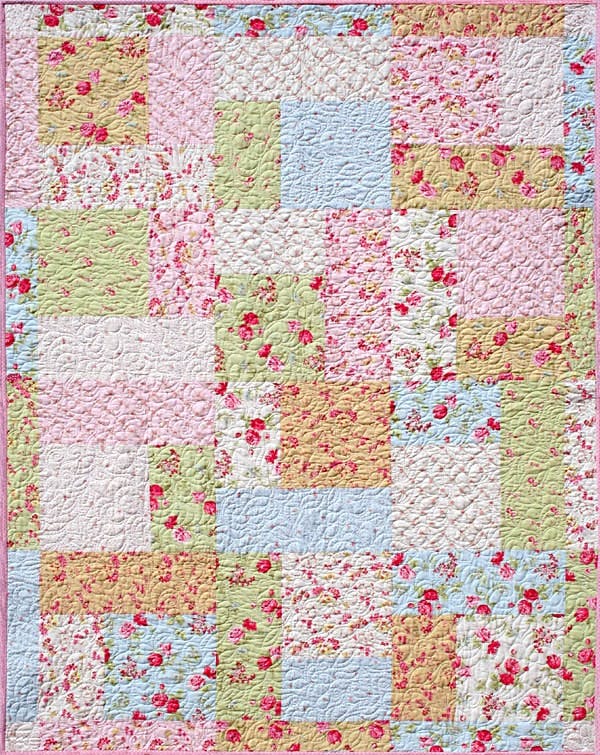 Turning 20 Quilt
When we wanted to see what patterns experienced quilters recommended for beginners, we saw Turning 20 again and again, and for good reason. Another pattern that's approachable for beginners and turns out an amazing and beautiful pattern, it's always on the top of our list when we recommend quilting patterns to newbies as well. Easy and colorful, you can find a Turning 20 pattern pre-cut at most popular quilt and craft stores. This is one of those patterns that's beginner-friendly but still creates a beautiful pattern, and it's a fun and quick project for the more experienced quilter, too.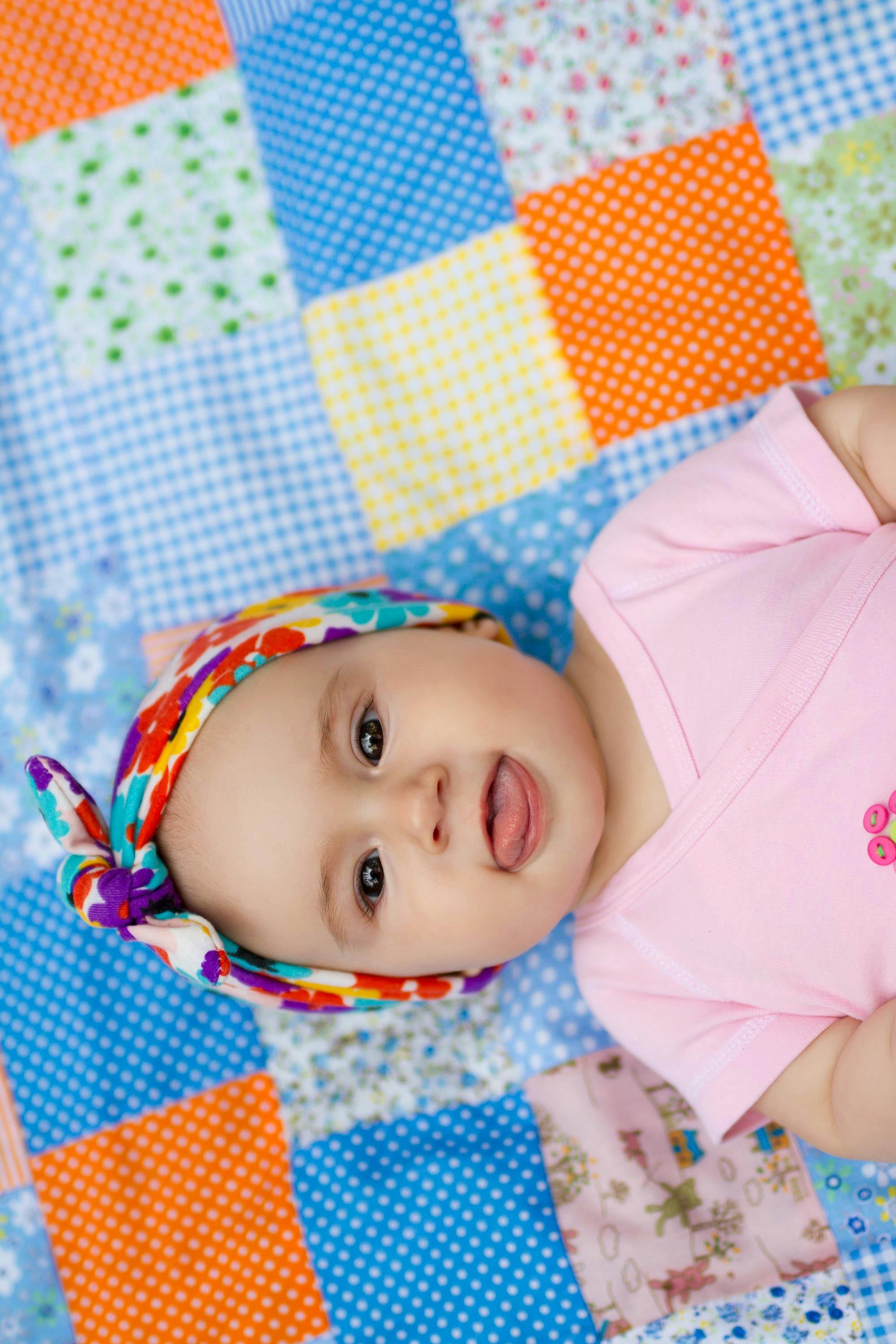 Quilted Baby Mat
A baby mat is a great size for your first quilt as it is smaller than a traditional quilt, making it easier to manage. It is a stunning gift for any new parents, and it can be customized to be uniquely personal. It will provide the baby with a comfy place for tummy time and as they grow it can be a spot where they play with their toys. For an added challenge, try a rounded baby mat.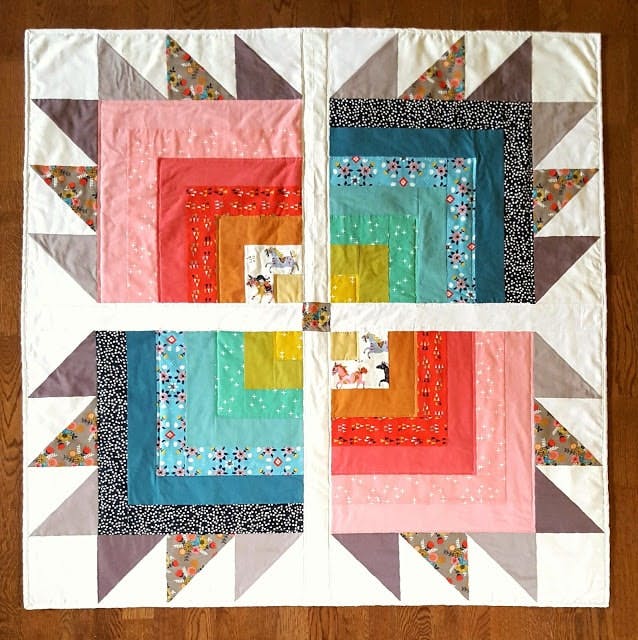 Bear's Paw Quilt
Many quilting classes geared towards beginners feature a Bear's Paw pattern. Classic, simple, and great for learning fundamentals, Bear's Paw is a great pattern to add to your to-do list for beginning quilters. The pattern is especially great for giving beginners a chance to practice half square triangles. Beyond being a great pattern, it also has an even more incredible history, being used to guide slaves towards food, safety, and freedom through the Underground Railroad in the 19th-century United States.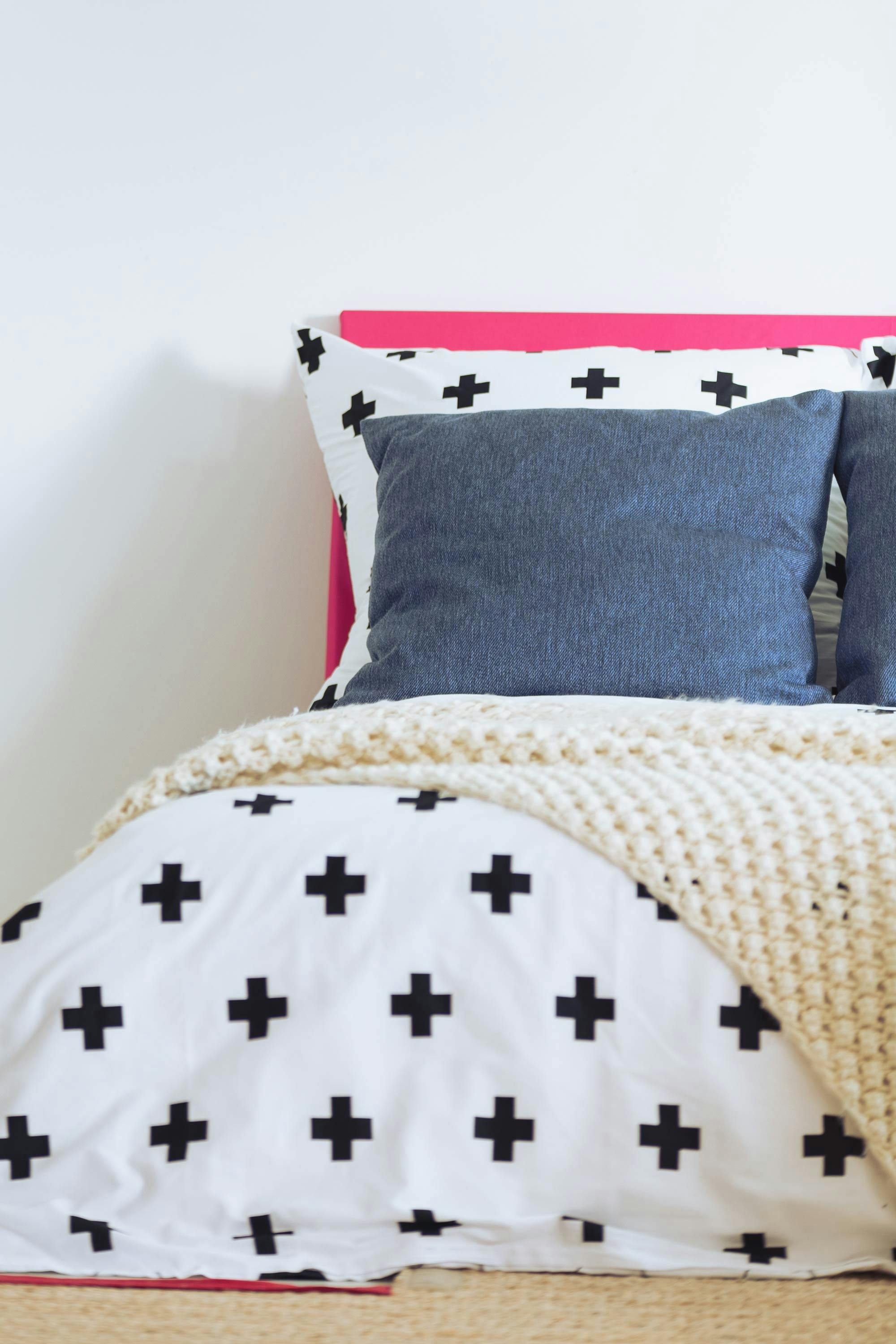 Plus Quilt
The plus quilt is a striking, beginner-friendly quilt with a modern look. There are many variations to this quilt. You can make yours with an accent color as a background or else arrange the plus-shaped pieces together like a jigsaw. For a minimalistic take on this quilt, use two contrasting colors, one for the pluses and one as a background, so the geometric elements will really pop.  
Strip Jelly Roll Quilt
A jelly roll is a perfect option for first-time quilters as you will get a huge range of fabrics precut and ready to go. The precut strips will save you a lot of time so you can spend it on the sewing. The leftover jelly roll strips make good binding, so none will be wasted.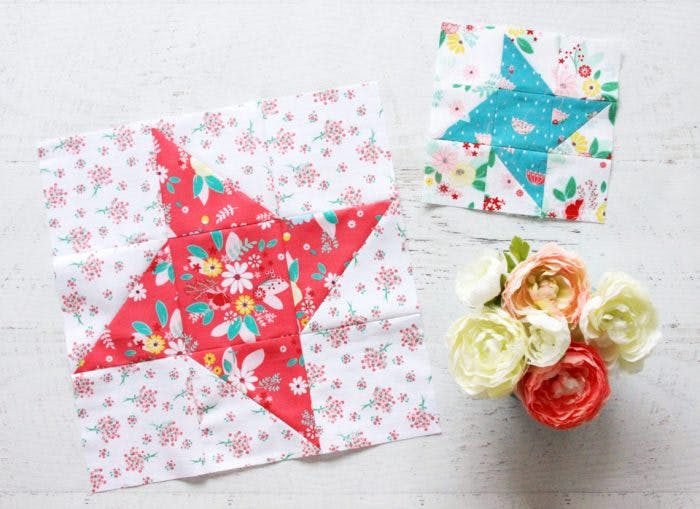 Friendship Star Quilt
The Friendship Star quilt pattern has a few similarities to the Bear's Paw pattern. It's beginner's friendly, it's great practice for practicing half square triangles, and it's often part of a beginner's quilting class. Beyond the ease of the pattern, we love the look of the star pattern itself. The pattern is great for playing with different fabrics, it provides beginners with a finished product in no time. This quilt pattern has a rich history as well, often being given as a gift to pioneer women heading out west in the 19th century by family and friends, to help them feel connected to the people and home they were leaving behind.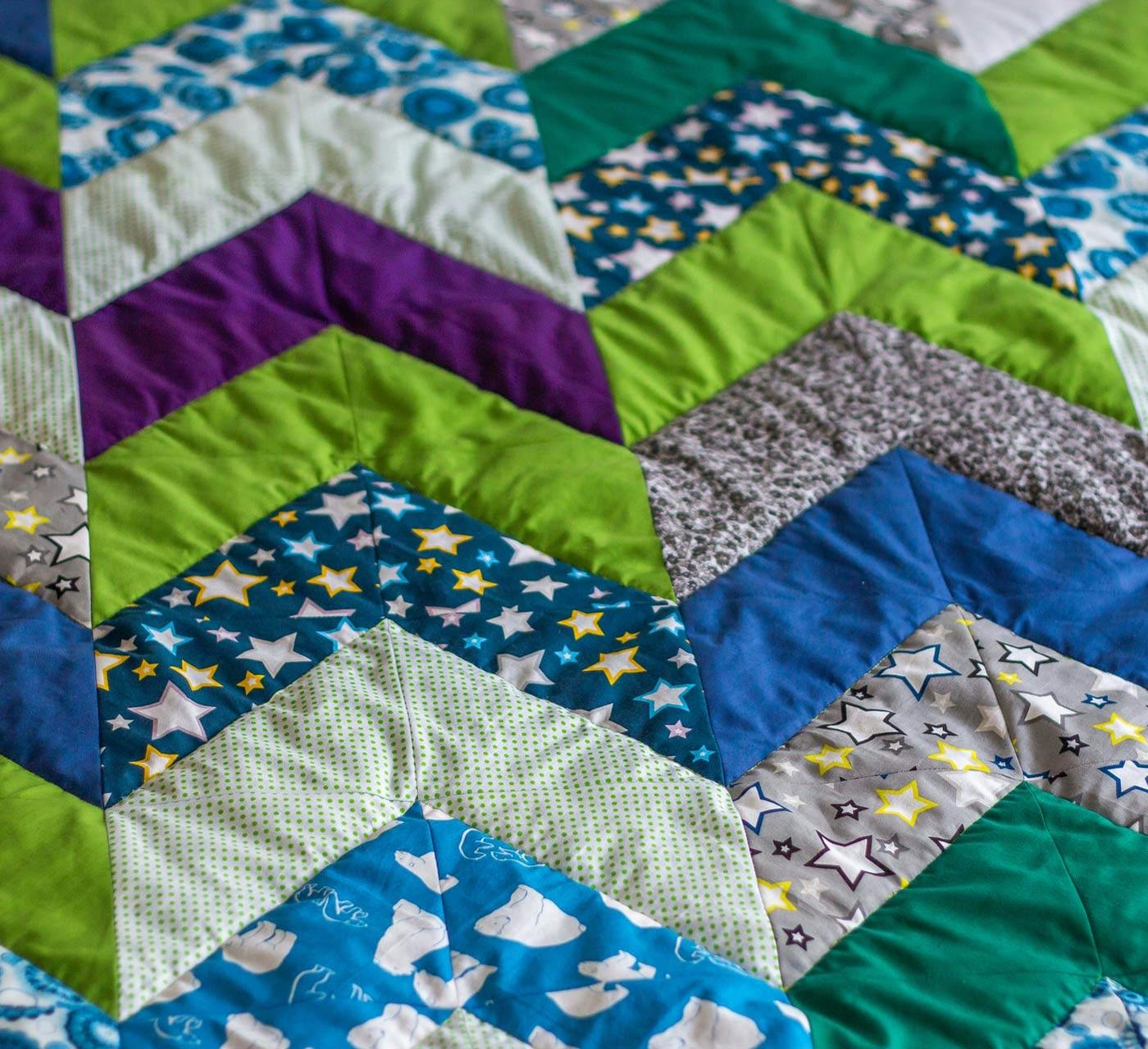 Herringbone Quilt
A simple herringbone quilt is another one that looks far more complicated than it actually is. You can make one using half-square triangles and it will come together in next to no time. Using bigger 9 to 10-inch squares will make this quilt so quick without losing any of its effectiveness.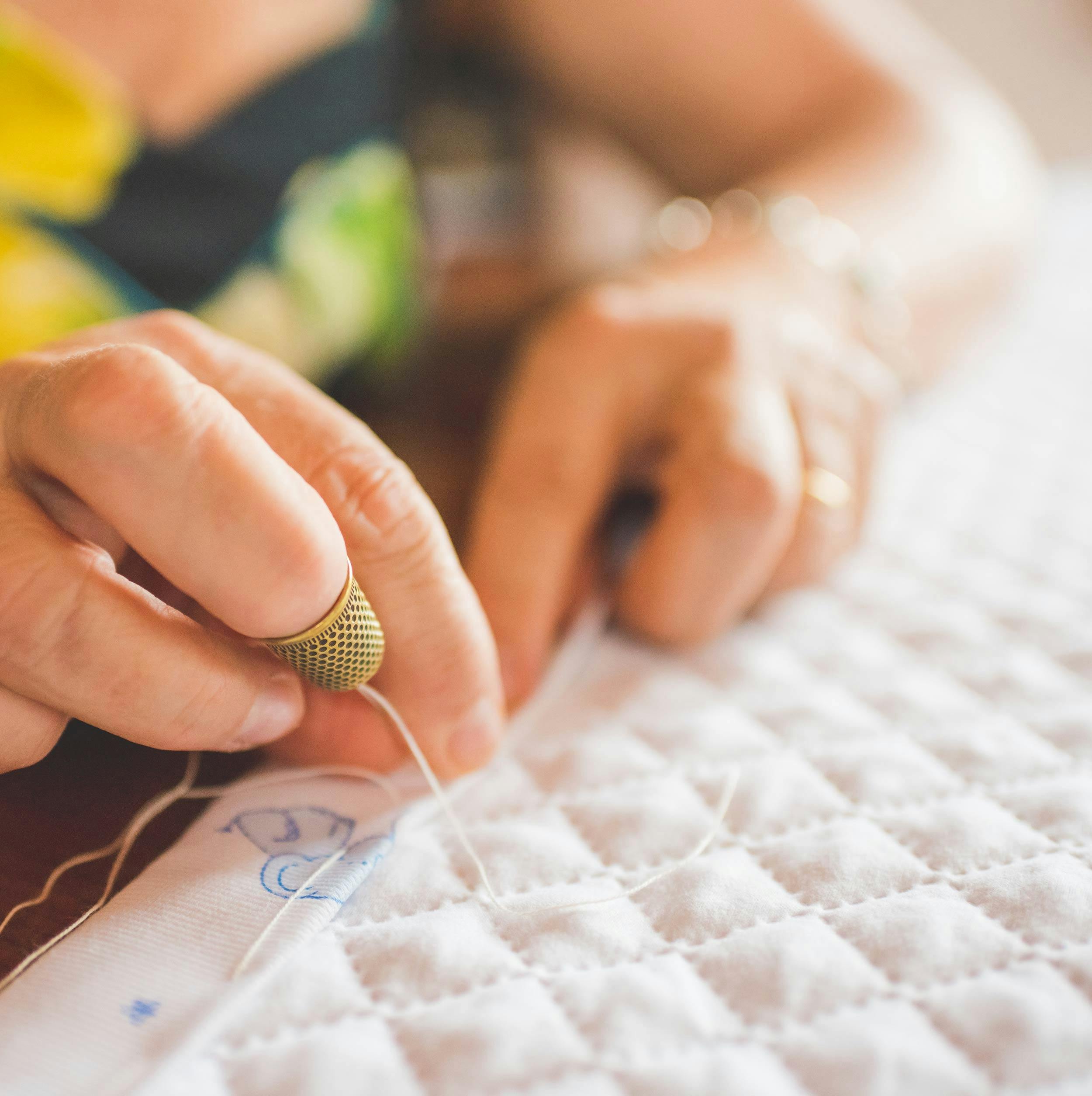 Whole Cloth Quilt
If you are overwhelmed by the whole process of making a quilt from scratch (it's a lot!), then a whole cloth quilt is a great way to start! It involves using two quilt-sized pieces of fabric for the top and the bottom, so no patchworking is needed. You can focus on adding the batting, stitching the quilt, and binding. A fun stitching pattern also will add great texture and depth and give it a unique look.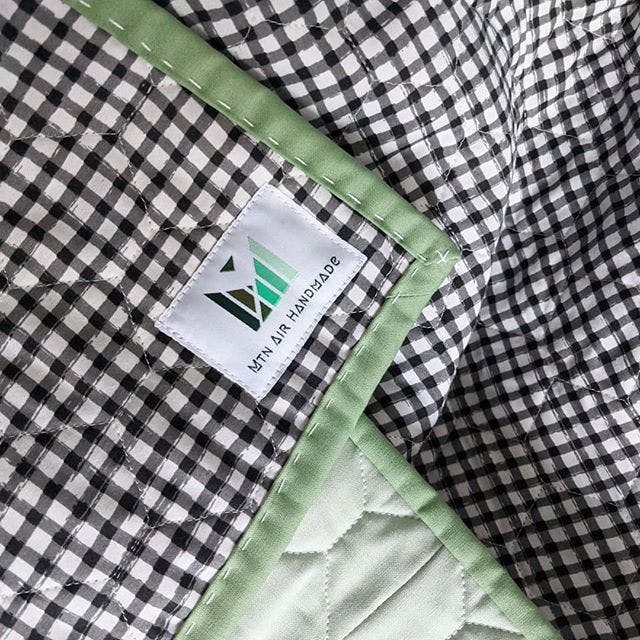 Label Your Quilts For That Extra Professional Touch
And if you're looking to add the perfect finishing touch to a quilt, whether it's a gift, something you're looking to sell, or a quilt you're keeping for your home, look no further than a custom woven label. If you're looking for ideas, check out how Tori Brown used labels on her quilts, like her beautiful label to the left.
Do you have any favorite quilting patterns or hacks? Let us know in the comments or mention us on Instagram, Facebook, or Twitter to become part of the conversation.