Choosing knit and stretch fabrics for your next sewing project is a great option for so many reasons. It doesn't need zips, buttons, or other openings as small ones can quite easily stretch to fit over the body, and it is extremely comfortable to wear as it moves with you.
But because of this stretch, sewing with knit requires a different approach than you might be used to. Fabrics like jersey, stretch wovens, terry, and ponte are all revered for their stretchy qualities, so using stitches that don't interfere with this is a necessary part of it.
If you are new to sewing with knit fabrics, or you just want to try a different finish, check out our guide below to find a stitch that suits you.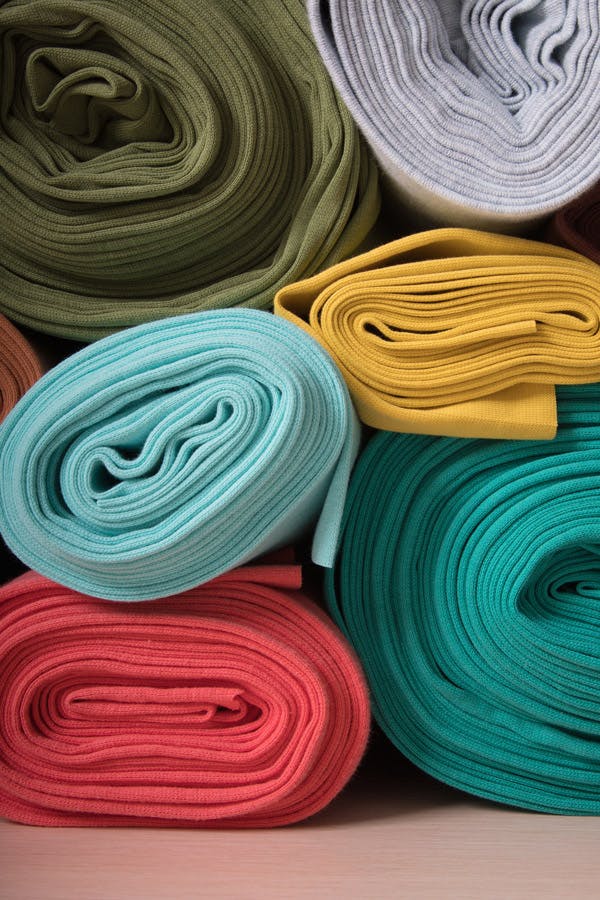 What is Knit Fabric?
Knit is a type of fabric made with large industrial knitting machines that use lots of smaller needles to interlock (loop) the yarn together. In this context, we are not referring to the chunky, homemade knits we all know and love, but instead are talking about knitted fabrics sold in lengths, like jersey, sweatshirting, ponte, and rib.
The industrial knitting machines perform the same action as hand knitting, only on a much bigger scale and using much finer yarns. The end results of this process are fabrics that have a tight knit and can be cut out and sewn together without unraveling.
These knit fabrics are comfortable, stretchy, and easy to look after. They are used for anything from t-shirts and sweats, to slinky fitted dresses, and can be made from a variety of fibers – natural or synthetic. They are perfect for babies, children, and adults, making knit a fabric used by the whole family.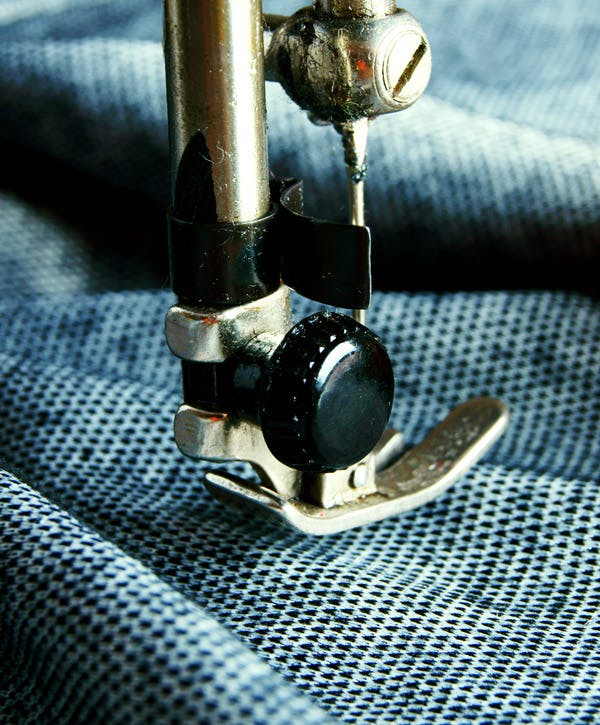 Why Can't I Use A Regular Straight Stitch With Knit Fabric?
A straight stitch works wonderfully for woven fabrics that do not have much movement across the grain, but for something stretchy like a knit fabric, it will interfere with this stretch. The stitch makes a straight row of evenly spaced stitches in a single direction while keeping the tension of the thread perfectly taut. It will provide a neat finish, but one with little give or elasticity.
A standard straight stitch will quickly pucker, snap, and lose its shape if stretched with the knit. To get extra movement from your stitches, look for one that has more elasticity, such as a zigzag or faux overlock seam. With the needle alternating its placement each time, the zigzag stitch has more room to stretch with the fabric.
How To Sew Knit Fabric On A Sewing Machine
Most domestic sewing machines have at least a couple of stitch options that will work with knit fabrics. Your machine manual should guide you to the best stitches for your particular sewing machine, but a few of our favorites are:
Zigzag Stitch - This stitch is a standard for sewing any stretchy seams. You can usually control the size of the zigzags, making them bigger or smaller depending on how you want them to look.
Faux Overlock Stitch - This one is great for raw edges and will give you the appearance of a serged finish, without the need for a serger. It is a neat way to finish a raw edge before hemming, which is where this stitch shines.
Twin Needle - If you find yourself sewing a lot of knits, it might be an idea to invest in a twin needle for your domestic sewing machine. It will give you a very similar look to a cover seamer, by sewing two parallel lines on the top, with a zigzag on the underside.
Triple Straight Stitch - Some domestic machines have this stitch, and it is a perfect one for knit and stretch fabrics. This triple stitch is a strong stitch that works well for hems. It is particularly useful for those that don't like the look of zigzag stitches as a topstitch.
How To Hem Stretchy Knit Fabrics By Hand
Sometimes a hand-sewn hem is just what a garment needs. Hand sewing on a stretchy knit might seem tricky. However, it is mostly just about choosing the correct stitch to use. We have put together a few tips to help you get the job done.
Use a catch stitch - This stitch is ideal for hemming knit fabrics. It is barely noticeable on the front side, with a narrow zigzag on the underside. Perfect for stretching!
Choose a thread that matches - A fine thread that matches your fabric color well will make your hem harder to spot from the front side.
Don't pull your stitches tight - By keeping your stitches a bit slack, you will get a neater result on your hem. It will provide your stitches with a bit more room to stretch, and it will help prevent the fabric from puckering around the stitches on the front side.
What are your must-do's when sewing with knit fabric? Let us know on Instagram, Facebook, or Twitter!