When buying custom clothing labels, you will likely have a choice between getting a woven clothing label, or a printed one. Perhaps you are asking yourself what that means for your brand label, and maybe most importantly, which way looks the best?!
The answer to this is much more complex than one being better than the other, as both options can be great choices for your label. To decide which label you go with, it really comes down to a couple of factors like your design, and the specific requirements of the label. By understanding the benefits and limitations of each label, we hope to make your choice a simpler one.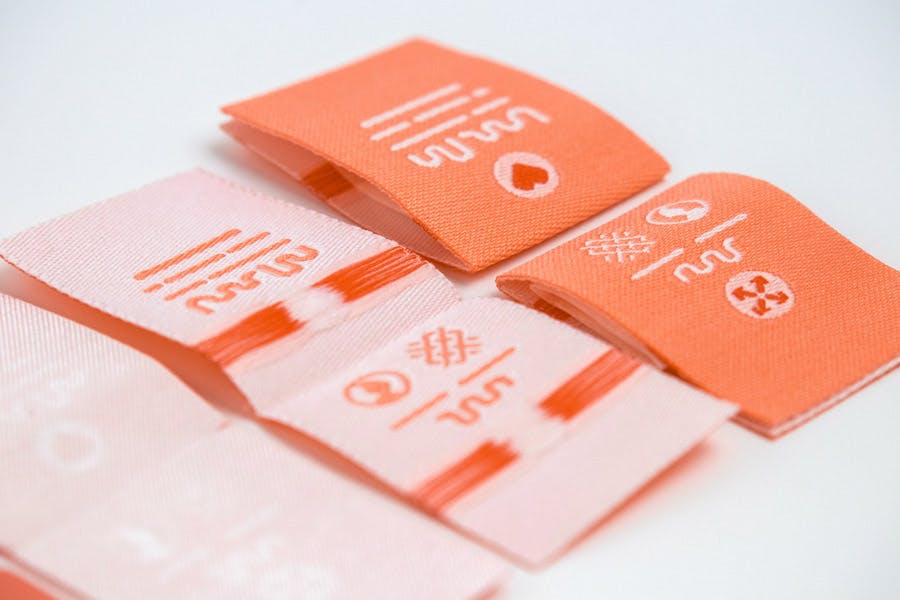 Woven Clothing Labels
Woven clothing labels are the highest quality, industry-standard labels used by everyone from high-end designers to small makers alike. The label is made on a jacquard loom, which weaves threads of different colors together to match the intended design of the label, producing a label that will last the lifetime of any garment.
Brand names, logos, and patterns all look highly luxurious when woven into a label together. The finished label has a soft yet robust hand-feel and a slight luster, so they always stay smooth and flat within the garment. You can also have folds or iron-on adhesives added to custom woven labels, making them suitable for any application.
Benefits of Woven Labels:
High Quality: Woven labels are one of the highest quality labels available. They are used by high-end designers because of their soft and lustrous finish.
Durability: They are long-lasting and will continue to look great after years of wear. Woven labels won't fray or fade over time, so your label will always look as good as the day it was sewn into your product.
Customizability: Woven labels can be endlessly customized. You can choose from a range of different finishes with yarns that are all colorfast. A high level of detail can be achieved using just a few colors.
Soft to the touch: Custom woven labels are soft around the edges without feeling flimsy. This is perfect for applications inside garments as they will sit smoothly without irritating the wearer.
Limitations of Woven Labels:
Color limits: There is a maximum of 12 colors in any single woven label—this includes any shading in a design as well as black and white. If your label has highly colorful images or color gradients this will either need to be scaled back to fewer colors or an alternative method such as digital printing might be more suitable.
Ultra-fine text and detail: If your label has multiple rows of small text or laundry symbols, you might want to consider a printed label. Woven labels work great with larger text, like a brand name, but if you need a lot of text, printed labels are your best option for readability.
Higher cost: Woven labels can be a bit more expensive as weaving requires specialized weaving design, handpicked yarn and sometimes multiple runs to achieve the right result. All in all it takes more time to produce, with higher setup costs.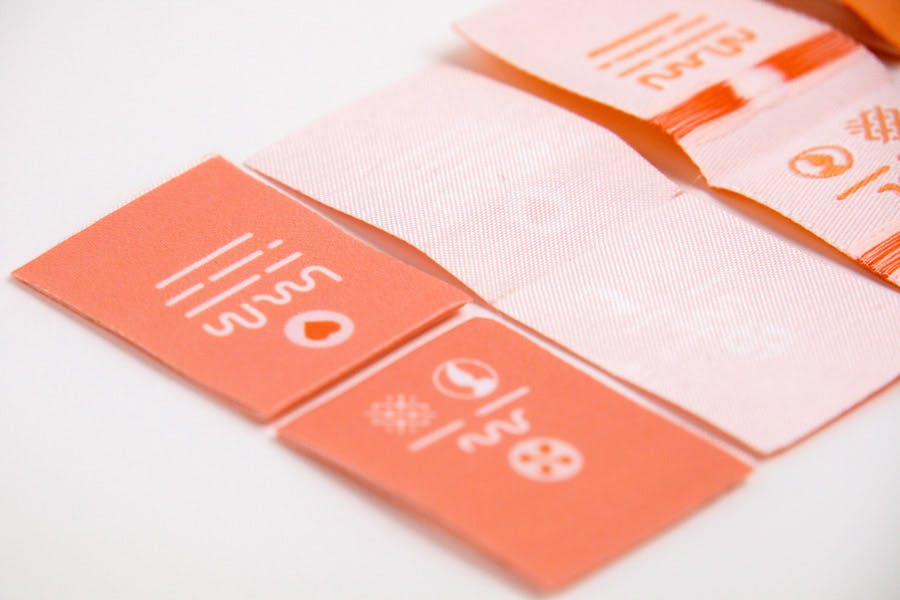 Printed Clothing Labels
Printed clothing labels on the other hand are the more affordable option for labels. They work fantastically well for designs that use lots of colors and multi-purpose labels that have rows of small text, however, they are typically considered less luxurious. Your design is printed onto the surface of a label, which is an extremely fast method that produces a label exactly as the design submitted. It is perfect for any labels that have color gradients, or applications such as childrenswear, name labels for uniforms, or care & content labels.
When choosing a printed option you will need to take note of the printing method, which can also change the result of the label. Digitally printed labels are the best option for anyone with a lot of colors or a highly detailed design as the finished design will look sharp and crisp, but they may not have the longevity of the others.
Benefits of Printed Labels:
Unlimited colors: Digitally printed labels can be printed with as many colors as your design requires. This is ideal for highly detailed images such as photos, or designs with a smooth color gradient like rainbows.
Speedy production times: Printed labels have a quick turnaround so custom orders can usually be produced and delivered fast, which is perfect for last-minute orders.
Vivid, rich colors: The inks used in the printing process are highly saturated and vibrant, making printed labels a good choice for labels that stand out.
Multi-purpose labels: Printing is the superior method for any small, detailed text. Choose a printed label for any care & content labels, or for multi-purpose labels that have it all – brand name, laundry instructions, origin, and size. This way you can get all the details in.
Limitations of Printed Labels:
Less durable: Digitally printed labels will lose their fresh appearance more quickly from repeated contact to the surface of the label while wearing, washing, and tumble-drying.
Color limitations on screen printed or flexographic printed labels: Both of these methods have much lower color limitations than even woven labels, often 3-4 colors max (however, this is not the case with digitally printed labels, which have an unlimited number of colors).
Lower overall quality: Printed labels don't look or feel as high-quality as other types of labels. They will usually be thinner and better suited to items where the highest quality labels are less important—such as in children's wear or labels that are hidden within a product.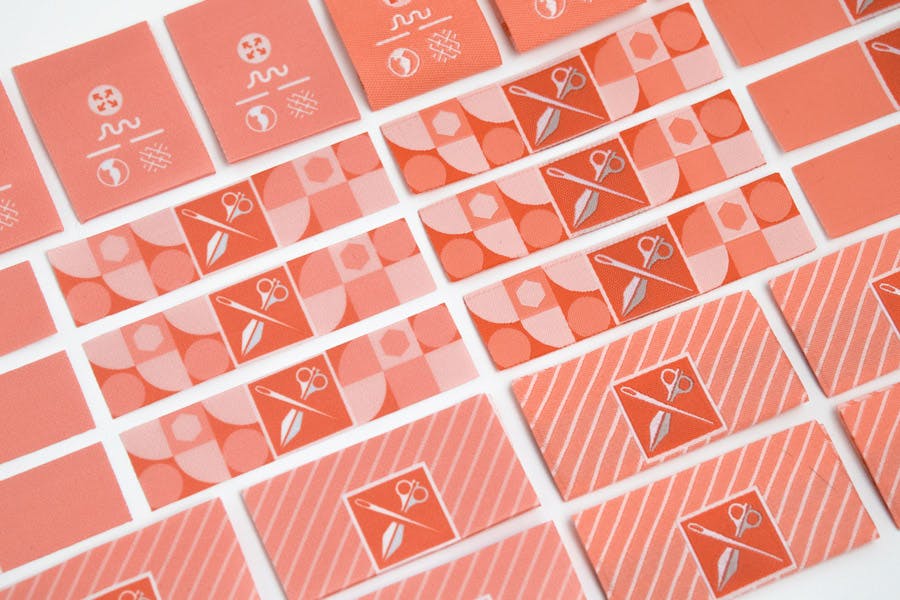 Printed Clothing Labels (left) & Woven Clothing Labels (right)
Tips for Helping You Decide Which Label is Best
As mentioned, it can be difficult to compare these two options when deciding on a label for your brand, as each method has certain aspects it excels in. Weighing needs like longevity, label design, size, cost, and quality will help you to decide what choice is best for your branding. One way to visualize this is to consider your label as a part of the final product. When deciding on a label, it's our strongest recommendation to always choose a label that reflects the quality of your item.
If you still need help deciding, contact our helpful customer support team here at Dutch Label Shop who are readily available to give recommendations and tips based on your specific design, they have seen it all!