Levi Strauss & Co. is the perfect example of a brand that has used labels in a way that truly stands out from the rest. As well as inventing and perfecting the humble pair of jeans, they have gone to great lengths to keep their jeans recognizable from every other pair of jeans made, and this is partly down to their iconic labeling. Join us as we take a look at the different labels that set a pair of Levi's apart from the rest.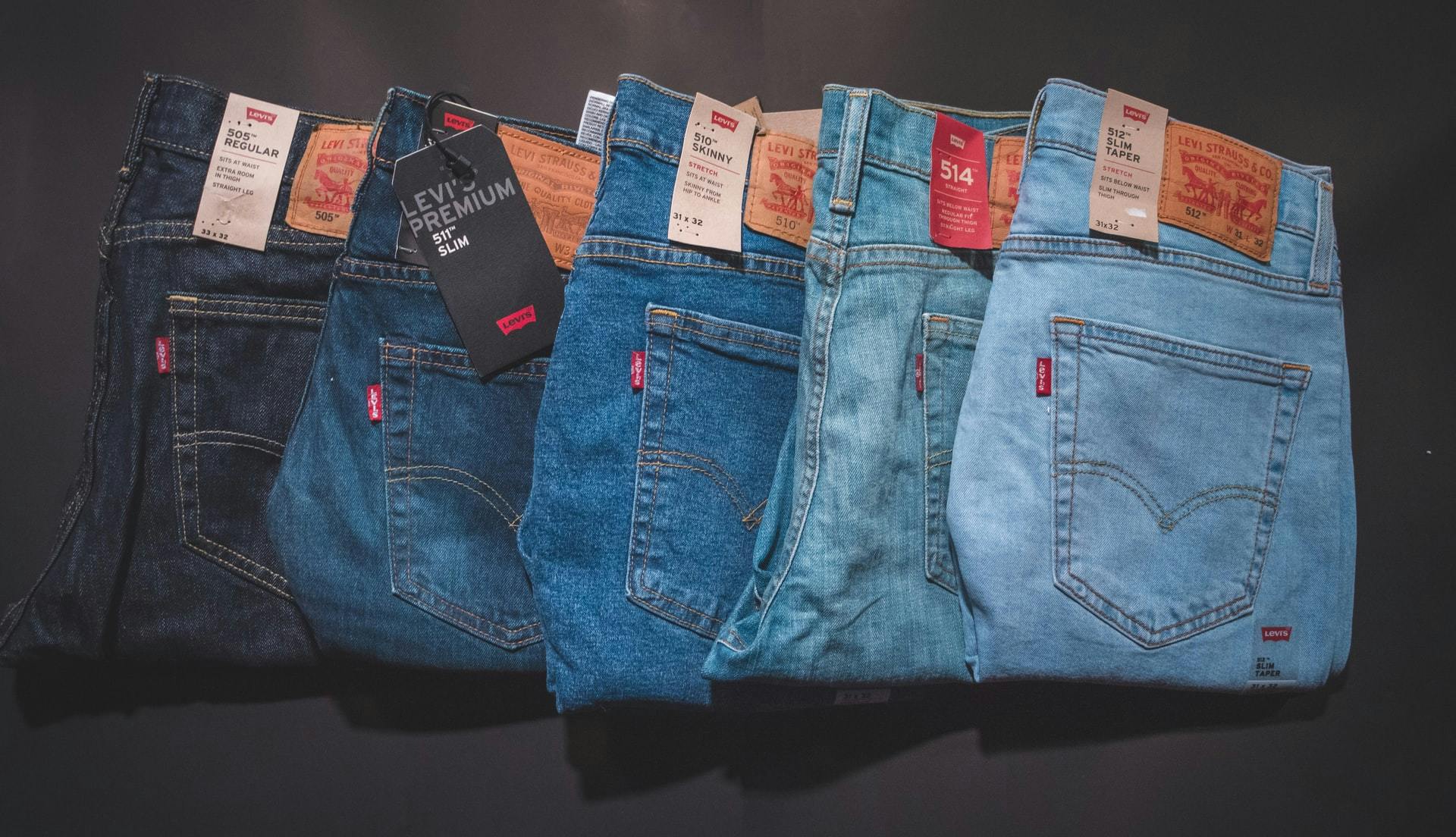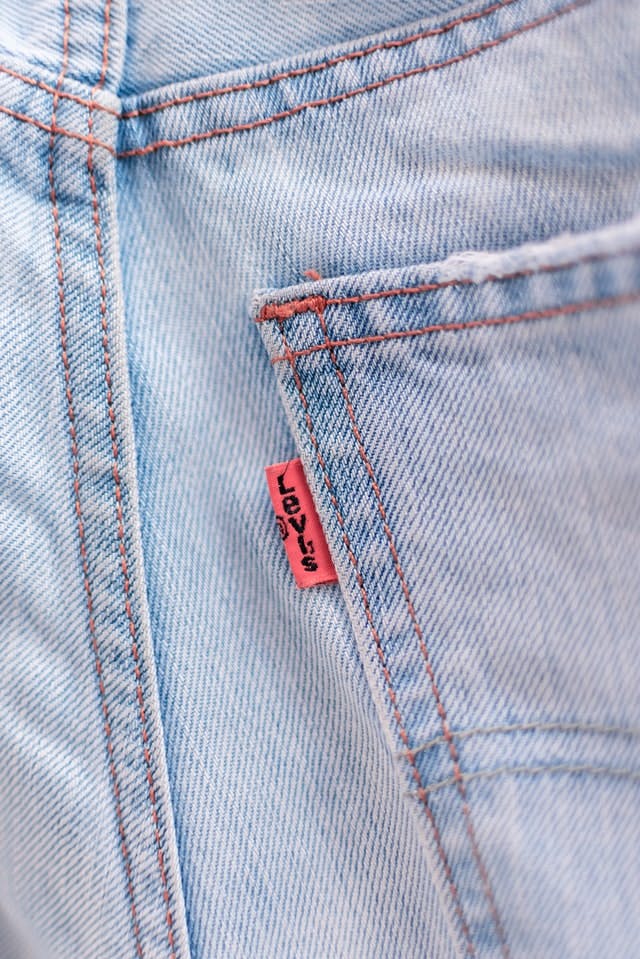 Levis Red Tab Label
The Levi's red tab might just be the single most distinctive label to grace our clothing, and they have gone to great lengths to protect this little tag. Since the mid-1930's this small, centerfold hem tag has been added to the back patch pocket on the right-hand side of every pair of Levi Originals jeans, signifying quality and authenticity.
Most of us recognize this label as a red tab, but over the years, Levi's has experimented with many different colors, as a way to separate diffusion lines from their classics. You might have seen an item with an orange Levi's tab – used for their range of fashion denim, a more experimental line of garments such as shirts, hats, jackets, and of course more pairs of jeans. Other colors include black labels with gold lettering, silver labels with white lettering, and even a red tab with no Levi's branding at all. 
These tabs can be used as a timestamp on vintage denim. LEVI'S written in all capitals was changed to a lower case Levi's sometime in the early 1970s. This change just shows up in the letter e though, so make sure to check that closely. And if your Levi's jeans only have the brand name on one side of the tab, this could signify a pair still in circulation from pre-1950's, around the time when Levis changed to a double-sided label.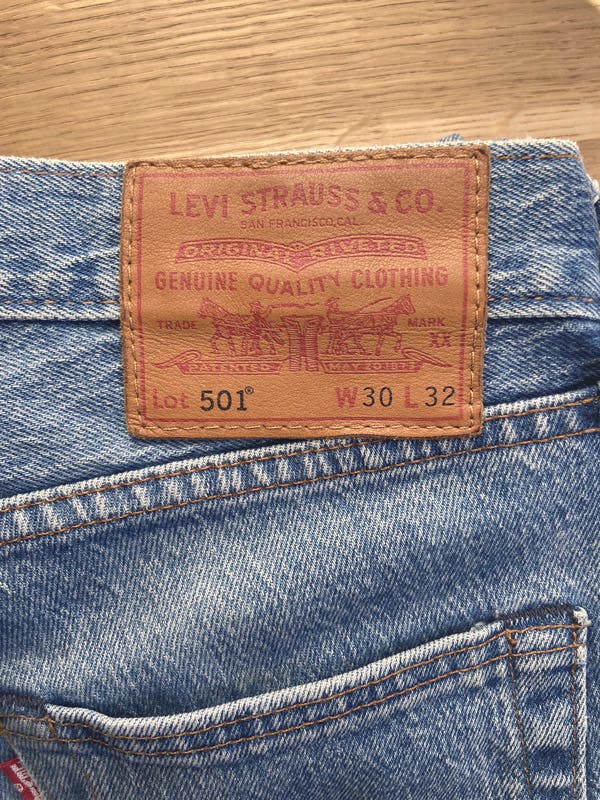 The Levi's Jacron Label
You will find this leather, or nowadays commonly faux leather, patch sewn onto the back waistband of just about every pair of jeans, Levi's or not. This label, called the Jacron label, is so synonymous with a pair of jeans, it's hard to imagine them existing without. But without Levi's quest to protect their brand, we may not have ever seen these labels. 
The original leather waistband patch has been used since the late 1800s as a way to identify authentic Levi's jeans. Jeans with this leather patch and stamped branding were a sign of authenticity in a time when counterfeit jeans of lower quality were profiting off Levi Strauss & Co innovations. The tools used to stamp the leather were expensive, making it harder and less profitable for people to copy them, which gave Levi's the upper hand back. 
Since its inception, there have been many iterations of the design shown on the brown patch in question, but just one that stands out from the rest. The first-ever Levi's leather patch had a written statement attesting to the durability and quality of Levi's, but in 1886, this was replaced with one more recognizable to everyone and still most commonly used today – the illustration of two horses testing the strength of a pair of jeans. Over the years, these patches have been reinterpreted by brands and artists such as Lego, Hello Kitty, Mui Mui, and others that Levi's have collaborated with, each one leaving their own personal touch, while still keeping the essence of this well-known label.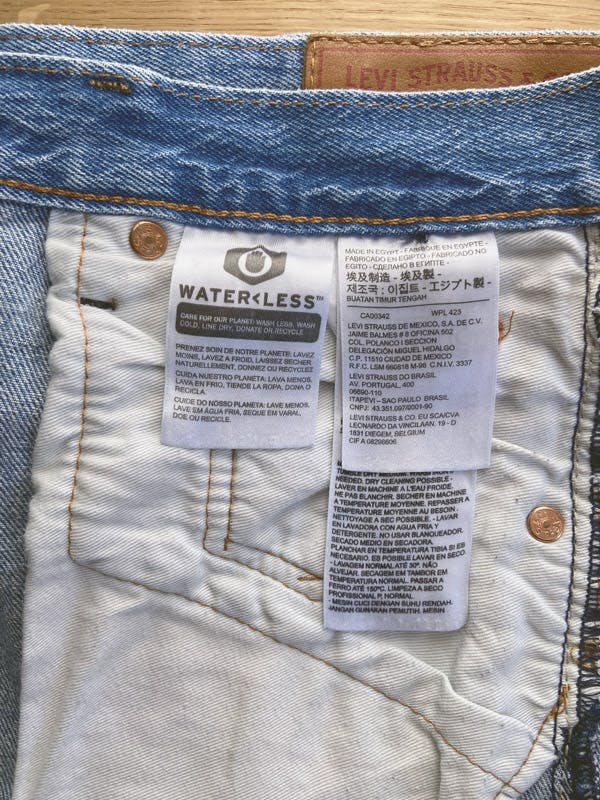 Levi's Care & Content Label
The care and content label on a pair of Levi's might not be as distinctive as their two other visible labels, however, they are no less important. Over the years, Levi's care labels have varied in application and appearance, and as technologies have progressed, their labels have too. 
When care labels first started appearing in clothing, Levi's stamped theirs directly onto the inside of the jeans, on the cotton lining of the pocket bag. In the 1970s, this way was soon replaced as it would fade and rub off quickly with wash and wear, making the instructions impossible to read. This stamp technique is still sometimes used on Levi's now for adding a stamp of authenticity onto the Levi' 501 jeans, however the care instructions remain on a seperate label.
Today Levi's use printed care labels with a satin label base, which are soft against the skin and long-lasting – the perfect solution for them to help their customers care for a pair of jeans.
Though Levi's is a huge brand with a big marketing team, many of their innovative labels have been with them from the start as clever solutions and forward-thinking. When designing your labels, you can use Levi's as an example of what creative branding can do. By placing a label in an unexpected place you could stand out from the rest, or even change the way an item is labeled forever after, as Levi's has done. At Dutch Label Shop, we are here to help you make your labels happen, so contact customer support and we can get it started.