Custom Swing Tags to Elevate your Brand
Stand Out From All The Way Across The Sales Floor
Starting at €19 for 30 Swing Tags
Incredible Swing Tags, Even Better Service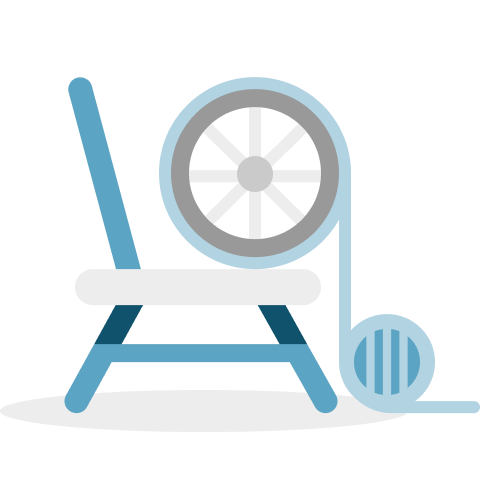 High Quality From Start To Finish
From design to support to delivery of your custom swing tags, we aim to exceed every expectation.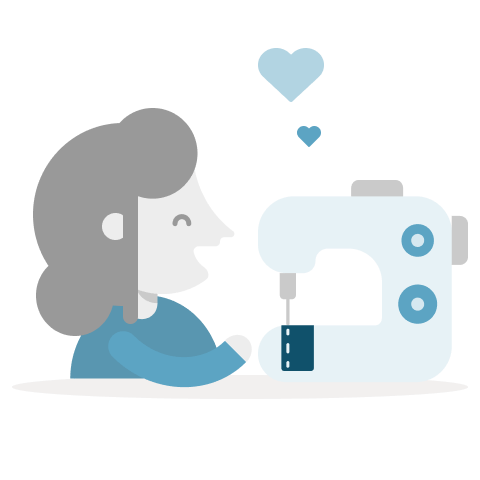 Big Or Small, We Make Them All
Have a truly original design challenge? Just need a few swing tags, or maybe thousands? Whatever your custom swing tag order, we've got you covered.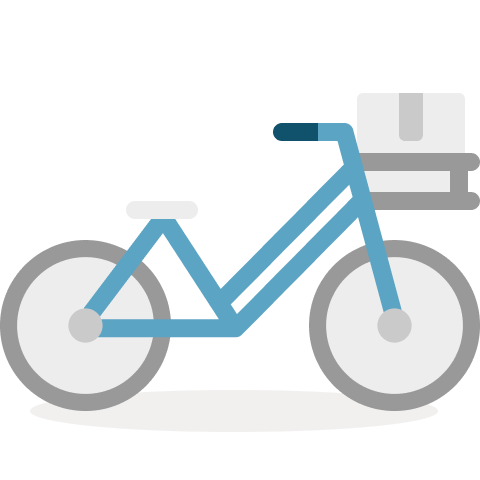 Fast Turn-Around Time
Place your order & your swing tags will be dispatched in 10-14 days or less to anywhere in the UK or around the world. Yeah, we're that quick.
Inspiring Customer Projects
Dare To Be Different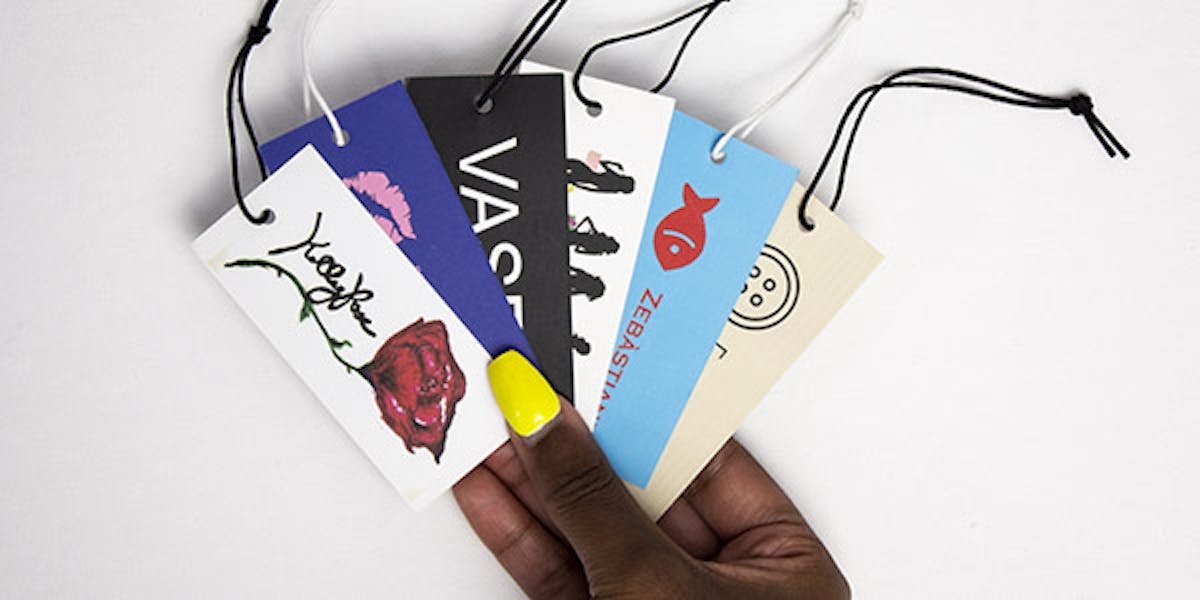 What Exactly Are Swing Tags?
Swing Tags, otherwise known as Hang Tags, are an external tag that is hung or tied onto the outside of a product or piece of clothing. As this label type is not stitched to or ironed-in to the merchandise itself, swing tags are temporary labels that can easily be removed from a garment or product before use. This label type is slightly larger than other fixed clothing labels, making it perfect for displaying your logo or any important information you want to give extra visibility (product size info, washing instructions, fabric composition, etc.). Typically, Swing tags are made from cardboard for an extra durable finish, but it's not unusual to see other materials used too, such as leather. They are normally fixed to garments using a piece of string, thread, or plastic wire.
What Are Swing Tags Made From?
Dutch Label Shop Hang tags are made from top quality Bristol board, although this kind of clothing label can be made from an array of different materials, such as paper, leather, fabric, or even wood! Our Swing tags come with a hole already punched out for your convenience and you can also choose whether you'd like us to pre-attach with cord or alternatively use your own.
What are Common Uses of Hanging Tags?
If you're looking to make a visual impact, swing tags are a great tactile option to show off your brand and product. Make your merchandise shine with an exciting & eye-catching hanging tag. These labels are perfect for embellishing a hand-made gift or professionally made garment as you can fill them with pretty much anything you like, such as info about the origin of the product, the brand, where it was made, how to care for it, the materials used... the list is endless! Swing tags are also more versatile than their permanent label counterparts, since they can be attached and removed from any item without leaving a trace.
If you're looking for a more subtle finish, perhaps our custom name labels or iron-on clothing labels are the ones for you, but if making a statement is the objective, try one of our t-shirt labels, practical quilt labels or durable washing labels.
Add Value to Your Brand With an Eye-Catching Swing Tag Design
Make sure your brand stands out with a unique & custom-made clothing label. Our professional-quality, 280gsm Bristol board Swing Tags are 100% customisable and the perfect retail-ready accessory for taking your products to the next level. Choose from a full range of dazzling design and finishing options to create a striking personalised hang tag design that will showcase your garments on the sales floor in style. Don't forget that we also sell custom fabric tags and size labels at Dutch Label Shop.
What Else Can Swing Tags be Used for?
Handbags, garments, exercise mats... the options are infinite! Traditionally, Swing Tags are used to attach key sales information to a product or merchandise on display on the shop floor, but they can also make a really nice finishing touch to more personal items, such as labels for presents or even to tell a story about a hand-made creation. Or, if you feel like your house or room needs a bit of 'Marie Kondo' style love, why not use a hanging tag to clearly label storage boxes, drawers, or other similar items for organisational bliss.
Minimum Effort, Maximum Effect!
Create an exclusive design for your bespoke Swing Tags in a matter of minutes using our intuitive online design tools, or simply upload your pre-designed artwork and we'll take care of the rest
Let us do the hard work: we can pre-thread your swing tags and deliver a fully finished product right to your doorstep
Choose from Black or White string
Coming Soon: Die-cuts!
Design Your Custom Swing Tags Online Now
Our online design editor has been intuitively designed to help you create the perfect custom Hang tags for your creations. Whether you already have a design, images, and logos and simply want to upload, edit, and send for production, or you are starting from scratch, our design and upload tools will guide you through the process. Simply hit "Design Online" at the top of this page to get started creating your bespoke design now and browse through a colourful array of tag and text options, fonts, icons and the type or chord you prefer (if choosing the pre-threaded option). Alternatively, you can upload your own design using the "Upload Your Logo" option on the Swing Tags page, position your design and then run through the design options for the back of your label. Don't forget that you'll need to make sure all images/files are in high-quality for optimum results.
Top Tips For Designing Quality Hang Tags
We've put together a few best practices to follow to create the perfect bespoke Swing Tag.
Top tip 1: add important content to your swing tag
Make sure you include all the most important content for your intended audience and label use. This could include (but is not limited to) clothing sizes, colour information, pricing, logos, or your social media handles, depending on your individual marketing approach. Why not add a small bio about your company or your brand story? Or, tell your customers the do's and don'ts for cleaning and looking after the product?
Top tip 2: keep it simple
There is no single approach when it comes to designing your hanging tags. Keep it simple with minimal text, a blank back, and focus on eye-catching images or logos for a visual effect, or make the most of the extra space by adding important details that wouldn't normally fit on smaller label types.
Top tip 3: use a swing tag to boost your brand
Swing tags are the perfect label for boosting your brand and can be used as the "cherry on the top of the cake" to add that wow factor to your creations. And last but not least, remember that your swing tag will be one of the first thing your customers will see when browsing your items for sale, so make it count with a popping and memorable custom design.
Personalised Swing Tag Specifications
Choose Dutch Label Shop for top-quality custom Swing Tags delivered to anywhere in the United Kingdom or worldwide! Each and every hang tag is digitally printed at 300 dpi and can be ordered pre-punched and threaded with string, ready to be attached straight to your product, or string free if you'd rather take care of that part yourself. DLS swing tags are made using the following specs:
Dimensions: 3.5"x1.5" (9cm x 4cm)
Print quality: digitally printed at 300 dpi in full colour on 280gsm Bristol board
Finishing: A punch hole is included for string attachment. You can choose whether to order the strings from Dutch Label Shop, or alternatively, source them independently. If you've selected the 'include string' option, your swing tags will arrive pre-threaded for a ready-to-go finished product and save you a little extra time.
Our Reviews
Ready To Get Started?
More DLS Products
Our Blog
Wherever you are in Ireland, Dutch Label Shop has you covered, whether you're in Dublin, Galway, Limerick, or anywhere else throughout the Emerald Isle. And we just so happen to ship around the globe, too!