So your custom clothing labels are ready and waiting, but now you need somewhere to attach them?! Why not try your hand at making a quilt. Adding your name or branding to your newly sewn quilt gives it a polished and professional finish, making it a lovely heirloom gift for friends, family, and of course, new additions to the family.
If you are new to quilt making or looking to brush up on some best practices before diving in, we have taken a look at some of the most common questions asked about which fabrics to use when quilting. Hopefully, it will clear a few things up and help you get started on your next quilting adventure. And once you have picked your fabric, make sure to check out our Best Quilt Patterns For Beginners blog post.
What is the best fabric for quilting?
The most commonly used fabric by quilters is one aptly named Quilting Cotton. It is a midweight, 100% cotton cloth that comes in hundreds of different colors and prints, making it suitable for any style of quilt. Quilter's cotton is ideal for quilts as it is heavy enough that you will not be able to see the quilt filling, and it is stable, so it won't easily stretch or warp while cutting and sewing. It should be made using high-quality fibers that are tightly woven together following a plain cloth weave. These properties are important to look out for when making heirloom items such as quilts, as you will want a fabric that lasts.
What is the weight of quilting cotton?
You should make sure your cotton is a mid-weight cloth for best results. Lightweight cotton such as poplin and lawn range from 70-100gsm/2-3 oz per yard (lawn), and 100-140gsm/3-4 oz per yard (poplin). These kinds of cotton will usually be too light for quilting unless you are after a specific finish. Ideally, your cotton fabric should be 140gsm/4 oz per yard, and above. This weight will give your quilt a nice finish and more longevity than lighter fabrics would.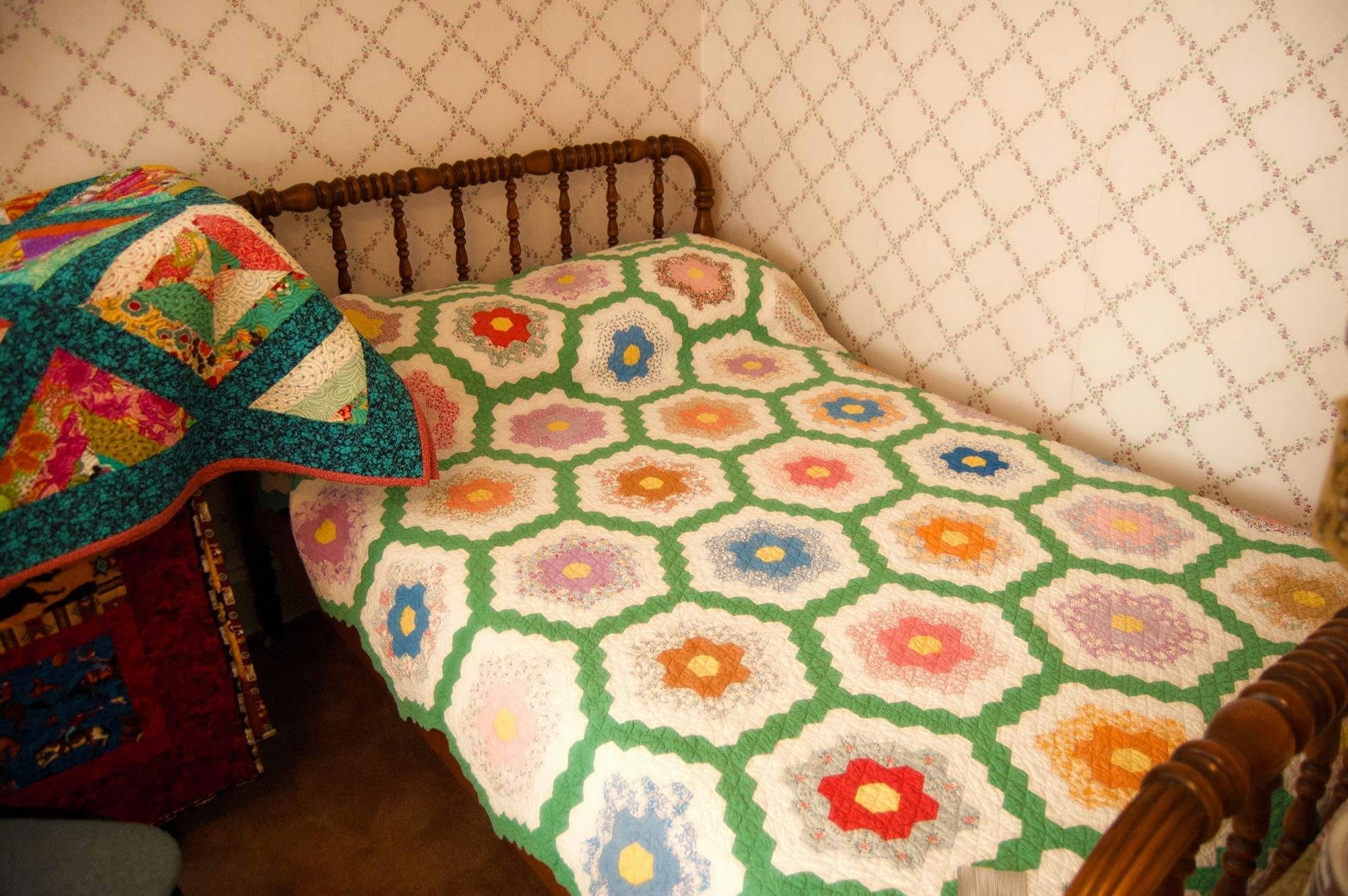 What is a fat quarter?
When searching for quilting fabrics, you might frequently come across the term fat-quarter. A fat quarter is an amount that quilting cotton is often sold in. It equals one-quarter of a yard, however rather than skinny quarter-yard strips (like you would get if you tried to buy a quarter of a yard off the roll), they more closely resemble squares. To get this one yard is cut in half lengthwise, then each segment is cut in half again, but this time widthwise. It gives quilters a more versatile shape of fabric to work with without having to buy more than you will use.
Should you wash fabric before quilting?
Unlike before making garments, fabrics do not need to be prewashed before making a quilt. And this is good news as the fabric will still have its crisp store-bought finish, making it easy to cut out and place without ironing everything first. Once completed, washing the quilt will then help to give it a softer appearance and more uniform feel. The exception to this is if using bright colors that you are worried may bleed or transfer. A prewash for any bold colors (such as red or blue) will help to prevent any bleeding that may run onto lighter-colored sections of the quilt, inevitably ruining all of your hard work.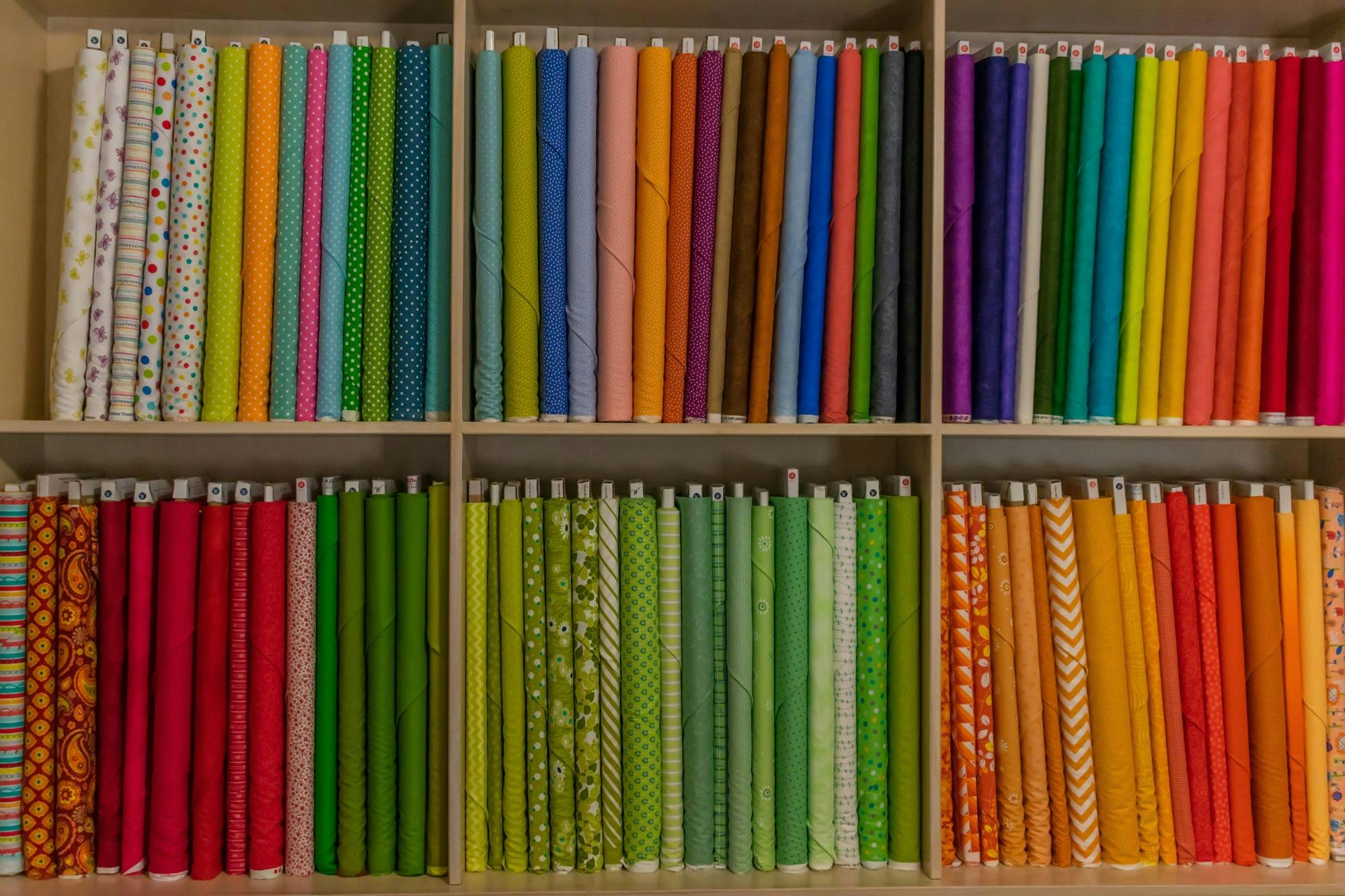 Is there a difference between apparel cotton and quilting cotton?
Quilting cotton is a plain weave fabric always made with 100% cotton and weighs around 140gsm/4 oz per yard. On the other hand, apparel cotton can be any type of weave and weight and includes blends with other fibers. Quilting cotton can, of course, be used for apparel, but you might find it is a bit stiffer and lacks drape, so will only work for some garment projects. 
What Other Fabrics Can Quilts Be Made From?
Midweight linen fabric is a great place to start if you want an alternative to cotton that's still a natural and breathable fiber. However, if you are a more experienced quilter, you may choose to get more experimental with your fabric choice. Other options include flannel, velvet, or even satin. Light, flimsy fabrics and those with stretch will need a stabilizer, so make sure you have enough interfacing on hand before getting started. One thing to note is that if you are mixing fabrics on your quilt, make sure the fabrics you are choosing are all around the same weight so that your pieces will fit together smoothly once sewn.