Tips & Tricks
General Label & Hang Tag Product Tips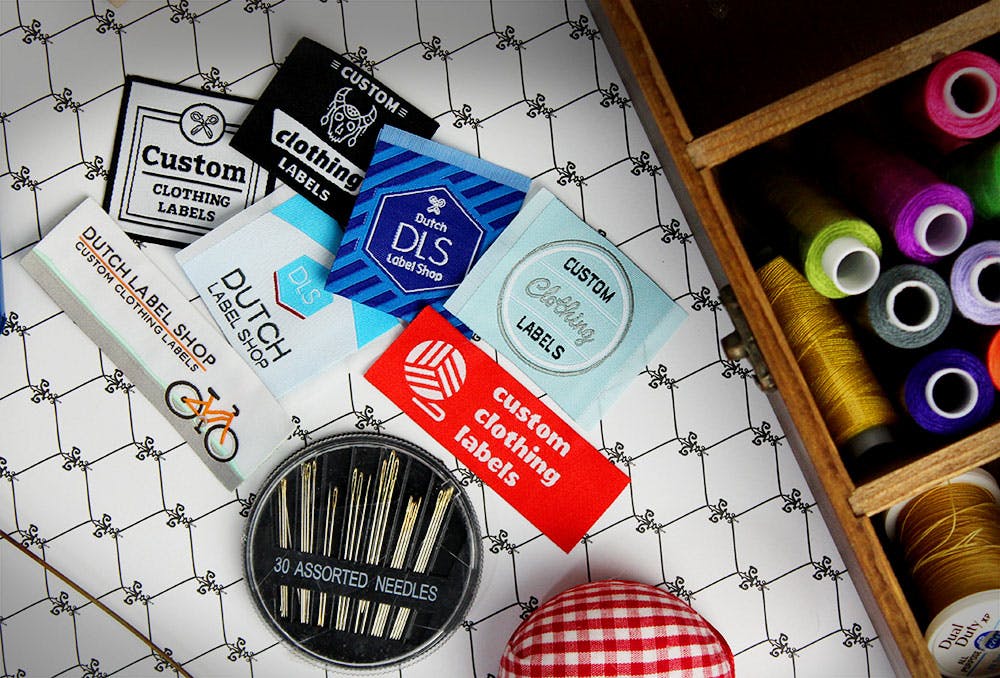 Whether you need to sew on a label or hang a hang tag, we're here to give you a helping hand in figuring out how to best utilize Dutch Label Shop products.
Woven Labels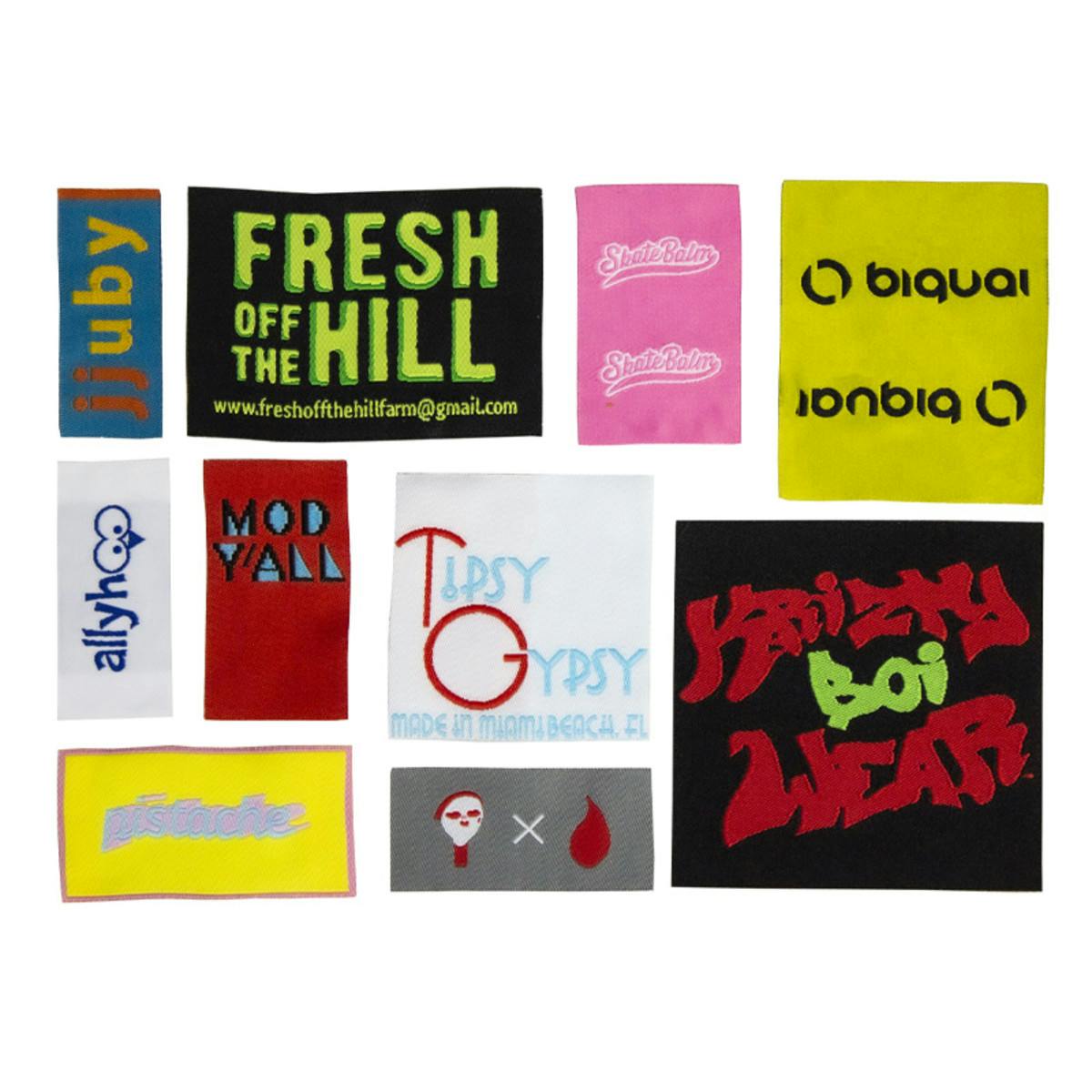 Why Woven Labels?
Labels need to last which is why woven labels are still the most popular way of labeling fabric items. Woven labels hold their color and shape through immense wear and tear or countless cycles through the washing machine.
Typical Uses of Woven Labels: Branding & Information
Woven labels typically show off the branding of a maker and more importantly communicates to the owner of the item who is responsible for making it. For apparel you generally see branding labels attached at the neck or sleeve of a shirt or in the case of pants the inside waist or back pocket. For most other products the label is placed on an inconspicuous seam or side panel.
There are no hard rules on where to put a label. If you think you can make an interesting label placement work, give it a try.
Ways To Design Labels
At Dutch Label Shop we have two ways of providing designs for a label. You can design your label online with our label design tool or you can upload a custom design and specify options like center folds or edge folds. If you are just starting out and don't have an official logo the design tool is probably best for you. If you have a logo and specific design for you label you will want to upload the artwork for us to produce.
Designing Branding Labels Online
Our label design tools ensure your labels will be legible and produced at a standard size that looks good and is easy to apply.
Labels by their nature are meant to be small and unobtrusive in most cases. This also means that text is kept small so you can't have too much off it and still be able to read the label. You want to make sure you include enough text and information to support your label goals but it is generally good to keep the amount of text on your label to just the essentials.
If you choose to provide your own artwork your order will be checked to make sure it can be produced at the requested size and we will reach out to let you know if we have any concerns.
Common Label Information
Brand Name
The name of your business or brand. Remember to include a copyright or trademark symbol if you have registered for one.
Website URL
The URL of your website. You can skip the "www." in most cases if you want to save space on your label - just make sure your site works without the www first by checking in your browser.
Business Phone Number
A contact number that you expect to keep for a while. Remember to include your area or country code if you plan to distribute your labeled items internationally.
"Made-In" Information
There are many reasons you might want to disclose where the item you are labeling was made. In many countries there are regulations in which you must disclose where the item was made in order to sell or import the item. You may also just want to show some local pride!
Item Size
If you don't mind designing and ordering separate labels for each item size you intend to label, it will give your piece more of a retail look and feel.
Item Variations
Does your item have major variations that are worth distinguishing prominently? It might be worth ordering variation labels to make sure that information is clear and easy to find on your item.
Care Labels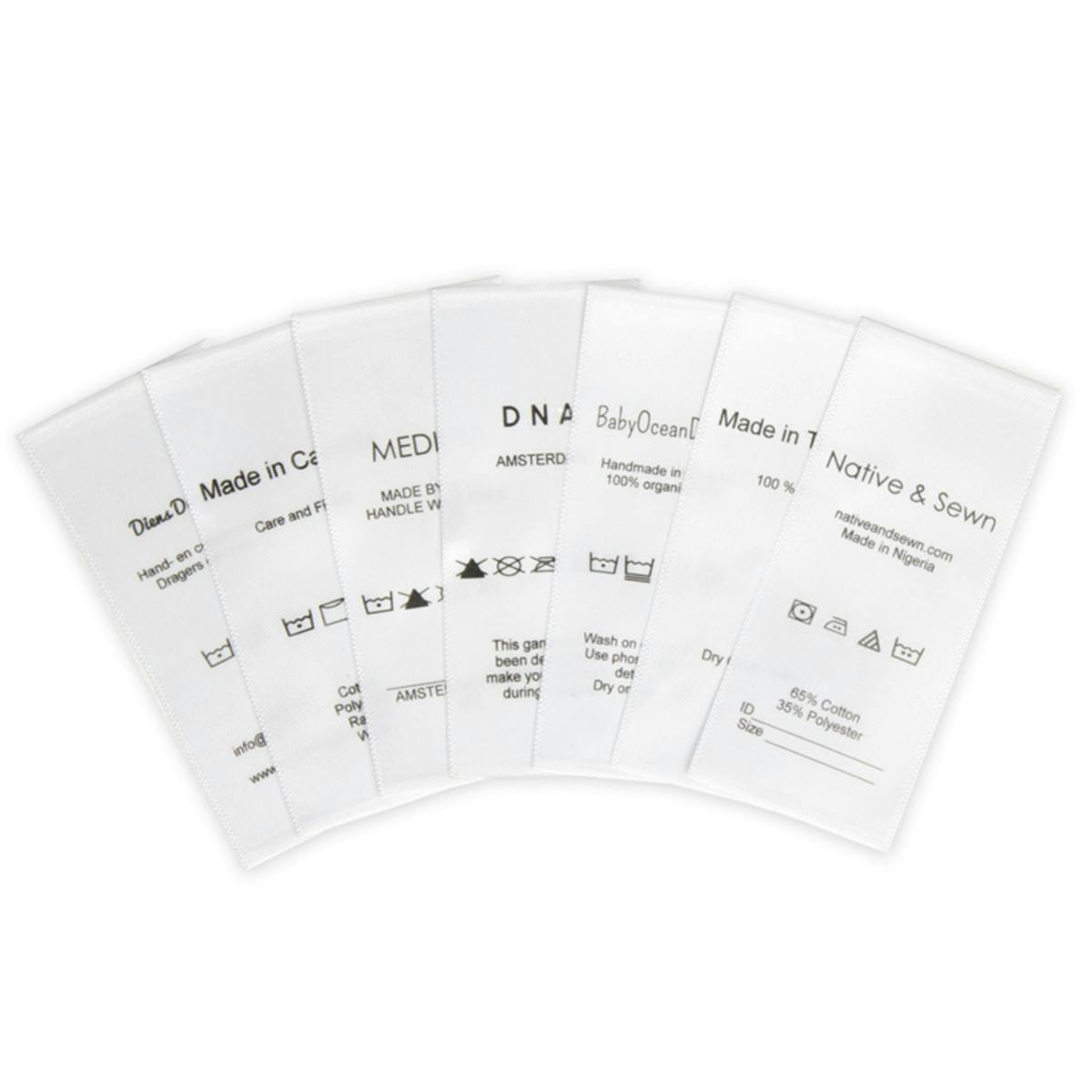 What is a Care Label?
Care labels instruct the owner of your item how to care for it so that it will last as long as possible. Care labels usually include information about who made the item and how to keep it clean with wash instructions and symbols
Elements of a Care Label
Label Title
The title of the label is the top line that is first read. This is usually the name of the brand or maker of the item.
Label Subtitle
The subtitle of the label usually has additional information about the maker like their website or contact information. It also can contain origin information, fabric/material information or other important specifications about the item.
Care Symbols
These standard symbols can be used to show wash instructions without having to write them out in detail. Below is a handy wash symbol guide to help you choose the right one.
Care Instructions
This area is usually used to write out the most important aspects of how to care for the item you are labeling.
Hang Tags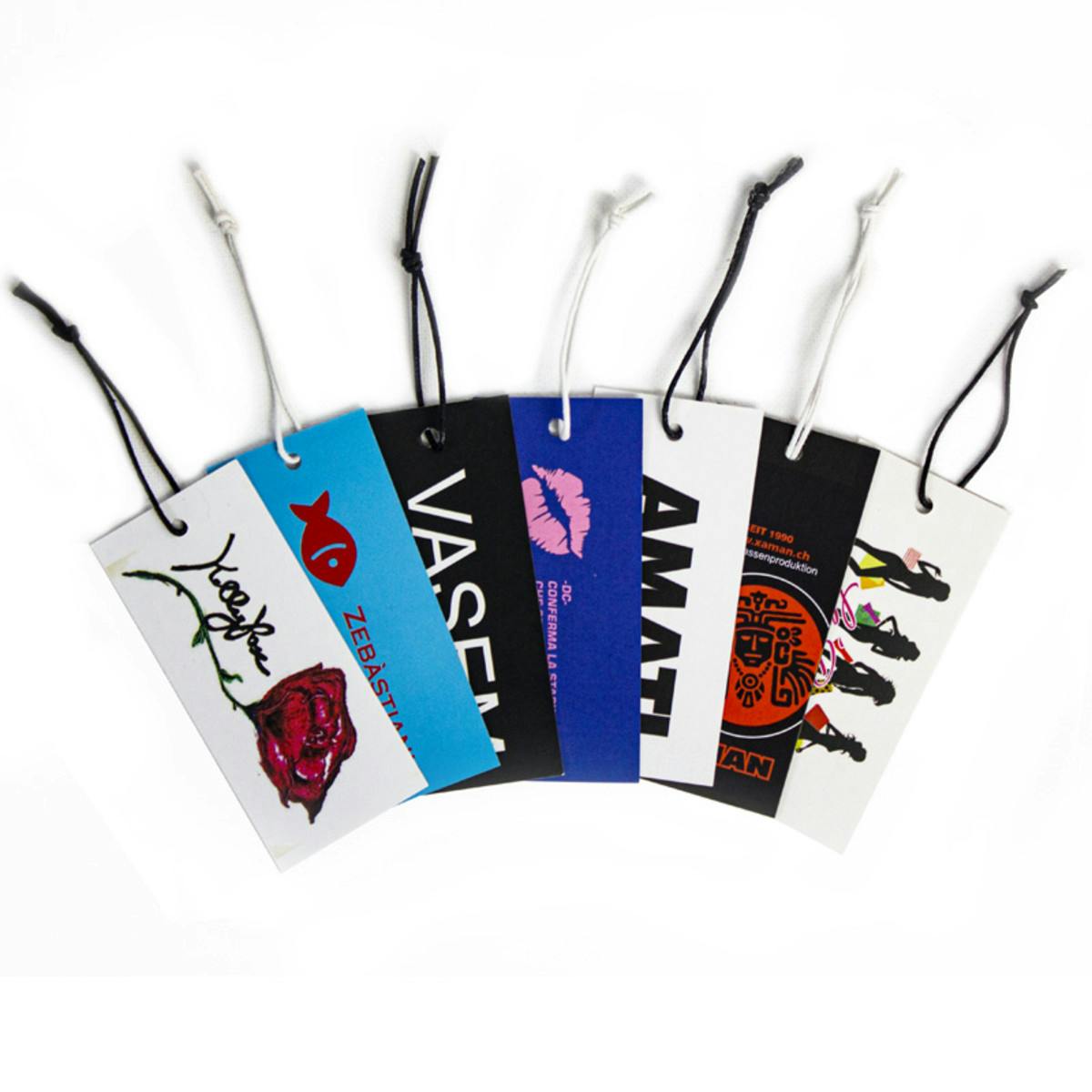 When You Need A Hang Tag
Hang tags give a professional touch to your item while also providing an eye-catching way to show off your brand. Hang tags are best for items that sell in retail displays or if you want to better brand items that you send through the mail.
Dealing With Cords
Our hang tags come with the cord already attached to the tag and tied in basic loop knot. This means that you don't have the thread cord through the holes of every hang tag which saves you tons of time.
Attaching Hang Tags
Hang tags are most easily attached by pinning them to the item but can also be tied to a loop, button hole, or other conspicuous spot on your item to ensure it is easy to see.
Pre-Made Labels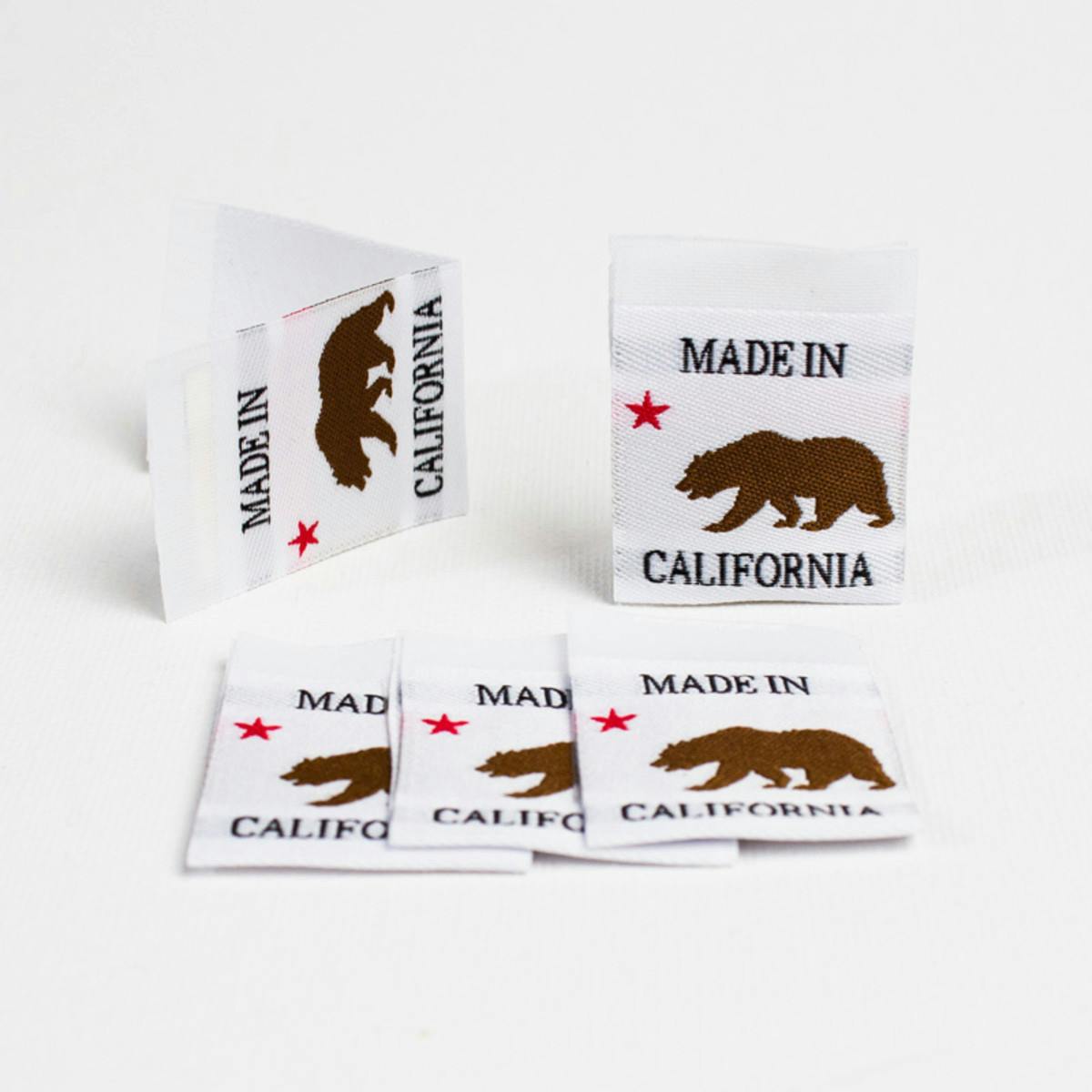 Premade Labels Are Fast & Easy
Premade labels are great because it gives you fast and easy way to get standard labels without having to wait for custom label designs to be produced. They ship when ordered and we sell a wide variety of standard label types.
Types of Premade Labels
We sell many different types of premade labels that fit many different needs.
Size Labels
We offer a large variety of size labels in different colors.
Adult Sizes: XXS, XS, S, M, L, XL, XXL
Baby Sizes: NB, 0-3 mo, 3-6 mo, 6-9 mo, 9-12 mo, 12-18 mo, 18-24 mo
Toddler Sizes: 1T, 2T, 3T, 4T, 5T, 6T
Number Sizes (1-150)
If we don't have the size or type you are looking for, let us know, and we will help you out.
Popular Labels
We offer a selection of commonly used labels, including "100% cotton", "100% polyester", and "One Size Fits All." If we don't have the type you are looking for, let us know, and we will help you figure out an option that fits what you are looking for.
Made-In Labels
We have many different made-in labels available that include countries and states across the world including "Made in the USA," "Fabrique in France," "Made in Estonia," and "Made in Californa."