Insights & Inspiration
DIY Tablet Covers To Sew At Home
Keep your beloved devices protected with a homemade tablet cover, no matter your sewing level. We have curated a selection of patterns that are customizable to any size tablet, e-reader, or notebook.
Protect your electronics by storing them in their own DIY sleeve when on the go. They are surprisingly easy to whip up in a range of sizes so you don't need to fork out on expensive travel covers to keep them in top shape. Whatever your skills are in, we have curated a list of easy-to-follow tutorials for any sewing level, that are easily customizable for you to add a personal touch. To make this DIY project even more economical, tablet covers are a perfect de-stash project for any of those awkward-sized fabric scraps you may have lying around, so check your fabric stash first.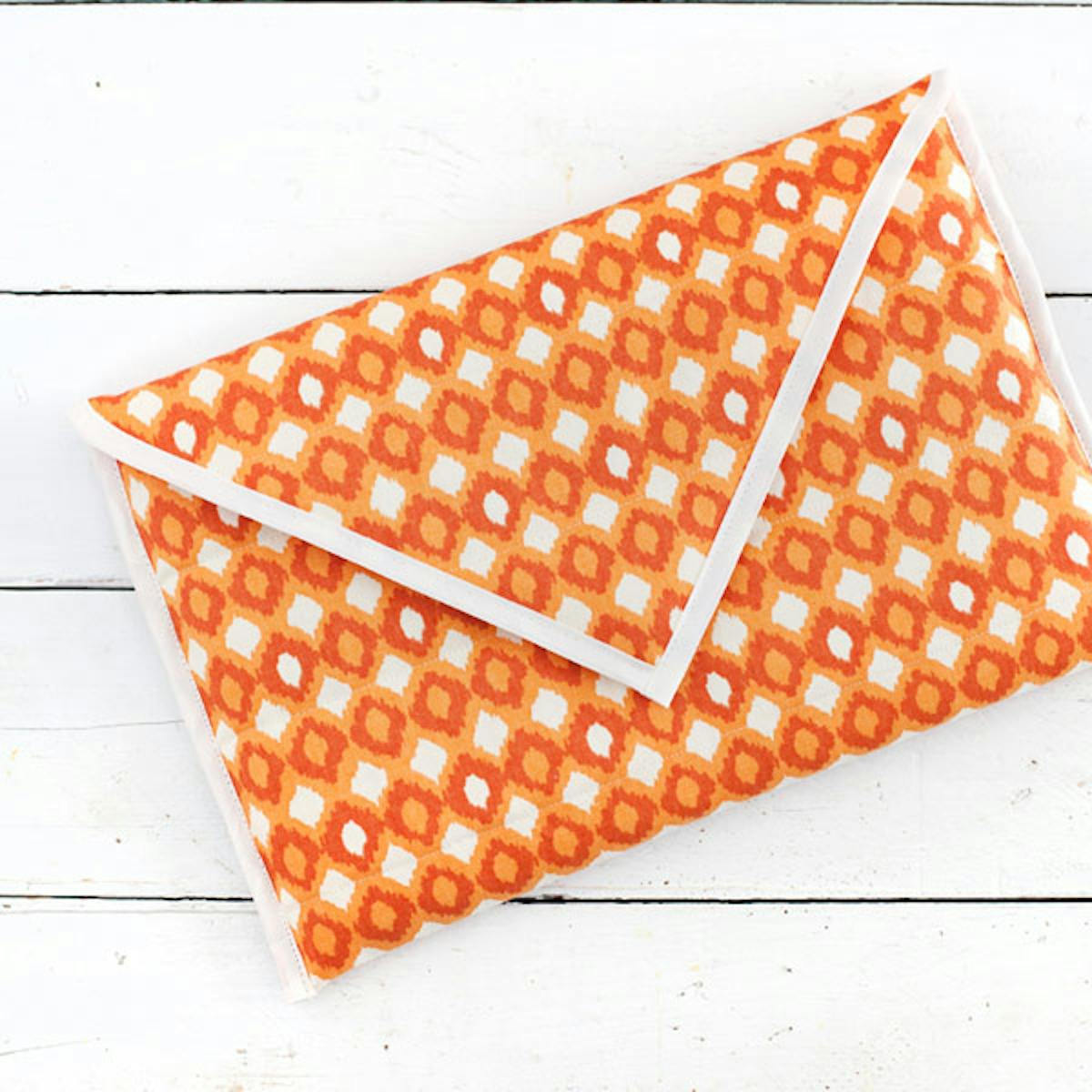 Quilted Laptop Case By A Beautiful Mess Blog
A quilted tablet cover is a great way to add a lightweight layer of protection around your tablet when you are transporting it in a bag with other loose items without having to lug around a heavy case or carrier. Choose your favorite fabrics to quilt together with a layer of batting sandwiched in between, or otherwise, a pre-quilted material from any craft store will work as well. If you haven't tried quilting before, this tablet cover is the perfect thing to start with as it is a nice, easy size for experimenting. The instructions on this blog post by A Beautiful Mess are clear and easy to follow, so you should have no trouble whipping up your own funky cover in no time.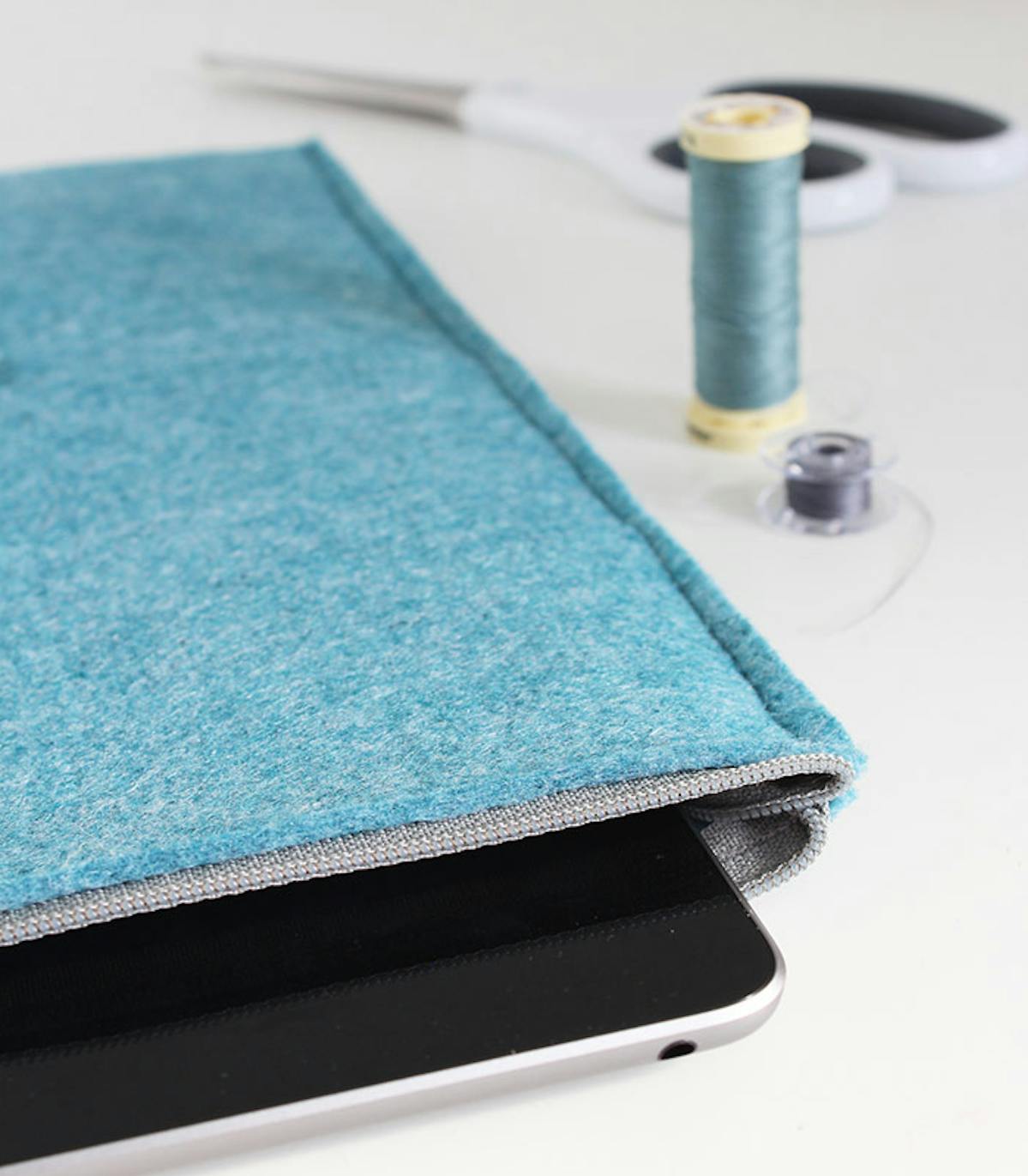 Felt Zippered Tablet Case By A Crafty Gentleman Blog
Felt fabric is a fantastic option for making your tablet cover out of. It is thick, spongy, and resistant to light splashes and spills (although, not waterproof!) and can be found in an endless range of colors. When trying to find a tablet cover for myself it was the first fabric that crossed my mind, for the reasons above. Enter, this blog post by The Crafty Gentleman who makes his zippered Ipad cover look super easy with a really neat and tidy finished result. This zippered pouch could be scaled up or down for a tablet, laptop, or e-reader of any size, and for further protection, you could also double up on the felt by gluing two layers together for each side of the case.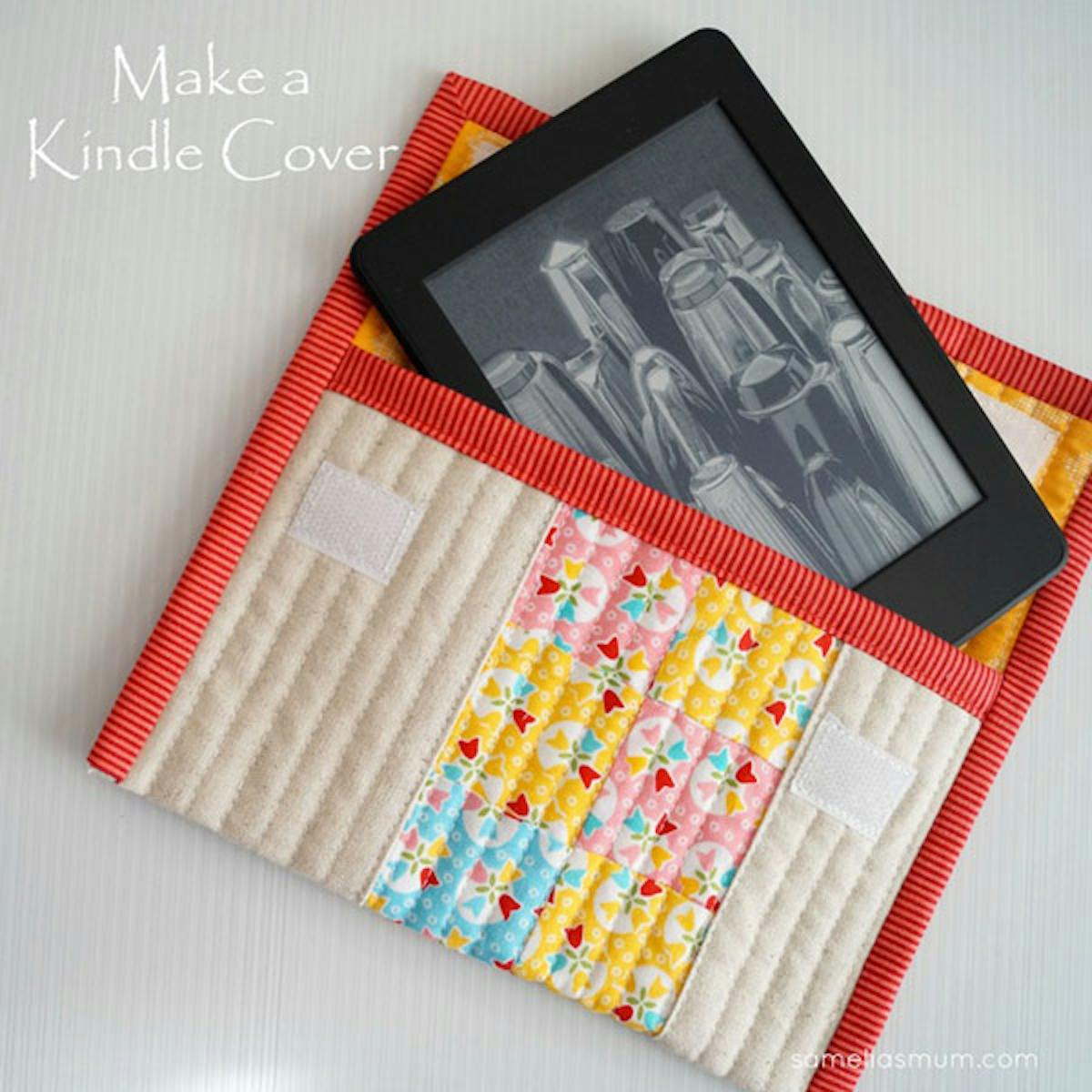 A Patchwork Kindle Cover By Samelias Mum Blog
This patchwork kindle cover by Samelias Mum is a total scrap buster! Not dissimilar from the previous quilted tablet cover, this patchwork version means you can use all your small pieces of leftover fabric for a perfectly kitschy tablet cover. The layer of batting quilted in between means this cover will protect your tablet from scratches and is an ultra-fun project to experiment with patchworking all of your leftovers together.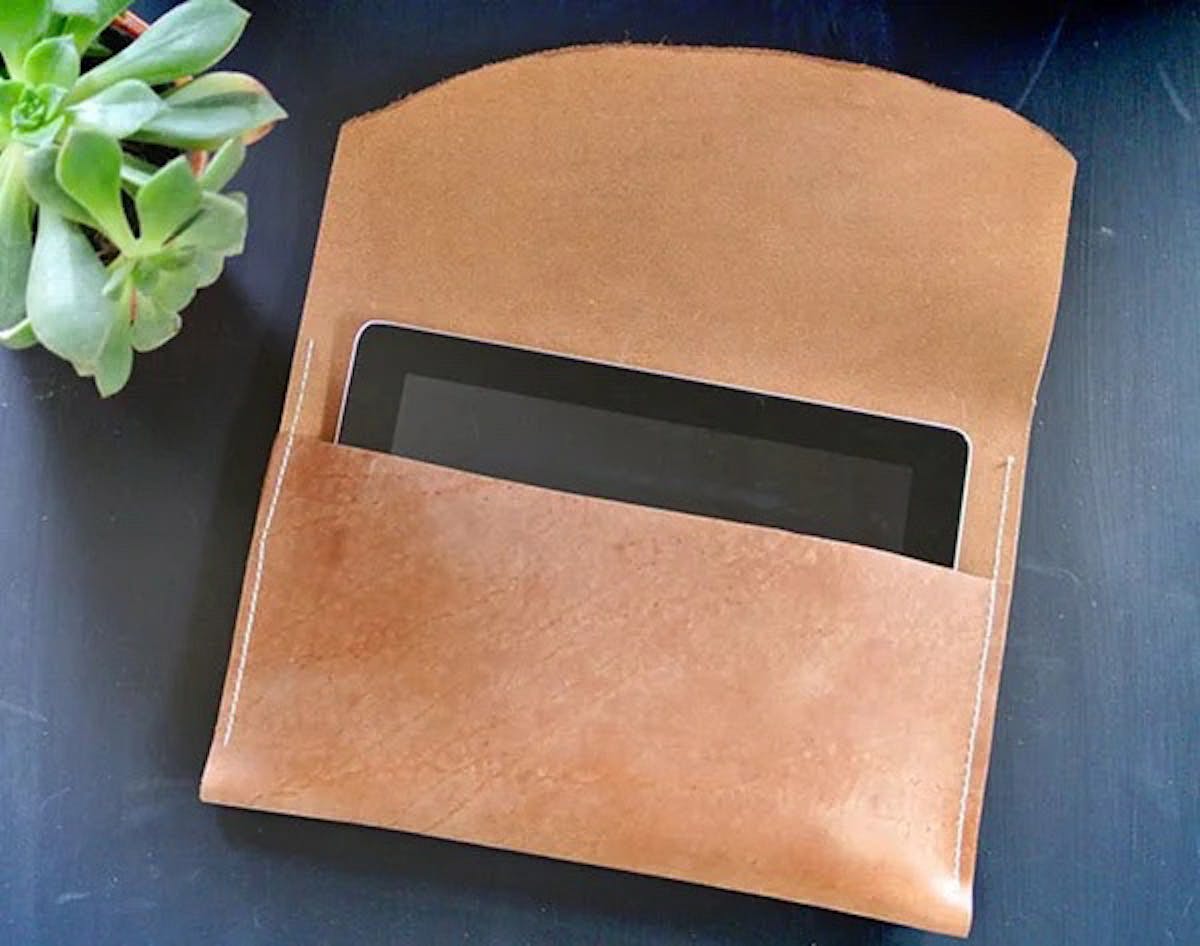 Natural Leather Tablet Sleeve By Brit And Co Blog
Leather accessories are highly luxurious and often come with the price tag to match. Making your own is not so hard though and can be a fun project for anyone wanting to try leatherwork out. This Tablet Case by Brit And Co doesn't use any fancy tools or special leather equipment so is the perfect place for a beginner to start. Small pieces of leather can often be found for discounted prices in craft and specialty leather stores, or if you don't want to use real leather, this tutorial would also work perfectly well with any non-woven fabrics such as vinyl or vegan leather alternatives.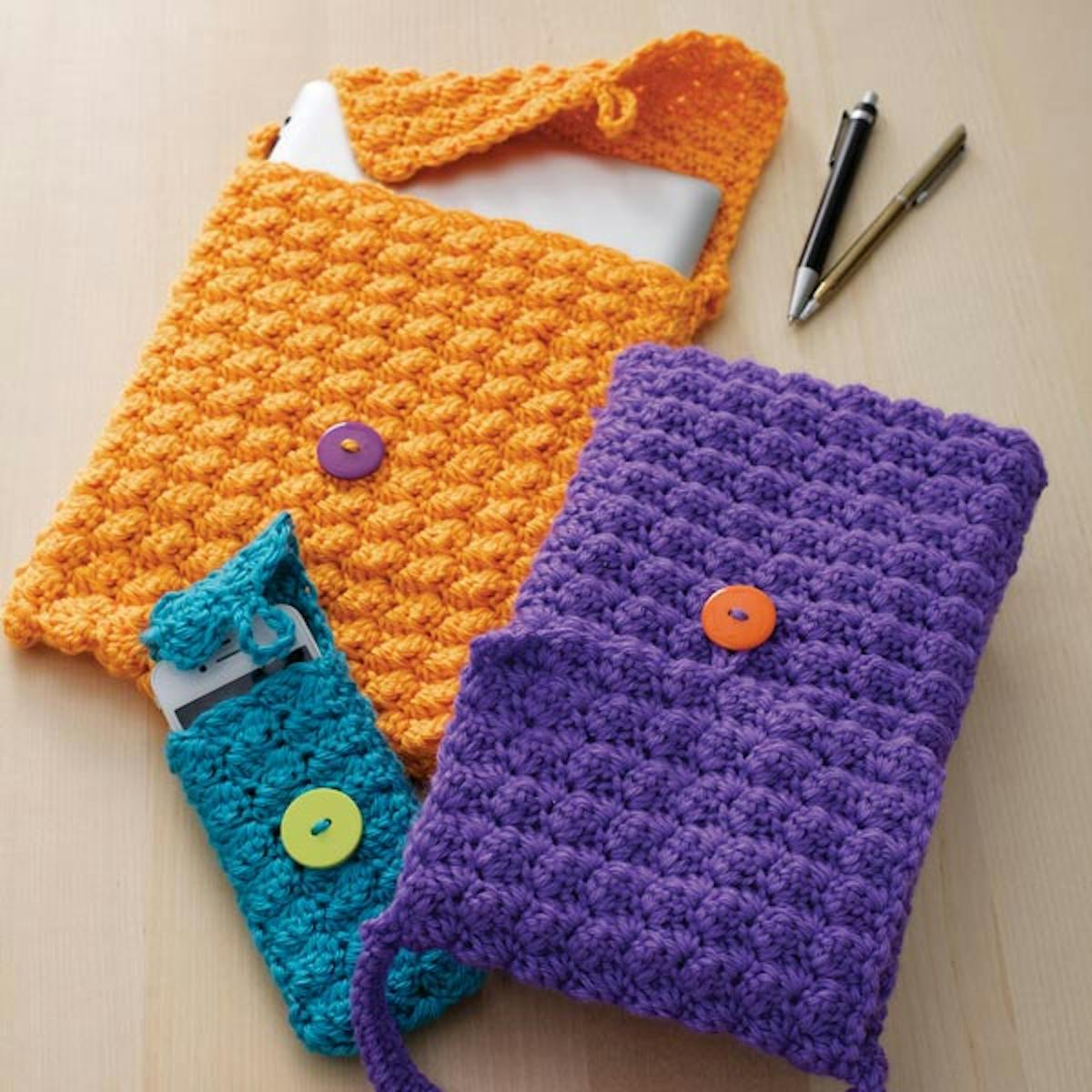 Easy Crochet Tablet Cover By Yarnspirations Blog
If sewing isn't your thing, or if you have some leftover yarn lying around from a bigger project, then why not try a crochet tablet cover to keep your tablet or kindle ultra-snug. The Caron Tablet Cozy from Yarnspirations comes as a downloadable PDF and includes multiple sizes for phones, tablets, and Ipads. If your tablet could speak (I'm talking to you, Siri), it would definitely thank you for making it a matching sweater with one from your own wardrobe. A vibe all around.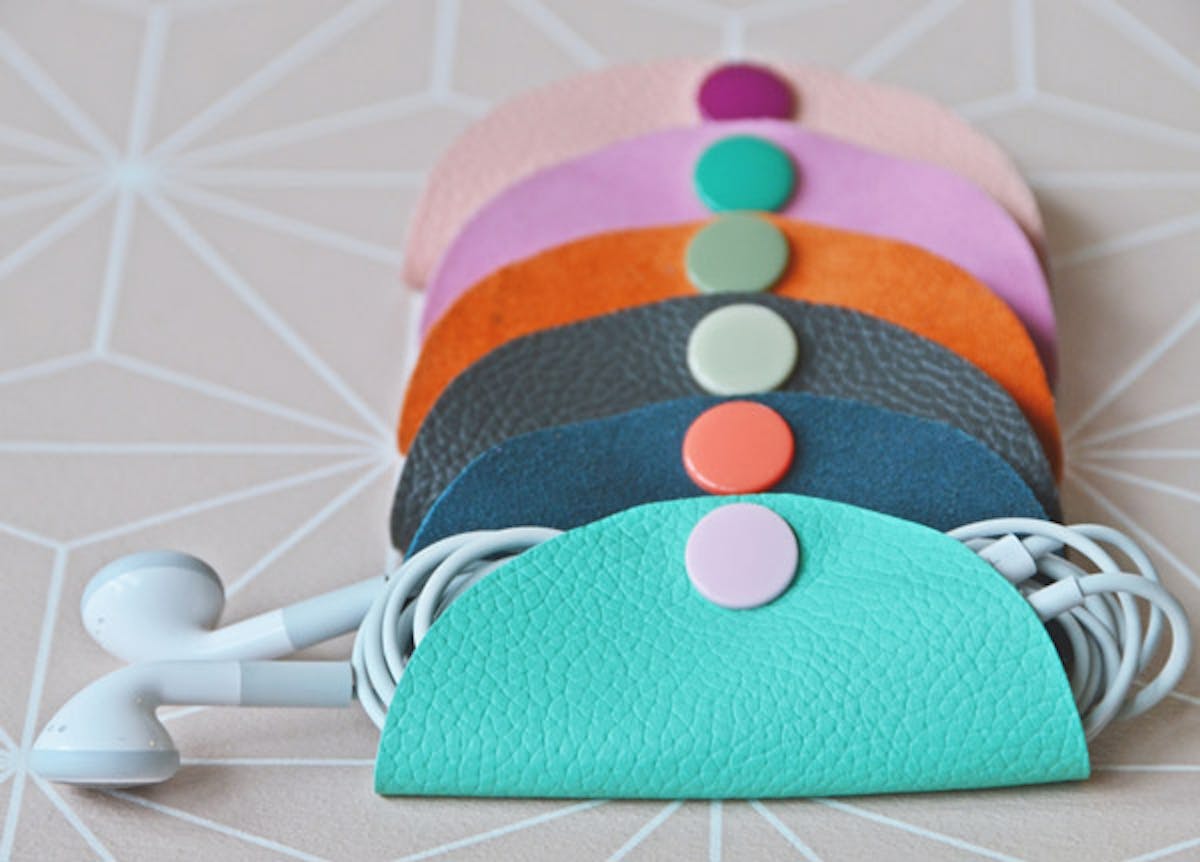 Bonus Extra: DIY Headphone And Cable Organizers By Luzia Pimpinella
Just because there is nothing more satisfying than neatly organized cables, I have included this extremely fun and easy no-sew tutorial for DIY Cable Organizers by Luzia Pimpinella to go with your newly made tablet sleeves. Perfect for on-the-go organization, these little gems will keep the inside of your bag from looking like that scary drawer we all have but don't quite know what to do with. You can thank me later!